The Columbus Blue Jackets did everything in their power down the stretch to earn a trip to the playoffs. Unfortunately an abysmal first half turned out to be too much to overcome and the Jackets missed a chance to play for the cup by the slimmest of margins.
Columbus' thrilling run may have ended with heartbreak, but it marks the dawn of a new era for the rising Blue Jackets. Columbus will look to build off a surprising 24-17-7 record. An impressive feat for a young squad will little expectations.
The Blue Jackets average age in 2013 was 26.4, second youngest in the league, and that includes outlier veterans Vinny Prospal and Adrian Aucoin. If the two seasoned vets retire as expected, and Boone Jenner and Ryan Murray take their spots on the roster, Columbus will be the youngest team in the NHL in 2013-14.
For the first time in, well, ever, the Blue Jackets aren't looking to rebuild. They're aiming to reload; to add players who can help this team win now and grow with them for years to come. No short term fixes or additional long term projects. With four selections in the top 44 picks of the Entry Draft, reload they will. The question is: will the John Davidson and company use their plethora of picks on prospects or make another blockbuster offseason move? (Paging Glen Sather…)
Columbus has all the assets to use the 2013 Draft to launch the franchise into legitimate contention for years to come. But lest we forget the words of your friendly neighborhood Spider-man, "with great power comes great responsibility." Let's take a look at players Columbus could be targeting with their three first round picks in June's draft.
Mirco Mueller, D, Everett Silvertips (WHL)
The Swiss defender has been a solid presence at the blue line for Everett. Since 2012 second overall pick Ryan Murray's season ending shoulder injury in January, Mueller has stepped up as the premier defenseman for the Silvertips. He's channeled the increased pressure to improve his physical game, positioning, and playmaking abilities.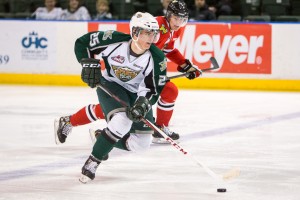 Mueller needs to put on substantial muscle before the 18-year-old will be effective at the NHL level. Fortunately for Mueller the Columbus blue line is loaded with young talent including Tim Erixon, Dalton Prout, and the highly touted Ryan Murray. Factor in mainstays Jack Johnson, Fedor Tyutin, James Wisniewski and the Jackets can afford to be patient with a young defenseman should they decide to select one.
Max Domi, C, London Knights (OHL)
Yes, he is related to that Domi. Max is the son of Maple Leafs legend Tie "The Last Great Enforcer" Domi. For those too young to remember, the elder Domi was a relentless bruiser and likely an inspiration for Happy Gilmore's title character. Domi once pulled an irritating fan into the penalty box and fought him en route to a staggering 3515 career PIM. Good for third all time.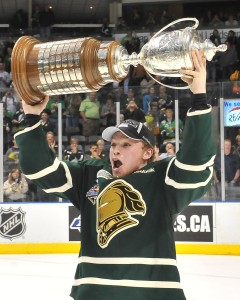 Max possess his father's grit in addition to superior skills and finesse. He put up 87 points in 64 games for the London Knights this season. Domi's style of play is comparable to the recently re-signed Cam Atkinson and Matt Calvert. A tough team-first player with game breaking ability, Domi would be an ideal fit in Todd Richards' system. Columbus loves a good scrapper so why not add a guy who's as dangerous with the puck as he is without gloves.
Anthony Mantha, RW, Val-d'or Foreurs (QMJHL)
Mantha, a lanky power wing with a deadly shot, towers over most of the 2013 draft class at 6'4". Despite his size Martha is quick and instinctive. When he's not camped out on the outskirts of the crease Mantha's rarely far from the puck in the offensive zone.
The Blue Jackets drastically improved in virtually every area except for scoring in 2013. Frankly, without Bobrovsky the Blue Jackets would have been contending for the top draft pick not the playoffs. They need closers, guys who can consistently find the back of the net. Mantha pounded in 50 goals for the Foreurs this season. That's nine more than consensus top three pick Jonathan Drouin.
Bottom line: Anthony Martha is a 6-foot-plus power winger with speed and a lethal shot. Sound like someone you used to know, Columbus? A certain former captain, perhaps? Selecting Manthra, who has the potential to grow into a Rick Nash-type player, with the first rounder Columbus acquired from the Rangers would be especially fitting.
Hunter Shinkaruk, F, Medicine Hat Tigers
Medicine Hat's captain has spent significant time at both center and wing. Hunter Shinkaruk's positional flexibility would serve him well in Todd Richards frequently rotating lineup. Shinkaruk, like Mantha, would provide much needed scoring for a team in desperate need of it. Shinkaruk, who accounted for 219 points over his 193 WHL games, could be turn out to be the top playmaker in one of the deepest offensive drafts in years.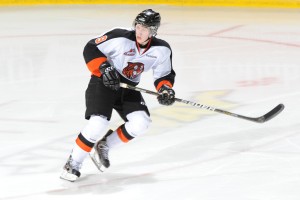 Shinkaruk has demonstrated the ability to quickly adapt to higher playing levels. At 16, Hunter jumped to the WHL despite having only played three games at the Midget AAA level. Despite only playing three games between Bantam AAA and the WHL, Shinkaruk put up 42 points during his first year with the Tigers. Shinkaruk followed up his stellar rookie campaign with 91 points in 11-12 and 86 points in 12-13.
Medicine Hat selected Hunter Shinkaruk 14th overall at the 2009 WHL Bantam Draft. If Shinkaruk is still on the board at 14 in this June's NHL Entry Draft, the Jackets would be wise to pull the trigger on the talented Calgary native.
Jonathan Drouin or Nate MacKinnon, F, Halifax Mooseheads
If Columbus wants one of the top talents in the draft they'll have to move up. Seth Jones, barring an unforeseen trade, is headed to Colorado. Next on the draft board are the Florida Panthers and Tampa Bay Lightning. I suspect Florida will take whichever of the Halifax forwards they prefer. Tampa Bay, on the other hand, then becomes an intriguing partner for a potential trade.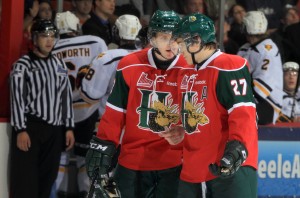 The Lightning, despite their terrible record, finished 2013 as the third best scoring team in the league with 3.06 G/G behind only Pittsburgh and Chicago. After trading for Ben Bishop at the deadline, the Lightning now must rebuild their defense. Seth Jones is far and away the best defensive prospect, but he won't be available to Tampa at three. It would make sense for Columbus, a team with plenty of assets to deal and in need of scoring, would move up to take the remaining Mooseheads star offering Tampa Bay multiple first round picks and more in return. Columbus' 14th overall, the higher of their two other firsts (courtesy of the Rangers and Kings), and a third rounder should be plenty for Columbus to jump up to Tampa's three spot.
Drouin or MacKinnon would be expected to contribute right away. Either player would bring the kind of excitement and playmaking ability the Blue Jackets current attack lacks. If Columbus walks away from New Jersey with an elite forward who can grow into a reliable scorer moving up will be well worth the steep cost.

One way or another Columbus must put more pucks in the net next season. Bobrovsky can't be expected to carry this team through countless 0-0 and 1-1 overtimes. As Pekka Rinne and the Predators proved this season even elite goalies have a breaking point. Todd Richards has the Blue Jackets playing the right way. Now it's time for Jarmo Kekäläinen and John Davidson to get the right pieces in place for this team to make the next step.