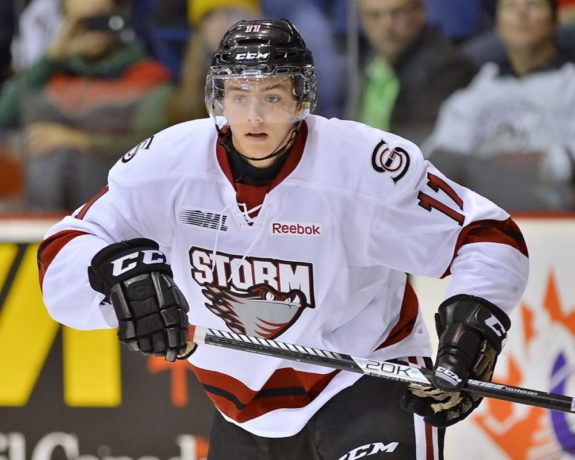 Jason Dickinson Next Ones Profile
The Essentials:
Date of birth: July 4, 1995
Place of birth: Georgetown, ON
 Ht:  6'02″ Wt: 176
Shoots: Left
Position: Centre / Left Wing
Twitter Handle: @jdickinson_11
NHL Draft Eligibility: 2013 1st year eligible
THW Ranking (April 2013): 45
Other Rankings:
Jason Dickinson THW Close-Up:
While not quite the cream of the crop in terms of OHL powerhouses, the Guelph Storm currently boast a wealth of talent that may one day filter up to the NHL. With the likes of Garrett Sparks, Tanner Richard, Brock McGinn & Andre Pedan having already joined up with their respective AHL squads, and with Hunter Garlent, Tyler Bertuzzi & Ben Harpur looking to get their names called on Draft day (not to mention the talented Robby Fabbri also on the horizon), Royal City hockey fans may have their eyes in many different places to see how their proud alumni fare in the pro ranks.
And perhaps the one to keep the closest eye on is Jason Dickinson.
Selected in the second round (32nd overall) by Guelph in the 2011 OHL draft, Dickinson caught the Storm's eye by scoring 45 goals and 34 assists for 79 points in 59 games with the AAA minor midget Halton Hurricanes. Dickinson wasted no time in making an impact at the OHL level, scoring 12 goals and 22 assists in 63 games during his rookie season, and adding 3 goals and 2 assists in his first appearance in the OHL playoffs. That performance was good enough to earn him a spot on the 2011-12 OHL all-rookie second team.
Here's what Guelph Storm coach Scott Walker had to say about Dickinson early on in the 2012-13 OHL season:
The best part about this kid is that his upside is endless. He's not going to shave until he's 35 and he's still got a million miles to go in filling out. They (opponents) have trouble getting the puck off him now. What are they going to do when he's 200 or 210 pounds? (Toronto Star)
Dickinson showed signs of that upside over the course of this past OHL season, increasing his point total to 47 (18 G, 29 A) in 66 GP, while also coming in with a +19 on the year, a drastic improvement over the -15 he tallied in his rookie year. While he did disappoint in the playoffs (1 G, 1 A in 6 GP) his potential remains sky high,  and many have him going mid-first round.
As Walker himself noted, once Dickinson bulked up (as he has), he would be extremely difficult to move off the puck. Add to that some deft puck handling skills, quick feet and a knack for offense – not to mention a measure of responsibility in his own end – and quite simply, Dickinson possesses the combination of size and skill that NHL teams covet.
While his name may not have the cache of the expected top 10 picks, one NHL team is going to find themselves feeling very good about drafting Jason Dickinson with a mid to late first round pick.
Scout's Honour:
***
Statistics:
Interviews:
International Tournaments:
Selected for Canada's National Men's Under 18 Roster for the 2013 IIHF Ice Hockey U 18 World Championship – April 18-28 in Sochi, Russia.
ETA: 2-3 years
Risk-Reward Analysis:
NHL Potential: Top 6 Forward

Strengths:
Great work ethic and mind for the game.
3 zone player.
High compete level.
Leadership potential.
Speed.
Puck handling ability.
Flaws/Aspects He Needs To Work On:
Consistency.
Occasional Aversion to physicality.
Fantasy Hockey Potential:
NHL Player(s) Comparison:
Vincent Lecavalier
Jarrett Stoll
Follow Ian on Twitter for more hockey commentary and updates.
THW's The Next Ones prospect profile template design architect: Chris Ralph