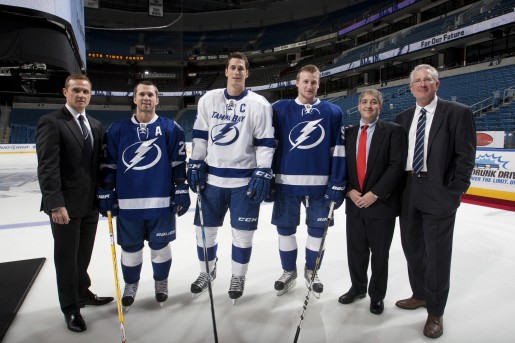 A question of great weight and significance to the Tampa Bay Lightning organization must be considered by General Manager Steve Yzerman. Should he use an amnesty buyout on Captain and long time Bolt, Vincent Lecavalier?
The now 33 year old center carries an annual cap hit of $7,727,273, with a no movement clause, until the 2019-20 season. That is an additional seven years that will see him play until the age of 40.
How much would the buyout cost?
The actual salary remains $10 million per season until the end of 2015-16 (three more years) and then it drops to $8.5 million in 2016-17, $4 million in 2017-18, $1.5 million in 2018-19, and finally $1 million in 2019-20.
Assuming he will play until he is at least 37 years old the remaining actual dollars on his contract would be $6.5 million. At that point it may be reasonable to buy him out if necessary depending on the CBA and cap situation at that time.
If the Lightning were to buy out Vincent Lecavalier this summer, they would save the $7 million plus on the cap but would owe him $30 million over the next 14 years. Is this really a number that Tampa Bay Lightning owner Jeff Vinnik could swallow?
What about the  Cap?
In 2013-14 the salary cap is reducing to $64.3 million and the Lightning have $61.8 million committed to 18 players. In 2014-15 Tampa Bay has $53 million in cap hits for 12 players and then it drops to $34.4 million in 2015-16 for 7 players.
They will also have the cap hits of Martin St. Louis ($5.625), Ryan Malone ($4.5) and Eric Brewer ($3.875) expiring after the 2014-15 season. I would assume that none of them would be resigned as St. Louis will be 40, Malone will be 36 and Brewer will be 37.
As well Sami Salo's $3.75 million cap hit expires after next season. He will turn 39 next year so he likely does not have much left in the tank.
Under the assumption that the cap should increase from the $64.3 million mark with growing revenues, that is $17.75 million in free cap space by the free agent season beginning July 1, 2015.
Won't the $7 million Cap Hit for Vincent Lecavalier make it difficult to improve the team?
Steve Yzerman joined the Tampa Bay Lightning as Vice-President and General Manager in May 2010. At that time he inherited a franchise in turmoil, they had missed the playoffs in each of 2007-08 (71 points), 2008-09 (66 points) and 2009-10 (80 points).
June 18, 2008 was a day that will live in infamy in Tampa Bay Lighting history. Oren Koules and business partner Len Barrie purchased the Tampa Bay Lightning for $200 million US. The partners would create turmoil in the organization through their differences in direction. NHL Commissioner Gary Bettman had to deal with this situation and found a buyer dedicated to bringing a winning franchise back to Tampa Bay, Jeff Vinnik.
Once Yzerman was hired by Vinnik is May 2010 work began on rebuilding this franchise. Not into one that would compete one year and flame out the next, but into a solidly built team that could compete year in and year out for the playoffs and the Stanley Cup.
Now in his third season Yzerman has started to lay the groundwork for a winning team.
However if you compare the Lightning to the Toronto Maple Leafs "rebuild". It took the Leafs nearly five years of Brian Burke rebuilding their prospect and American Hockey League depth to make it back to the playoffs. Only in the past couple years has their AHL affiliate, the Marlies, began to compete for the Calder Cup.
The Lightning's AHL affiliate, the Syracuse Crunch and prior the Norfolk Admirals, have seen tremendous improvement in the past couple seasons. However it does appear that the NHL level is still two to three seasons away from being a true playoff team.
What does that mean for 2013-14, 2014-15 and 2015-16, more losing?
Patience will need to be had for the next few seasons. The Lightning currently appear to be in what I call "bridge mode". They are trying to bridge the gap between now and when their prospects will start graduating to the NHL level.
Players like Andrey Vasilevskiy (projected: #1 goaltender), Tyler Johnson (2nd/3rd line center), Alex Killorn (2nd line center), J.T. Brown (top six winger), Slater Koekkoek (top four defender), Richard Panik (top six winger), Mark Barbeiro (2nd/3rd pairing puck moving defender), Nikita Kucherov (top six winger), Vladislav Namestnikov (2nd/3rd line center), and the list goes on.
Even if only three or four of those nine prospects make it to their potential the Lightning will be able to fill the holes left by future departures of St. Louis, Malone, Brewer, Salo and a drop in production from Vincent Lecavalier. While they can continue to improve the rest of the team via free agency, trades and future draft picks.
Is Vincent Lecavalier still a valuable member of the Tampa Bay Lightning? 
The short answer is yes, he still provides enough value to be on the roster in a top six role.
This season he has contributed 29 points (10 goals, 19 assists) in 35 games with average ice time of 18:06 per game. Out of his 10 goals six have come when tied or trailing by one goal. Overall that shows he is still a clutch scorer when the situation arises.
Although it is clear that this shortened schedule is beginning to wear on him. In April he has played nine games providing seven points and a minus four rating with 15:16 in ice time per game. Compare that to January when he had eight points in six games with a plus three rating and 17:36 in ice time per game.
He is still a physical presence dropping 69 hits in 35 games and is never afraid to drop the gloves and defend a teammate. He is also efficient with the puck with seven giveaways to 11 takeaways.
Vincent Lecavalier also takes the second most faceoffs (672) on the team behind Steven Stamkos (763) and is respectable winning 54% of those draws.
He has contributed a 2.8 point share to the Lightning this season, so he is making a difference for them in the standings. On average over an 82 game schedule since 2008-09 he has contributed a 6.4 point share. He also has an average of 0.83 points per game since 2008-09 (68 points per 82 game season).
Lightning's top two centers compared to other teams
When you consider the Lightning's first line center, Steven Stamkos, has averaged an 11.1 point share and 1.1 points per game (90 points per 82 game season) that is a very good one two punch in the NHL.
It might seem pricey at $15,227,273 (1.9 points per game and 17.5 point share per season) for your top two centers, but when you look around the league it is comparable to some of the top teams (points per game from 2008-09 to 2012-13 and point shares from 2008-09 to 2011-12):
Chicago Blackhawks ($12.2 million for 1.8 points per game and 16.5 point share per season)- Jonathan Toews and Patrick Sharp
Pittsburgh Penguins ($17.4 million for 2.7 points per game and 20.6 point share per season)- Sidney Crosby and Evgeni Malkin
Boston Bruins ($10.25 million for 1.5 points per game and 12.8 point share per season)- David Krecji and Patrice Bergeron
Los Angeles Kings ($ 12.55 million for 1.7 points per game and 16.1 point share per season)- Anze Kopitar and Mike Richards
Vancouver Canucks ($11.1 million for 1.9 points per game and 17.9 point share per season)- Henrik Sedin and Ryan Kesler
In terms of points per game the Lightning are only below the Penguins, while they are below both Pittsburgh and Vancouver when it comes to point share per 82 game season.
Should Tampa Bay amnesty buyout Vincent Lecavalier?
http://youtu.be/41hJr8M3Et8
Based on the information above and in my opinion I would not buyout Vincent Lecavalier. He is a solid second line center to play behind a superstar in Steven Stamkos. He is also the captain and leader of this team with the great character and experience that he possess.
In just three short years Lecavalier and Stamkos will be the leaders on this team with Martin St. Louis likely retired. The Lightning will need a player like Lecavalier around to lead what will be a young team into the playoffs. The scoresheet will be Stamkos' responsibility while the locker room will be Lecavalier's.
Special thanks for Capgeek.com, Hockey-Reference.com, BoltProspects.com, and NHL.com.