Michael Downing THW Close-Up:
Date of birth: 5/19/1995
Place of birth: Canton, Michigan
Ht: 6'3″     Wt: 185 lbs
Shoots: Left
Position: D
NHL Draft Eligibility: 2013
Twitter: @M_Downing4
THW The Next Ones Rankings (January 2013): 68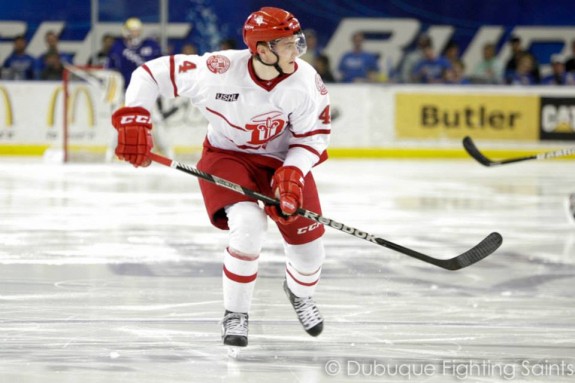 Other Rankings:
THW War Room Rankings (April): 69
ISS (May): Not ranked
Future Considerations: Not ranked
Craig Button: Not ranked
Consensus aggregate of several services (NHL Numbers): 52
CS Final Rankings for North American skaters: 49
***
[NHL 2013 Draft Guide – The Next Ones Draft Headquarters: Your quintessential draft resource]
***
He's got the size.  He's got the skill.  He's got the vision.  He's got the defensive awareness.  He's Michael Downing of the Dubuque Fighting Saints.
A mix of poise, finesse, tenaciousness, Michael Downing is one of the most well established two-way defenders you'll find.  He's been playing with the Fighting Saints for the past two seasons and helped the team win the USHL Championship this year.  Far and away the best defenseman on the team, Downing has really turned a few heads and impressed some scouts leading up to this year's draft.
Standing 6'3″, Downing is keen on using his body in his own end.  He won't shy away from a physical battle along the boards and rarely gets caught out of position.  He's a cerebral player when the puck is on his stick.  Passing is one of the key attributes to his game and his tape-to-tape passing is mostly on target.  Downing can pivot very well, but still could look to work on his skating (agility, acceleration, speed).
The future Michigan Wolverine still has issues with 1-on-1 play and can find himself catching up to a play, as opposed to stopping it.  Another aspect Downing might need to tie down is his gap control through the middle.  His tendency is to play on the outside of the perimeter, but allowing the play to come to him, once in a while, could do wonders.
Where Will He End Up In June:
Downing's all-around game could make him a hot commodity after the 1st round has passed.  Don't be shocked to hear his name called in the 2nd round, but a 3rd round pick is a bit more suitable.
Scout's Honor:
"The Michigan recruit packs loads of potential into his large frame.  His strength is in his ability to move the puck quickly and accurately whether it's to a quick moving forward through the neutral zone or a soft pass left behind the net for his defensive partner while being pursued by a forechecker.  Downing sees the ice and is very good at anticipating the play and chooses the right option.  He is so quick in transitioning and reading the play that he sometimes executes before his teammates are ready.  He should have no trouble in this regard as he advances in his career.

In fact, it may translate into more points as he plays up a level.  Downing is not without his flaws, though.  He needs to work on his footwork a bit when closing the gap on fast skating forwards who take him to the outside.  Also, while Downing possesses a good stick, he has to improve on his 1 on 1 technique when closing on the puck carrier to deliver a check. He's prone to missing occasionally both in open ice and along the boards.  All that said, Downing makes for a good project with considerable upside and relatively little risk."
"Big defender that is coming into his own. Shows physicality, a quick stick, long reach, mobility, and skill. Displays excellent reach, and poise when he has the puck, and passes very well up ice. Is not a polished up ice guy or on the PP, but shows potential to develop into a strong defensive defenseman who will control areas with his stick and physicality. His defensive game is a work in progress, his transition game will only get better. Tremendous upside. Committed to the University of Michigan."
Bill Placzek – DraftingSite.com
"A veteran of International Competition, Downing has great size and skating ability that allows him to play any way. Plays a tenacious and physical style, but has the skill to move the puck and contribute offensively also. The Michigan commit captained Team USA at the 2012 Ivan Hlinka Tournament."
Aaron Vickers – Future Considerations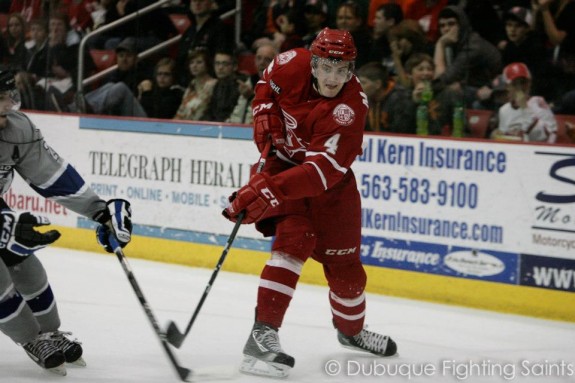 Statistics:
Bio/Interview(s)/Links:
International Tournaments:
He's donned the Team USA jersey twice in competition where he has two assists in nine total games.  He was the captain for Team USA at the Ivan Hlinka Tournament.
ETA:
3-4 years
Risk/Reward Analysis:
Risk: 2/5  Reward: 4/5
NHL Potential:
2nd pairing defenseman that can play powerplay, penalty kill, and even strength
Strengths:
Size
Grittiness
First pass
Poise
Passing
Flaws/Aspects He Needs To Work On:
Skating
Controlling aggressiveness
Gap control
1-on-1 battles
Fantasy Hockey Potential:
Offensive: 6/10  Defensive: 6/10
NHL Player Comparison:
– In an interview with CollegeHockeyProspective.com, Downing compares his game to that of Detroit Red Wings defender, Niklas Kronwall.
Video(s):
***
THW's The Next Ones prospect profile template design architect: Chris Ralph
Follow Shawn Reznik on Twitter: @ShawnTHW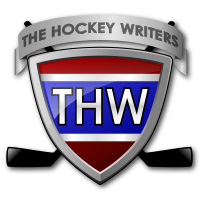 The archives of THW contain over 40,000 posts on all things hockey. We aim to share with you some of the gems we've published over the years.