By Mike Miccoli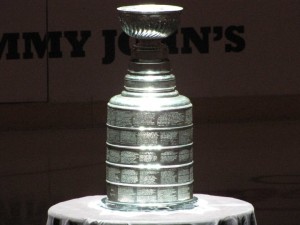 I woke this morning with "Chelsea Dagger" stuck in my head. I suppose this might be a bad omen because I can't remember ever waking up humming the Maple Leafs, Rangers or Penguins goal song (although they may have never even had one to begin with–there's no way of knowing really).
There's no good reason for this, either. The Bruins have played the Blackhawks a total of eight times since the 2005-06 season with Boston having a 6-1-1 edge over Chicago. Of course, some of these games were during the dark ages for both of these teams when guys like Denis Arkhipov and Glen Murray were playing first line minutes. Woof. But the times have changed and now the two best teams remaining get a chance to play for Lord Stanley's Cup and really–that's all that matters.
For the Bruins, their second Final appearance in three years feel more natural. Gone are the wide-eyed looks from all the first-timers during media sessions. Instead, this group of players seemed focused, business-like, in speaking about what it will take to win four more games.
This will be fun–at least that's what I keep telling myself. And what better way to kick off the greatest Final in all of sports than a running diary of Game 1 between the Bruins and Blackhawks? After all, the last running diary I posted came in Game 2 of the Eastern Conference Final and we all know how that turned out. Follow along here for a running commentary.
7:45 pm: As I did last time, I'll be watching this game with my Ranger fan Blackhawk fan roommate Greg, our other roommate Hannah, and our unofficial fourth roommate Bailey. I feel like this is important since a lot of the commentary might be coming from them. Is that lazy? Sort of. Right now, as I did last time, we're ordering wings too! Don't you love this insider commentary? Awesome, right? If you thought that Claude Julien agonizing over Bruins' lines was bad, try to watch four grown 20-somethings decide on which five wing flavors they want. (Hockey related note: Tuukka Rask, followed by Zdeno Chara leads out the Bruins).
8:18 pm: We got tired of the NBC pregame so we decided to play a little 1-on-1-on-1 street hockey outside. Bailey won after he broke through Greg and I on defense. He was using a Koho Jagr stick. It's a sign. Okay, game on.
19:06, 1st: First shot for the Bruins by Dennis Seidenberg and Corey Crawford lets up a big rebound. Bruins can't capitalize, but the rebounds will be there.
15:20, 1st: Right from the start, the bottom six forwards of the Blackhawks are dominating play against the matchup of the bottom six Bruin forwards. Shawn Thornton just got hammered by Brent Seabrook with a beautiful hit. The Bruins actually lost momentum in the shifts from the third and fourth line, a surprise in some sense seeing that Boston's Merlot line usually generates the energy.
13:03, 1st: If NBC wants to blow away this coverage of the Stanley Cup Final, show the coach speaking to his team before every game. Love that type of insight because it makes it feel that much more real.
9:05, 1st: Blackhawks are outplaying the Bruins so far, but Boston is getting some pretty open lanes in the offensive zone.
7:13, 1st: Milan Lucic left wide open in front of the net and puts on home to put the Bruins on top, 1-0. "Chelsea not so lately, Chicago!" says Bailey. God bless him for trying.
3:32, 1st: The Krejci line has been all sorts of dominant for Boston so far. Chicago has been playing well, but every time that the Bruins' top line steps on, the ice tilts.
20:00, 2nd: Bruins had a solid period but Chicago is certainly pressing. If there's one thing that the first 20 minutes have shown us, it's that this will be a hard-hitting, fast series. Lots of neutral zone action, almost chess-like. This is going to be a fun series.
19:12, 2nd: Lucic, again. This first line is skating circles around Chicago.
16:34, 2nd: Saad back with Toews and Hossa and puts one past Rask, glove side. This worries me since the glove was Rask's weakness all year. On the plus side, I got to see Greg dance to "Chelsea Dagger." Actually, not a plus. 2-1, Bruins.
15:59, 2nd: I'm not sure how Rask makes that save. That's probably why I'm not a goaltender. Things are getting a little pushy after the whistle with McQuaid and Sharp exchanging shoves. Officials are letting the teams play so far (no penalties yet).
12:23, 2nd: Bruins with more sloppy play in their own end. For a team that's supposed to be so tight defensively, they're going to want to get their game back quick. Horton gets called for an interference and the Blackhawks get a power play.
11:40, 2nd: Things go from bad to worse for the Bruins with a Too Many Men on the ice penalty. Krejci jumps onto the ice too quickly on the penalty kill. This would be where Gregory Campbell would be helpful.
9:35, 2nd: Big kill for the Bruins. It turns out all of my roommates are on their phones reading this column, counting the amount of times they're in it. I feel dirty for doing this. It's probably for the best that I don't have my Print Journalism degree in plain sight in order for me to cry on. Greg wants to know why he hasn't been mentioned. Censorship, because he's a Blackhawks fan? Nah. (Yes.)
7:21, 2nd: Lucic gets away with at least two calls on that Blackhawks rush. Andrew Shaw sells one hell of a call and Zdeno Chara goes to the box for high sticking. Bruins' fans are going to HATE Shaw. Remember, Shaw's the guy who said he looked up to Brad Marchand. When is the last time anyone looked up to Marchand? Probably when he went trick or treating with kids in Boston during the NHL lockout.
4:59, 2nd: Another big kill for the Bruins. Boston needs to tighten up their play right now. Chicago starting to really build up momentum this period.
20:00, 3rd: The Bruins' effort dipped at points throughout the second period but ultimately, still a decent 40 minutes for Boston. The problem is that the Bruins first line is really the only set of forwards really generating any decent chances. The rest of the forwards need to start stepping up and it's part of the reason why Julien decided to shift the bottom-six lines, mixing in Daniel Paille with Chris Kelly and Tyler Seguin, in place of Kaspers Daugavins. The strongest part of the Bruins' game so far has been the penalty kill. Zero shots on the Blackhawks' five-on-three? Not good enough.
17:19, 3rd: Maybe it's a side effect of the NHL lockout, but both teams have been quite cautious in their play tonight. This could have something to do with the truncated 2013 NHL season and the fact that neither of these teams saw each other during the regular season. Right now, both teams look like they're trying to feel out the other, waiting for them to make a mistake. It's a decent strategy for now, but one of these teams needs to step up to really be the difference maker in the series. Both have had their moments, but consistently, neither has stuck out.
13:51, 3rd: Doc Emrick just got done talking about Chicago's "unflappable" penalty kill. Bergeron must have heard them. 3-1, Bruins after a huge power play goal.
11:56, 3rd: I think we're seeing the end of the Torey Krug era…at least for now. Brutal turnover leads to a Dave Bolland goal, pulling Chicago within one. 3-2, Bruins. I hope Matt Bartkowski is ready for Game 2.
9:45, 3rd: Here's what worries me about Chicago–unlike any other team the Bruins have played this postseason, the Blackhawks have the ability to change the tone of a game with one goal. They did it after Saad's and now again after Bolland's. Based on their play, you could never tell the Bruins are up by one. Chicago is all over them.
7:46, 3rd: And there's the game changer. Johnny Oduya ties it from the point after the puck bounces off of Andrew Ference. This is anybody's game, but really, it's been anyone's game since the start. Bruins are chasing Chicago right now.
5:56, 3rd: It's 3-3, tie game, and I'm already thinking about all of the changes the Bruins need to make going into Game 2 to tie up the series. That's an awful sign, but just for thoughts: play Bartkowski over Krug, move Paille up to the Peverley line, Daugavins down to the Merlot line and, ready, put Seguin back with Marchand and Bergeron. It's time.
20:00, OT: Overtime in Game 1. Of course! Why not! The biggest concern for the Bruins right now is that they're playing against a team whose frantic pace actually excels their game. The Penguins looked sloppy, the Rangers looked desperate and the Maple Leafs just couldn't hold a lead. The Blackhawks? They're going on another level. Not only will the Bruins shorten the bench with Shawn Thornton likely not seeing much ice time, I can't see Krug getting much either. Boston will likely play 11 forwards and five defensemen. Automatically, this gives Chicago the advantage. Julien has a lot to think about for Game 2.
16:34, OT: Krug gets a shift, ices the puck. Not good.
11:14, OT: Nice of the bottom-six forwards to show up in OT. Paille and Thornton had a good two-on-one chance and the Peverley line just put a ton of pressure on Crawford.
7:52, OT:  Mental error by the Blackhawks bench results in a Too Many Men penalty. Big opportunity for the Bruins to put away the game. They're already 1/1 on the power play tonight.
20:00, 2OT: Bruins definitely dominated the first OT but will have to outlast Chicago in a second stanza. Whether Horton will be back on the Bruins bench is the big question. Can't understate how big of a loss Horton would be. Playoff hockey, man.
14:02, 2OT: Bruins look tired–but can you blame them? No Horton and a lack of using Thornton and Daugavins consistently will do that.
11:09, 2OT: Julien is starting to put a little bit more confidence in Torey Krug who has been seeing more ice time in double-OT. At this point, if you're a coach, you're unable to send messages. It's about putting players out there who aren't tired and who can positively contribute…somehow.
9:59, 2OT: Perplexed as to why the Chicago ice crew decided that now was a good time to scrape the ice, seconds after an icing. That's a freebie for Boston.
5:04, 2OT: This game officially looks like one of my pick-up adult hockey league games…after the first six minutes.
0:52, 2OT: "When you're tired and fatigue, mental mistakes happen," said Edzo. Another Too Many Men penalty from Chicago. Bruins should capitalize here, since it's almost 12:30 am on a Wednesday night/Thursday morning. And we're tired.
20:00, 3OT: Let's play three! I promise not to fall asleep. Actually, false. I don't. UPDATE: All of my roommates have gone to bed or fallen asleep on the couch. Me? I've retreated to my room, stacked up some pillows and plugged in my laptop. It's the equivalent of orange slices in between periods. As tentative of a game this was from the start, it has turned into an epic one. Bruins will have a little more than a minute on the power play to start the third OT.
14:10, 3OT: Krejci has had some ridiculous chances so far but Crawford has been incredible. Even though he's let in three goals, he's the reason why Chicago is still in it.
11:51, 3OT: Daugavins has benefited from not playing much in OT. He's had the most energy of any forward not named David Krejci so far in the third overtime. Daugavins has skills and can certainly be flashy when need be. Might not be a bad idea for him to take a few more shifts instead of getting skipped over on the bench.
9:44, 3OT: …to be fair, Daugavins did have an excellent chance. We'll blame rust, not fatigue, for him not finishing.
7:52, 3OT: Game over, Shaw with the second re-direct to put it past Rask. Great game. This will be a great series…but the Bruins have a long road to climb, especially with Horton being a question mark.
Follow Mike on Twitter for more Bruins updates, news and commentary.