Samuel Morin has been nothing short of a surprise this season.  After being ranked out of the Top 100 in THW's January Rankings, he's sky rocketed to 32nd.  Same can be said for other lists around the hockey world.
Samuel Morin THW Close-Up:
Date of birth: 7/12/1995
Place of birth: Lac-Beauport, Quebec
Ht: 6'7″     Wt: 201 lbs
Shoots: Left
Position: D
NHL Draft Eligibility: 2013
Twitter: @samhockey0000
THW The Next Ones Rankings (January 2013): 105
Other Rankings:
THW Warm Room Rankings (April): 32
ISS (May): 20
Craig Button: 32
Consensus aggregate of several services (NHL Numbers): 42
CS Final Rankings for North American skaters: 23
***
[NHL 2013 Draft Guide – The Next Ones Draft Headquarters: Your quintessential draft resource]
***
Samuel Morin has been nothing short of a surprise this season.  After being ranked out of the Top 100 in THW's January Rankings, he's sky rocketed to 32nd.  Same can be said for other lists around the hockey world.
For a player of his stature, it may take some time to adjust to skating as fluid as most defenseman do, but Morin seems to have gotten the skating part figured out.  He's surprisingly quick and has great side-to-side movement, but some improvements could be made.
What is truly bothersome about him is his inability to add extra weight.  He looks monstrous because he's 6'7″, but physically, he's like a toothpick.  But that doesn't take away from his abilities on the ice.
Offensively, Morin isn't afraid to rush the puck up ice, but he doesn't do it all that often.   He can deliver a stretch pass to a breaking forward with ease.  He makes very smart plays with the puck and knows where to be at the right times.  He's known more for his defensive presence, however.
He has a very long reach (as would be expected) and easily uses his stick to knock the puck away.  He's been used in Rimouski in a shutdown role, which he's strived at the entire season.  Separating the player from the play has never been an issue with Morin, which is why he has risen up the charts so quickly in the past few months.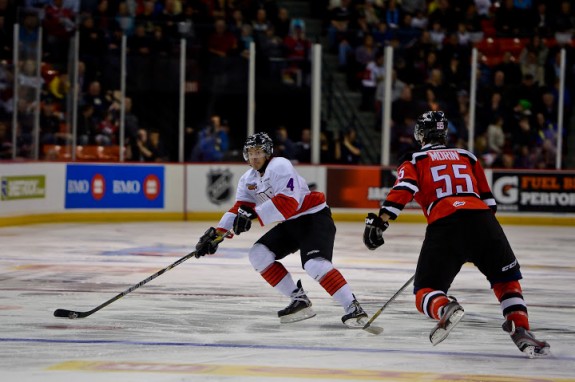 Where Will He End Up In June:
With his sudden rise in draft stock, Morin could go in the late first round if a team feels the need to draft a big defenseman with their first pick.  If not, he will likely go early in the 2nd round.
Scout's Honor:
"Tidy skater for such a big man but has some trouble with his pivots. Got blown around in the 3rd by Adam Erne, who has NHL level skating which shows there are definitely improvements to be made. Really involved offensively, taking several rushes through the game but not creating a whole lot, shows signs of 'defenseman's hands syndrome' keeping his head down until the last second offensively. Defensively he is not afraid of contact and actually strives to create it, on top of clean outlet passes keeping things simple. Showed good communication as well, a good sign from any type of prospect."
Ryan English – The Scouting Report
"Morin is a rawhide-tough defensive defenseman whose upside some like Button have likened to a less hyped version of Zadorov or even current Flyers blueliner Luke Schenn. The offensive upside is modest at best but he is very aggressive and physical with a 6-foot-6 frame to back it up."
Bill Meltzer – HockeyBuzz
"Morin is a big, rangy blueliner who moves well for such a massive frame. He plays with an aggression and uses his physical stature to separate opponents from the puck. He has decent hands but isn't a rusher by any sense. He has some decent vision and can lead a breakout."
Aaron Vickers – Future Considerations
Statistics:
Bio/Interview(s)/Links:
Interview with The Hockey News
International Tournaments:
Morin has played for Team Canada on two occasions.  His first was in the U17 World Hockey Challenge where he had on assist in five games.  This year he played in the U18 World Junior Championships where he tacked on two assists in seven games.
ETA:
2-3 years
Risk/Reward Analysis:
Risk: 1/5  Reward: 4.5/5
NHL Potential:
#2 or #3 shutdown defenseman with some offensive capability
Strengths:
Reach
Slap shot
First pass
Skating
Positioning
Physical play
Flaws/Aspects He Needs To Work On:
Adding muscle
Pivots
Agility
Fantasy Hockey Potential:
Offensive: 5/10  Defensive: 8/10
NHL Comparison:
– With his size, the easy player to pick would either be Tyler Myers or Zdeno Chara.  I don't feel that Morin possesses the same game as either of those two players.  He reminds me more of a Jan Hejda or Luke Schenn.
– Hall of Fame comparison: Scott Stevens
Video(s):
***
THW's The Next Ones prospect profile template design architect: Chris Ralph
Follow Shawn Reznik on Twitter: @ShawnTHW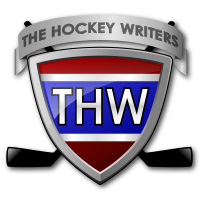 The archives of THW contain over 40,000 posts on all things hockey. We aim to share with you some of the gems we've published over the years.