Have you heard that the four remaining teams in the Conference Finals are the four most recent Stanley Cup Champions?? (Source: everyone who has ever used social media)
While that story has already played itself out, it also means that there will be no "return to glory" or "first championship" story line for most fans to cheer for unless you feel bad for Pittsburgh, who has the longest Stanley Cup drought of the four remaining teams (since 2009!!). Each of these teams forged a memorable story in previous Stanley Cup runs:
2009 Pittsburgh Penguins – Underwent a midseason coaching change, won a rematch of the 2008 Cup Final
2010 Chicago Blackhawks – Ended a 49 year Cup drought (second longest in NHL history), Marian Hossa finally lifts the Cup after 3 straight years in the Final with 3 different teams
2011 Boston Bruins – Ended a 39 year Cup drought, won three Game 7's en route to a championship
2012 Los Angeles Kings – First 8th seed to ever win the Cup, first championship in franchise history
2013 ? – Second championship in (5 years or less), best current day franchise, luckiest/happiest current fan base
As you can tell, the 2013 Champion is already an annoying group.
So if you aren't a fan of the remaining franchises, how are you going to pick who to root for? Rivalries, grudges, and conspiracies aside, here are four players to consider when determining your rooting interests. Luckily, it was easy to narrow the group down to four based on how many players are looking to be repeat champions.
ICYMI Stat: 56 players on remaining 4 #NHL teams have won a #StanleyCup: LA 19, BOS 18, PIT 11, & CHI 8. #LAKings #Bruins #Pens #Blackhawks

— FiveForBoarding (@FiveForBoarding) May 31, 2013
Jarome Iginla – Pittsburgh Penguins
If there is one fan base rooting for the Penguins outside of Pittsburgh, it would definitely be Calgary's. Jarome Iginla, the longtime captain of the Calgary Flames, waived his no-trade clause specifically to go to Pittsburgh and win a Stanley Cup. He added quite a bit of drama by spurning Boston in the process as well. Recent story lines aside though, it is difficult to root against Iginla as a person.
Iginla played more than 1200 games over the course of 15+ years with the Flames before finally moving on just two months ago. He led them to a Stanley Cup Final back in 2004, but lost in Game 7 to the Tampa Bay Lightning. This is actually only the second time that Iginla's team has made it past the first round in his 15+ year career.
By reputation, Iginla is quite the combination of a fierce competitor and one of the nicest guys in hockey. He'll flash a dazzling, contagious smile in warm-ups before dropping the gloves when necessary during a game. After the game, you can expect to see that smile again in press conferences. He's friendly, talented, and the closest thing to Ray Bourque that the 2013 playoffs have to offer.
Next Notable Penguin: Brenden Morrow
Michal Rozsival – Chicago Blackhawks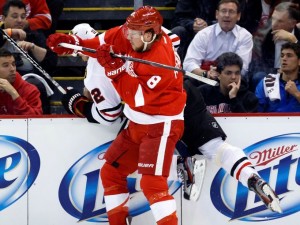 Michal Rozsival's story lacks the luster that Iginla's has, but he has certainly put in the time to earn a Stanley Cup ring in his career. Rozsival started his career in Pittsburgh years before it was cool to be a Penguin. After the '04-05 lockout, he moved on to the New York Rangers, where he was never the missing piece. Rozsival played 5+ years in New York, earning (or at least negotiating) a 4-year, $20 million contract from the Rangers. He was then traded to Phoenix in 2011 and finally signed with Chicago as a free agent in the fall of 2012.
Rozsival has always played a quiet, unassuming game while contributing more than most realize. He is regarded as a solid shot-blocker, a decent puck-mover, and a generally reliable defenseman when healthy. After over 700 games in the NHL, he joined Chicago specifically for the chance to be on a Stanley Cup contender and it looks like he picked well.
Next Notable Blackhawk: Michal Handzus
Wade Redden – Boston Bruins
Wade Redden was minding his own business and having a solid run with Ottawa when his career took several odd turns. In his 11th and final season with Ottawa, rumors swirled as his performance declined and Redden resorted to vetoing multiple trades that the Senators had planned out. After 11 seasons in Ottawa, Redden opted to sign with the Rangers in free agency for a 6-year, $39 million deal.
His performance continued to decline and he was waived and sent down to the AHL, where he became the highest paid player in AHL history. Redden contemplated retiring, but he stuck with it and eventually became the captain of the Connecticut Whale.
The '12-13 lockout and the new CBA turned out to be a blessing for Redden's hockey career. He was bought out by the Rangers before the 2013 season started and he signed a 1-year, $800k deal with St. Louis to return to the NHL. At the trade deadline, St. Louis traded Redden to Boston, where he now finds himself with a chance to win a Stanley Cup after being buried in the AHL for multiple years.
Through no fault of his own, Redden's career has taken some crazy ups and downs throughout his 1000+ games in the NHL. His dedication to his career and returning to the NHL should certainly earn him some consideration as a fan favorite for winning the Stanley Cup. Also, it would just be funny for all non-Rangers fans.
Next Notable Bruin: Jaromir Jagr (Start and end his career with a Cup?)
Robyn Regehr – Los Angeles Kings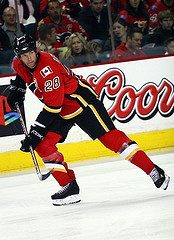 Finally, there's Robyn Regehr who has logged over 900 games in the NHL and follows a similar story line to Jarome Iginla. His story started much differently though. Regehr was the youngest nominee ever for the Bill Masterton Memorial Trophy after breaking both of his legs in a car accident before he even made his NHL debut.
Regehr recovered from the accident in just four months and went on to spend his first 11 seasons in the NHL in Calgary with Iginla. After the '10-11 season, Calgary traded Regehr to Buffalo, where he spent a year and a half before getting moved to Los Angeles before the trade deadline this season.
In Los Angeles, Regehr has been reunited with head coach Darryl Sutter, who led Regehr and the Flames to the Stanley Cup Final back in 2004. Just like with Iginla, this is only the second time that Regehr's team has advanced beyond the first round of the playoffs. He recently signed a two-year extension to keep him in Los Angeles, but he has certainly gone through enough already to merit a little attention for the Cup.
Next Notable King: Jake Muzzin (There aren't a lot of options here.)
So perhaps if you hate all four of the teams remaining, you will at least be able to find some love for one of the guys mentioned above. Pick a guy and jump on the bandwagon!
Meesh is an attorney and one of the Pittsburgh Penguins Contributing Writers for The Hockey Writers. He also writes for ThePensNation.com. You can contact him on twitter @HockeyMeesh or e-mail HockeyMeesh@gmail.com