Michael McCarron sticks out like sore thumb on the ice.  Not because he's bad – quite the opposite, actually.  His hulking 6'5″ stature gives it away.  Even for a big man, the kid has serious talent and it's shown during his time with the U.S. National Team Development Program.
Michael McCarron THW Close-Up:
Date of birth: 3/7/1995
Place of birth: Macomb, Michigan
Ht: 6'5″     Wt: 229 lbs
Shoots: Right
Position: RW
NHL Draft Eligibility: 2013
Twitter: @MacAttackUSA93
THW The Next Ones Rankings (January 2013): 43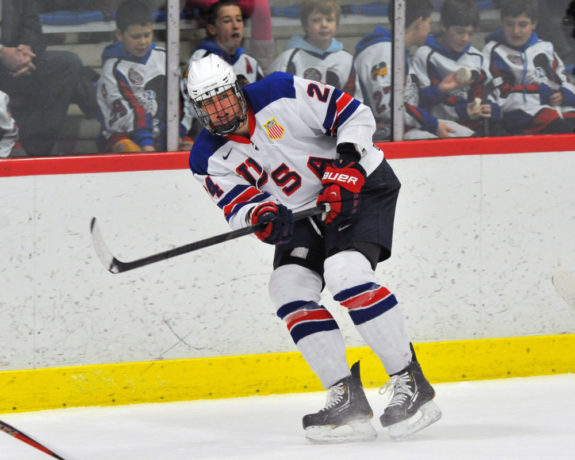 Other Rankings:
THW War Room Rankings (April): 55
ISS (May): 28
Future Considerations: Not ranked
Craig Button: Not ranked
Consensus aggregate of several services (NHL Numbers): 73
CS Final Rankings for North American skaters: 35
***
[NHL 2013 Draft Guide – The Next Ones Draft Headquarters: Your quintessential draft resource]
***
Michael McCarron sticks out like sore thumb on the ice.  Not because he's bad – quite the opposite, actually.  His hulking 6'5″ stature gives him away.  Even for a big man, the kid has serious talent and it's shown during his time with the U.S. National Team Development Program.
He isn't the flashiest player on the ice, but you shouldn't expect such a tall player to have hands like Bobby Orr.  He does, however, know his strengths and utilizes them to his advantage.  McCarron is effective in front of the net, where he uses his body to shield the keeper's line-of-sight and bang in any pucks in and around the net.
Michael's skating is adequate, but has continually improved since he first suited up for Team USA.  His board play really sticks out, mainly because it's so hard to win a battle against him in the corner.  Given his size and weight advantage, he is known for his physical play in all three zones.  McCarron's wingspan helps his puck control and his shot is well above average.
With his impressive showing at World U18 Championship, his name has started to circulate as a possible first round pick.  ISS even put him 28th in their Top 30 Rankings for May.  If a team is lacking a "big" presence in front of the net or along the boards, McCarron has a good chance at going higher than expected.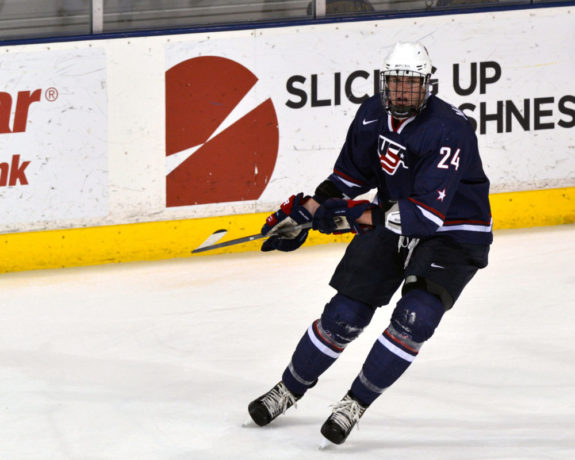 Where Will He End Up In June:
All signs point to him shooting up the rankings.  At the beginning of the season most would've thought he'd be a late 2nd/early 3rd round pick.  Given the circumstances and how much potential he has at RW, he is likely to be picked somewhere very late in the 1st round to the mid 2nd round.
Scout's Honor:
"A revelation in the tournament, McCarron should continue his rise up many draft boards. At 6-5, 225, he doesn't have to do much to be noticeable, but it seemed he was doing something every time out. Not just a bruising forward, McCarron showed terrific skating and puck skills. He was incredibly difficult to out battle along the boards and while he didn't throw his weight around a ton, he showed he can be physical. McCarron has elite puck skills for a player of his size and showed both a willingness to distribute and a lack of fear of his shot, which is quite good. His footwork is solid enough and improving. There's a good chance a team is going to take the risk late in the first round just because of McCarron's immense upside. His decision-making could improve a bit, but the physical tools are right where they need to be at this point. McCarron could turn into a heck of a pro hockey player down the line."

 
Chris Peters – The United States of Hockey
"Mike McCarron is huge. There is no other way of saying it. He towers over everyone else on the ice, and he seems to recognize his strengths and limitations in that respect.

McCarron plays what I like to call a no-frills game. He plays simple, straight line hockey. He goes to the net and sets up shop. When he has the puck, he's not looking to get fancy with it. He either shoots it or gets it to one of his teammates. He isn't going to beat anyone in a stickhandling contest or a race, so he doesn't bother trying. You like to see that a guy like that understands what his role and capabilities are, and McCarron clearly does."

 
Robert Benneian – The Scouting Report
"McCarron is a valuable physical beast on skates for the United States Development Program's Under-18 squad, especially when they play the bigger competition of their NCAA schedule. He is a north/south winger that plays up to his size and makes opponents look over their shoulders for his number when he is on the ice. He relishes all contact and wreaks havoc along the wall and in front of the net. He has some impressive tools like strong skating ability, balance on his feet and a hard shot off the rush as well as the ability to finish in close but is not overly creative and needs to compliment an offensive minded linemate to get best results."
Aaron Vickers – Future Considerations
Statistics:
Bio/Interview(s)/Links:
McCarron commits to Western Michigan University
Hockey's Future feature on Michael McCarron
International Tournaments:
McCarron has played in the World U-17 Challenge and the World  U-18 Junior Championships.  He received a silver medal in both.  In 12 games for Team USA he has  4 goals and 3 assists.
ETA:
2-3 years
Risk/Reward Analysis:
Risk: 1/5   Reward 4.5/5
NHL Potential:
Top 6 power forward winger
Strengths:
Size
Physical play
Net presence
Puck control
Board play
Shot
Balance
Simplistic game
Flaws/Aspects He Needs to Work On:
Foot speed
Stickhandling
Fantasy Hockey Potential:
Offensive: 7/10   Defensive: 4/10
NHL Player Comparison:
– With his size, he can be compared to a more offensive Brian Boyle.  Overall, his game is most closest to Chicago Blackhawks' forward, Jimmy Hayes.
– Hall of Fame comparison: Clark Gillies
Video(s):
***
THW's The Next Ones prospect profile template design architect: Chris Ralph
Follow Shawn Reznik on Twitter: @ShawnTHW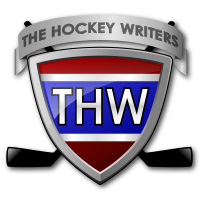 The archives of THW contain over 40,000 posts on all things hockey. We aim to share with you some of the gems we've published over the years.