The 2013 NHL Draft was already set to be an exciting time for both the league and the Buffalo Sabres. A draft this deep could turn around the fortunes of several franchises in just one day.
For Buffalo, the day could hold far more impact.
Already possessing the 8th and 16th picks in the first round, the Sabres will be shopping big-name players Thomas Vanek and Ryan Miller, looking to stockpile assets for the rebuild, even though they're not officially calling it that (admitting a rebuild means admitting your team sucks and the Sabres never do that).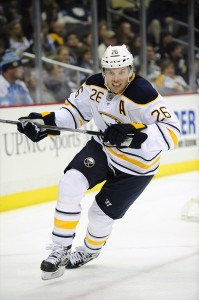 Vanek, a proven goal-scorer hitting his theoretical prime, could be highly sought after by teams who feel like one big offensive addition could push them over the top. He comes with a big cap hit ($7.142M) but has just one year left on his deal so the team acquiring him has the flexibility of letting him go at year end if they can't find the funds to re-sign him.
Not only that but he hasn't scored fewer than 25 goals in his career to date, hitting the 30 and 40-goal plateaus twice. That kind of proven scorer isn't something you come by often and they certainly don't come cheap.
Could his haul exceed that brought in by the Jason Pominville trade? Potentially but that depends on who's buying and what the market is like for Vanek. Ignoring division rivals – and that was hard since it makes sense for the Sens and Leafs — I did a little digging and found five teams who could be interested in the Austrian winger come draft day.
Nashville Predators
Amongst Sabres fans, the Preds seem to be the team that comes up most often when discussing Vanek's future destination. Nashville seems like one of those teams that could never ice a good offensive team and so, always in search of offense, Vanek could be just what the Preds are looking for.
What They Have To Offer
Aside from draft picks, which are sure to be involved in any deal for Vanek, there are a few forwards who might come available but their strength is depth amongst the defensive prospects and young roster players. Roman Josi, Jonathan Blum, and Mattias Ekholm could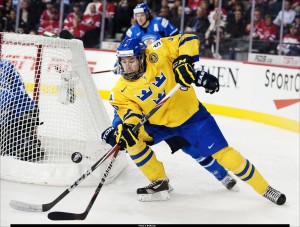 be enticing pieces to a deal. The team might be hard-pressed to pry away Filip Forsberg or Austin Watson given the Preds' need for offense and lack of high-end offensive prospects.
Why a Trade Could Happen
It certainly makes sense for a few reasons: General Manager Darcy Regier seems to have a penchant for trading away players to the Western Conference (Pominville, Paul Gaustad, Robyn Regehr, and Jordan Leopold) and the Predators desperately need an infusion of offense.
Vanek would not only provide a steady scoring hand but could prove to tutor some of the young forwards on the roster, helping them to develop. They have a ton of cap space to work with and a deep pool of defensive prospects.
Why It Won't Happen
It really depends on a couple of things.
First: does Thomas Vanek want to go to a team in transition like Nashville? It might not be a full-on rebuild but the fall from borderline-Cup contender to top five pick might be a turn off for him. He's already publicly stated he does not wish to participate in a rebuild in Buffalo so I'm not sure he'd be in favor of participating in one elsewhere.
Secondly: the Preds may not be willing to part with their first round pick this year. If they think highly of Aleksander Barkov or think one of the big three could fall to them, they won't want to move.  If Buffalo is willing to accept a first rounder next year, the deal could still work but I would think they would want to stockpile picks in this year's draft given all we've heard about its depth.
Potential Deal
If a deal is going to happen with Nashville, it will probably look like this: Ekholm, Magnus Hellberg, and a first round pick in 2014. Hellburg is probably interchangeable with another second-tier prospect but you get the idea. That would be a solid haul for Vanek, bolster the blueline long-term, and stockpile more picks in a year where Buffalo should be competing for the first overall pick.
Columbus Blue Jackets
For a team that didn't make the playoffs, there has to be very little disappointment among the fans. They were treated to an exciting,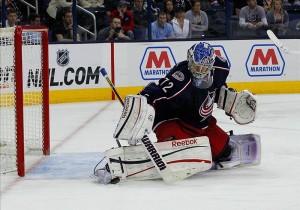 unexpected stretch run thanks to the MVP-level play of Sergei Bobrovsky (cut to Flyers fans in the fetal position). They surprised many at the trading deadline by acquiring high-priced Slovak sniper Marian Gaborik from the New York Rangers to bolster their attack.
What They Have To Offer
The Blue Jackets certainly have some flexibility as they chose a great year to have multiple first round picks. With picks 14, 19, and 23 in the first round, they certainly could package those picks either to move up or to grab a proven commodity like Vanek. And despite trading away some of their depth acquired in the Rick Nash deal to get Gaborik, they still have a good pool of prospects to dangle.
Why a Trade Could Happen
The Jackets were so close to unexpectedly making it into the playoffs. It appears as if they've found their goaltender in Bobrovsky and they have a hard-working team that fights until the final buzzer. Getting more talent and production in the lineup could be the key to getting into the postseason and making some noise.
If the Jackets are looking to capitalize on their momentum, a trade for a big name could really make the atmosphere in Columbus come alive.  Given the state of the team pretty much since its inception, it could finally be a sign of something big for the fan base.
Why It Won't Happen
The other end of the spectrum could see Columbus management happy with what they've got and opt to trade up in the draft for high-end talent that could potentially make an impact this year. Not only that but if they feel like a few of the youngsters – Boone Jenner, Tim Erixson, Cam Atkinson – are ready to make significant contributions, they may choose to stand pat and grow as a team.
Potential Deal
While it might be nice for Buffalo to grab two of those first round picks, that's not likely to happen unless Columbus management is desperate to make a big splash to continue momentum.  Jarmo Kekalainen has shown he will make the big move but he's got a solid track record and a desperation move isn't likely.
The more likely scenario is the Jackets dealing one of the picks in the teens, one of Jenner or Erixson, a second-tier prospect like Cody Goloubef or Jonathan Audy-Marchessault, and perhaps a later round pick. This lets the Sabres add a third first rounder, add to the prospect pool, and perhaps allow them to make a bigger splash on trade day in regards to moving up.
New York Islanders
The feel good story in the Eastern Conference, the underdog Isles not only made it into the playoffs on the back of Hart Trophy candidate John Tavares, they punched heavy favorite Pittsburgh in the mouth in their first round matchup before finally succumbing in six games.
For all the franchise and the fan base have gone through – the years of poor performances, the botched drafts, the Rick DiPietro debacle, the Alexei Yashin debacle – it was a reassurance that things are on the rebound and that John Tavares could be the team's first superstar since Pierre Turgeon.
What They Have To Offer
One of the positives of being bad for a long time means you get to pick near the top of the draft quite often and amass a group of talented prospects.  Griffin Reinhart, Ryan Strome, Brock Nelson, Calvin de Haan, Nino Niederreiter; the pool is deep on Long Island. It gives the Isles flexibility to make an upgrade for someone proven to bolster another playoff run.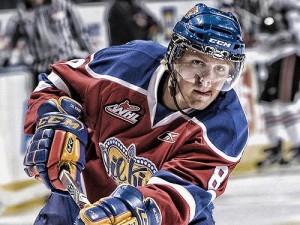 Their pick in the first round this year (15) could be valuable to a team like Buffalo looking to acquire as many as they can in hopes of making a big splash this year, making it a valuable asset to the Islanders if they are looking to acquire talent for the present.
Why a Trade Could Happen
The Islanders have a ton of cap space even after they re-sign those necessary to the cause. They acquired sort-of-retired goalie Tim Thomas last year to hit the cap floor and he comes off the books this summer, freeing up over $5M of room alone.
They have good talent on the wings – Matt Moulson, Michael Grabner, Kyle Okposo – but they don't have much depth and someone like Vanek in the top six could really make their top two lines formidable. Not to mention what someone like Vanek could do to make Tavares even better, scary as that may sound.
Why It Won't Happen
It really depends on how they feel about the above group of prospects. Neiderreiter reportedly asked to be traded due to lack of opportunity. Do think too highly of Reinhart and Strome to potentially deal one?
Another scenario could see one or two from that group ready to make the jump into the pros next year, taking away a potential landing spot for Vanek. It all comes down to just how ready the organization thinks they are.
Potential Deal
The first round pick would be a must for the reasons mentioned above. Three of the top 16 picks would be huge for the Sabres and they might even be able to package 15 and 16 to move into the top 10.
In addition to that, they may pursue someone like Nelson, a big center with all the skills just looking to put them together.  They will surely try to swing for the fences and get either Strome or Reinhart; that will depend on the desperation of the Isles to make a move.
Winnipeg Jets
Akin to the Blue Jackets, this was another young team on the cusp. They fought valiantly down the stretch but faltered when it mattered most and missed out. With a potential shakeup coming – Blake Wheeler and Bryan Little are RFAs, Nik Antropov is a UFA – they could be looking to make a change and push themselves into playoff contention. Adding someone to take the load off of Evander Kane and Andrew Ladd is never a bad idea, either.
What They Have To Offer
The 13th overall pick for the reasons mentioned above – stockpile, baby! – would have to be included for the Sabres to act.  Aside from that, they have a couple of top prospects in Mark Scheifele and Jacob Trouba, who would be valuable to any franchise. They also happen to have a very talented young center who appears to be in the dog house and on the way out of town: Alexander Burmistrov.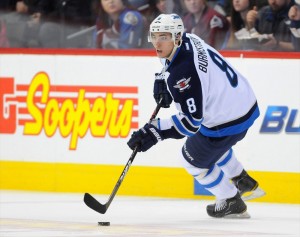 According to various rumors, Burmistrov was almost dealt to Buffalo at the trading deadline for Drew Stafford so acquiring him doesn't seem to be much of an issue if he's part of a package for Vanek. He's got a very high talent level so perhaps a change of scenery could spark him.
Why a Trade Could Happen
Obviously right on the cusp of the playoffs, it comes down to cap space and desire for proven scoring. If the Jets let Antropov and defenseman Ron Hainsey walk via free agency, replacing them by adding Vanek and other parts could not only bolster their attack but bring even more buzz to the already hockey-crazy town of Winnipeg. Vanek and Kane crashing the net could be the worst case scenario for Eastern Conference teams.
Not only that but they have a similar situation compared to the Islanders: good talent on the wings but little depth. Adding Vanek could make their top six one of the best in the conference.
Why It Won't Happen
Cap space. If they keep the aforementioned Antropov and/or Hainsey, there might not be enough room to work with even with Burmistrov going back. Not only that but the Jets may not be willing to part with either Scheifele or Trouba and the Sabres will surely be asking for one of them in a package for their sniper.
Potential Deal
I think the breaking point on this deal is one of the two prospects mentioned above. The first rounder will almost certainly be in there and if included, the deal would more than likely end up being Scheifele or Trouba, the first, and a lower-tier prospect.  It sounds like a lot to give up and the Jets may agree with that opinion but it will likely be the cost of landing a guaranteed 25-30 goal scorer.
St.Louis Blues
I went a little bit off the path with this one but it could make sense for both sides. The Blues have made their name of late as a good defensive team that gets things done offensively with a solid group of forwards but no stars. They have a complicated off-season ahead – re-signing star defenseman Alex Pietrangelo, Kevin Shattenkirk, goaltender Jake Allen, power forward Chris Stewart, Patrick Berglund, and UFA Andy McDonald – so they may not be able to fiscally make this work when it comes to it but they could benefit from a front-of-the-net force like Vanek.
What They Have To Offer
The biggest issue is that the Blues have no first round pick this year; that was dealt to Calgary for defenseman Jay Bouwmeester. I can see that being a sticking point but they do have talented wingers Jaden Schwartz and Ty Rattie to dangle as well as a plethora of goalies should the Sabres decide they don't have enough as it is.
Why a Trade Could Happen
If the Blues can't or don't re-sign everyone (like Andy McDonald) or would rather deal a current roster player than pay him, it could make for an interesting day. They've also been a Stanley Cup contender the last few years and could be trying to get themselves over the hump with a big offensive addition to compliment their sound defensive style. Vanek comes from Ruff's defensively-responsible system in Buffalo so he would be no stranger to that type of atmosphere.
Why It Won't Happen
Money. Too many guys to re-sign, not enough flexibility, and an unwillingness to deal one of their top-tier prospects.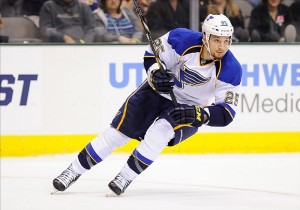 They also may not be in a position to re-sign Vanek long-term and would not want to pay a king's ransom for a rental.
The lack of a first round pick could also be a sticking point from the Buffalo end of things for all of the obvious reasons.
Potential Deal
I could see this going one of two ways: a deal involving Schwartz, Dmitrij Jaskin, and a middle-round pick or a surprise move like trading the rights to Chris Stewart, someone like Jaskin or Ty Rattie, and a mid-round pick.
The Sabres would covet a guy like Stewart – big, mean power forward who skates well – so long as he manages to keep his weight in line and show maximum effort. The Blues would probably like to move Halak here but with the addition of Matt Hackett in the Wild trade, the Sabres aren't likely to be interested.
Wherever he may or may not end up, the landscape for Thomas Vanek will be wide open.  You can never go wrong with a 25-goal guy who has 40-goal potential. Just where he ends up will be one of the many interesting storylines of draft day.
Follow me on Twitter: @RWTFC
A long-time (and long-suffering) Buffalo sports fan. Sometimes optimistic, always weary. I write other stuff for a lot of other people.