Eamon McAdam THW Close-Up:
Team: Waterloo Black Hawks/Penn State University
Date of Birth: 9/24/1994
Place of Birth: Perkasie, Pennsylvania
Ht:  6'2″     Wt:  185 lbs
Catches: Left
Position: Goalie
NHL Draft Eligibility: 2013
Twitter: @EamonMac35
THW Ranking: 113
Other Rankings:
ISS (North American Goalies): 3
CSS (North American Goalies): 6
Future Considerations:
Craig Button: 74
***
*Check out THW 2013 Draft Guide: The Next Ones, your quintessential draft resource*
***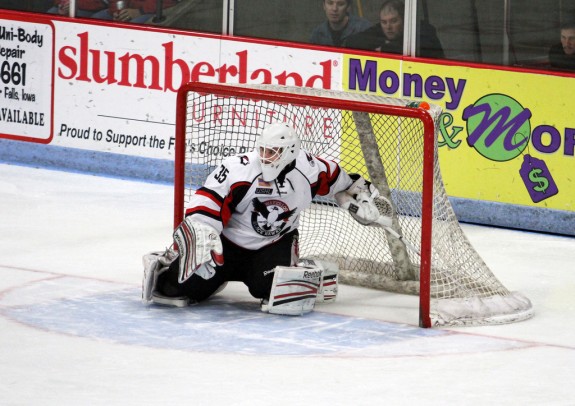 One-Half of Waterloo
For someone that didn't start playing the game of hockey until later on in his childhood, Eamon McAdam sure has put in a lot of hard work to get to where he is today.
While McAdam did not take up the sport of hockey as early as some of his peers, one wouldn't be able to tell that from the goalie's sheer determination and dedication. As a member of the Waterloo Black Hawks, McAdam might not have had the best hockey season in terms of peripheral statistics, but numbers oftentimes don't tell the whole story – especially in regards to younger players.
During the 2012-2013 USHL season, McAdam split time with fellow netminder Cal Petersen as McAdam played in 31 games and Petersen appeared in 35. Even though Petersen's regular season stats (35 GP, 2.97 GAA, .906 Save Percentage) were better than McAdam's numbers (31 GP, 3.45 GAA, .896 Save Percentage), both goalies provided each other with unconditional support. Despite the fact that both goalies split duties for Waterloo this past season, the ability to be a team player regardless of circumstances speaks volumes of the character that both McAdam and Petersen possess.
While McAdam might not have had the strongest of statistics with the Black Hawks this year, he has certainly matured and grown with the team over the last few years. Not only has McAdam been a committed member of the Waterloo Black Hawks, he has also made his presence felt in the community through various humanitarian efforts.
With McAdam already committed to going to college in the Fall of 2013, Pennsylvania State University will probably be awaiting the arrival of the young goalie into their Division-I hockey program. Since McAdam will be moving to a Division-I hockey program which is in the Big-10 Conference, it is highly probable that he will face a better crop of shooters over the next few years – something that will undoubtedly elevate his game as he adjusts to the NCAA game.
Eamon McAdam has the size and skill set that can make him an attractive option to any team looking for a goalie in this year's NHL Entry Draft. Regardless of where he winds up, McAdam will be a solid prospect for any team that decides to take a chance on him. After all, McAdam has not only displayed determination and commitment to the teams that he plays for, he has shown that he has the mental composition and acuity to be a successful professional in the near future.
Scout's Honour:
"American born 'tender who will at the end of this season have three seasons in the USHL under his belt. Tall and thin. Handles the puck like a forward. Committed to Penn State."
– Bill Placzek, Draftsite.com
"The signature moment of the USHL Top Prospects Game came off McAdam's glove, when the Penn State commit absolutely robbed hometown hero Michael Brodzinski of the Muskegon Lumberjacks. McAdam was also at the All-American Prospects Game in Buffalo this fall and has won four of his past decisions with Waterloo. Draft eligible in 2013."
– Ryan Kennedy, TheHockeyNews.com
"Both goalies are really well-coached by Waterloo goalie coach Chris Economou… They're fundamentally sound for their age and fairly consistent with their technical game. McAdam is a bit bigger, while Petersen has the edge in stats and games played. They are gracious teammates and publicly support one another, which is a trait all goalies must have if they expect to succeed at the pro level. This could go either way, but I'd personally draft Petersen over McAdam. He was a bit more impressive than McAdam during the All-American Prospects Game in Buffalo. And he's 6-0-1 in his last seven games for Waterloo, while McAdam has just two wins in his last nine games (2-5-2). Stats don't tell the whole story, but Petersen seems to have the edge in terms of draft value."
– Justin Goldman, via Buzzing the Net
"As the only 'B' rated goalie in the United States Hockey League, Eamon McAdam will have plenty of eyes watching him this year. Fortunately, the opportunities for scouts have been plentiful beginning back in August during the 2nd annual Junior Club World Cup where McAdam helped Waterloo win a silver medal. The Pennsylvania native was named the top goaltender of the tournament… Recently the Penn State commit represented the United States at the 2012 World Junior A Challenge in Halifax. The almost all USHL team ended up capturing the gold medal with McAdam ending the event with a .927 sv% and 2.18 GAA after 4 games."
– Guy Flaming, The Pipeline Show
Where He'll End Up In June:
McAdam will likely be drafted in the mid-to-late stages of the NHL Entry Draft as fellow Waterloo Black Hawks netminder Cal Petersen might be drafted before McAdam.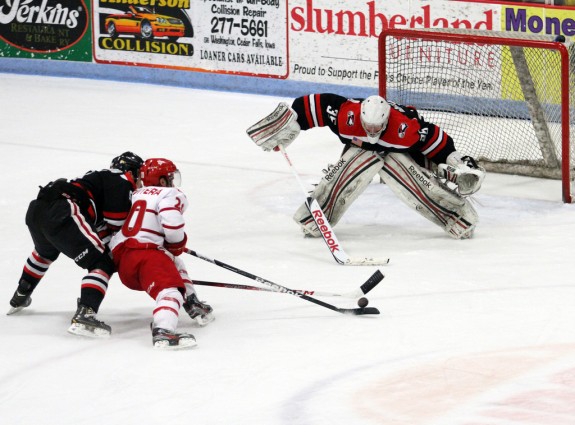 Statistics:
Bio/Interviews:
McAdam's Performance at Top Prospects Game by Mike G. Morreale via NHL.com
Bio/Blog Posts (Part I, Part II, Part III, Part IV) by Eamon McAdam via The Pipeline Show
Feature on McAdam by Chris M. Peters (January 2012)
Feature on McAdam, Petersen, and other Waterloo players by Tom Schreier
International Tournaments:
World Junior Club Cup as a member of the Waterloo Black Hawks.
Member of the 2012 U.S Junior Select Team competing in World Jr. A Challenge.
NHL ETA:
3-5 Years
Risk/Reward Analysis:
Risk: 2.5/5 Reward: 3.5-4/5
NHL Potential:
Number one starting goalie/Strong backup
Strengths:
Size
Technically sound
Solid mentality needed for a goalie
Quick feet
Patient
Good puck tracking skills, especially through traffic
Good puck handler
Good blocker and glove hand
Flaws/Aspects He Needs to Work On:
Rebound Control
Could use slight work on lateral movements
Fantasy Potential:
Goaltending: 8-9/10
NHL Comparable:
No true NHL comparison at this point in time.
Video:
*** THW's The Next Ones prospect profile template design architect: Chris Ralph
In his third year with The Hockey Writers, Toli covers all things related to the New York Islanders. Focusing on the Islanders, the NHL Draft & draft-eligible prospect goalies, and hockey history, Toli can be contacted on Facebook by searching/messaging Toli Metter and on twitter by searching @ToliMetterTHW.