Bogdan Yakimov THW Close-Up
Date of Birth: October 4, 1994
Place of Birth: Nizhnekamsk, Russia
Ht: 6'4" Wt: 201 lbs
Shoots: Left
Position: Center
NHL Draft Eligibility: 2013
Due to the tenuous relationship between the National Hockey League and the Russian Ice Hockey Federation, there's been speculation that a lot of NHL clubs may be a bit hesitant to draft Russian players. But while teams may be steadfast in that resolve, players like centerman Bogdan Yakimov come along that test their willingness to roll the dice.
A native of Nizhnekamsk, the town that produced Nail Yakupov, Yakimov is a prototypical power forward centerman. He's big. He's physical. He's willing to battle in the major traffic lanes to score. His game is not without warts, though. He could be a better skater and he lacks elite play-making ability. But he's arguably more consistent than a lot of players, lacking huge peaks to his game but lacking massive valleys.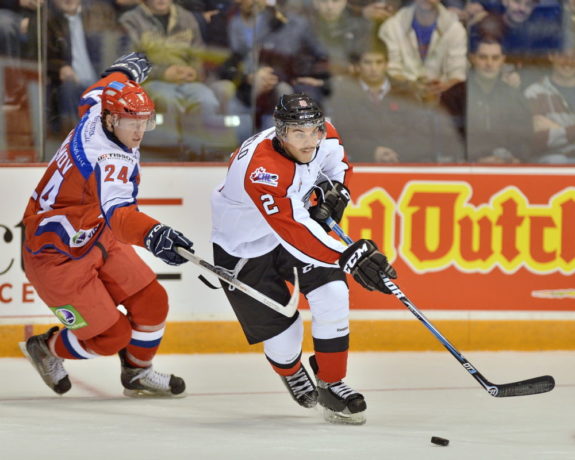 The big question in regards to Yakimov is what kind of a pro he'll be. He was drafted by Nizhnekamsk's KHL team back in 2011 (and is reportedly only under contract through next season). He bounced around this season between Dizel Penza and Nizhnekamsk's two affiliate teams, Izhstal Izhevsk and the awesomely-named Reaktor Nizhnekamsk. He had good production in both minor leagues, but it's hard to get a bead on where his compete level and production stands up against other draft eligible players due to the leagues' relative obscurity.
Lots of teams covet big, physical centers. Already over six feet tall and pushing two hundred pounds, Bogdan Yakimov is everything an NHL team would want in an 18-year-old. However, the fact that he's in the KHL's development system and that he's yet to dip his toe in the major professional ranks may scare a team or two away. For those who aren't frightened off, Yakimov could be an excellent long-term investment.
Scout's Honour:
"Yakimov is a big, tough center who thrives in the face-off circle where he uses his size and strength to over power opponents… He's solid at both ends of the ice and gets most of his goals and points by getting his nose dirty around the net." – Future Considerations' scout Roman Solovoev
Statistics:
Bio/Interview(s)/Link(s):
International Tournaments:
Yakimov represented Russia at the 2011 and 2012 Under-18 World Championships. He won a bronze medal at the 2011 tournament. He narrowly missed making the Russian World Junior entry in 2013, being one of the last players cut from the team. He did represent Mother Russia during the Subway Super Series in the fall of 2012, though.
ETA:
2-3 years
Risk-Reward Analysis:
Risk 1.5/5, Reward 3/5
NHL Potential:
Second or third line center.
Strengths:
Big, physical player.
Good positioning
Battles to create scoring opportunities
Fairly consistent, despite changing teams many times this year
Flaws/Aspects He Needs To Work On:
The Russian Factor – will he be able to come to North America without hassles?
Paying attention to further developing his skating
Relies on physicality, rather than creativity, to generate scoring chances
Over the long term, his playing style may project to be an injury concern
Fantasy Hockey Potential:
Offensive 8/10, Defensive 7/10
NHL Player(s) Comparison:
A good comparision for Yakimov is fellow Russian Artem Anisimov, who's similarly large and spent a similar amount of time in the Russian junior and minor-pro development system.
When He'll Go In June:
The Russian Factor is likely to scare a suitor or two away. That said, Yakimov is a talented player with a lot of tools. He'll likely be chosen in the third or fourth round.
Ryan Pike has covered the Calgary Flames and the NHL Draft extensively since 2010 as a Senior Writer for The Hockey Writers and Senior Contributing Editor of FlamesNation.ca. A member of the Professional Hockey Writers Association, he lives in Calgary.