Spencer Martin THW Close-Up:
Team: Mississauga Steelheads
Date of Birth: 6/8/1995
Place of Birth: Oakville, Ontario
Ht:  6'2″     Wt:  190 lbs
Catches: Right
Position: Goalie
NHL Draft Eligibility: 2013
Twitter: @S_Marty95
THW Rankings: 61
Other Rankings:
ISS (North American Goalies): 5
CSS (North American Goalies): 5
Future Considerations:
Craig Button: 72
***
*Check out THW 2013 Draft Guide: The Next Ones, your quintessential draft resource*
***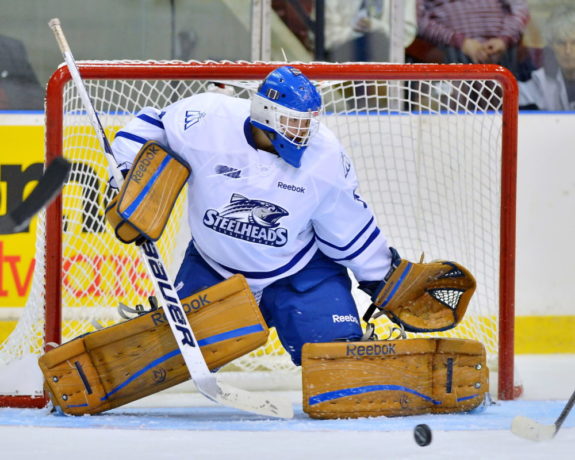 Suspense With Spencer Martin?
After having a not-so-memorable finish to his 2012-2013 hockey season, Spencer Martin might have affected his draft stock somewhat, but there is still a tremendous amount of upside to the goalie.
Martin might have had his struggles during the late portions of the OHL season, but the goalie certainly did more than enough to raise some eyebrows in hockey circles this season. Despite being unable to keep his GAA below 3.00 while playing for Mississauga, Martin has shown just how valuable he can be to a team that was at times inconsistent on both defense and offense.
While Mississauga managed to make the OHL playoffs, their offense did not do the best job of providing goal support for their goalie as the Steelheads finished as the league's second lowest scoring team. Even though the Steelheads had some scoring issues during the 2012-2013 hockey season, they were also prone to defensive lapses – something that undoubtedly made Martin work that much harder throughout the hockey season.
Instead of receiving constant and reliable support from his teammates, Martin was at times forced to make up for his team's shortcomings through his play in net. Even though some might point to Martin's struggles and sub-par peripheral statistics over the last two years with Mississauga, the goalie's international play and effort in the CHL Top Prospects game gave credence to the fact that Martin is a goalie worth taking at this year's draft.
Of course, there are certainly aspects of Martin's game that could use improvement, but as it stands, the goalie has quite a few assets to offer to teams that are interested in him. Martin employs the butterfly style and is certainly not limited with his movements as his athleticism, reflexes, and quickness allow him to make plays that other goalies might not even attempt. While Martin could stand to improve in areas such as puck tracking and rebound control, he will still be among the top goalies available at this year's draft.
Scout's Honour:
"The goalie has been carrying a mediocre Mississauga club on his back. Never beaten by first shots, it takes at least two to three good chances to get one by him."
-Kyle Woodlief via USA Today
"A tall, butterfly-style goaltender with excellent agility and flexibility.. generally speaking, receives inadequate support from his blueline crew, yet frustrate shooters by routinely making highlight-reel saves – that he makes look easy due to his sharp reflexes and quick lateral movement…focuses on keeping his body square to the puck… demonstrates good fluidity and excellent push-off strength…will need to work on his mental toughness moving forward – as well as rebound management, as he kicks out some juicy ones straight back out, especially when moving laterally."
– Sean Lafortune, McKeen's Hockey
"Part of the new breed of taller goaltenders, Martin plays a solid butterfly style and has very quick legs taking away the bottom of the net very effectively. He has good size, and challenges shooters, by coming out of his net and playing his angles very well.  Like many young goalies, Martin can sometimes have an issue with rebound control, and he will need to focus on improving that aspect of his game.  However there is a ton of raw talent here, that will have scouts excited for the NHL draft."
– Ben Kerr, Last Word on Sports
Where He'll End Up In June:
The consensus surrounding Martin seems to be that he will be drafted in the late second or early third round.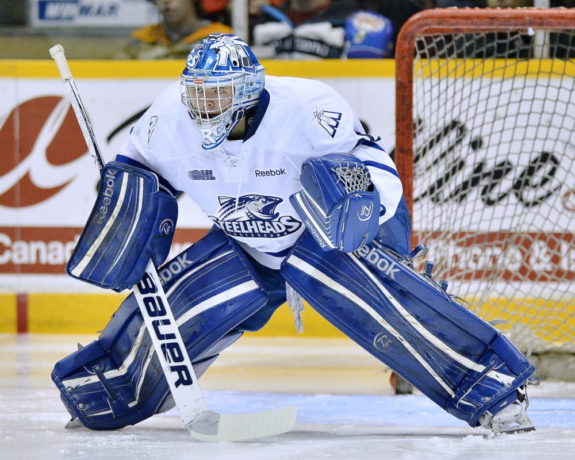 Statistics:
Bio/Interviews:
Even-Keeled Martin Taking Draft In Stride by Inside Halton
NHL Draft Tracker: Spencer Martin by Neate Sager
International Tournaments:
Member of Canada's 2013 WJC-U18 Men's Hockey Team (2 GP, 1.00 GAA, .941 Save Percentage).
NHL ETA:
3-5 Years
Risk/Reward Analysis:
Risk: 2.5/5 Reward: 4.5/5
NHL Potential:
Number one starting goalie.
Strengths:
Good agility and reflexes
Quick lateral movements
Good push-off strength
Challenges shooters
Good concept of positioning and playing angles
Flaws/Aspects He Needs to Work On:
Fantasy Potential:
Goaltending: 9/10
NHL Comparable:
No true NHL comparison, but has grown up watching and closely following goalies such as Curtis Joseph and Ryan Miller.
Video:
*** THW's The Next Ones prospect profile template design architect: Chris Ralph
In his third year with The Hockey Writers, Toli covers all things related to the New York Islanders. Focusing on the Islanders, the NHL Draft & draft-eligible prospect goalies, and hockey history, Toli can be contacted on Facebook by searching/messaging Toli Metter and on twitter by searching @ToliMetterTHW.