Guest post by Eldon MacDonald (edited by @ChrisRalphTHW)
Potential Ottawa Senators Draft Picks
The purpose of this article is to shed some light on what the Ottawa Senators might be looking for in the upcoming 2013 NHL Draft in New Jersey and to provide some idea as to who may be available and picked with each draft selection. Even if you don't agree with all of my suggestions, this article should be able to provide you with most of the information needed to make your own list of hopeful selections. To give the reader a fairly wide range of information, we have provided the following:
Major Needs
Likely Draft Positions and Potential Picks
The Major Team Decision Makers
The Big Club – Current Roster
Top 10 Prospects
The Last Three Drafts
The reader should be aware that the suggested picks may or may not be available at the team's turn at the draft. They are indicative, however, indicative of the types of players that will be available and the types of choices that Bryan Murray will have to make come June 30th in New Jersey.
Other Posts in This Series (War Room Final Rankings – Top 120)
You can use these posts to get more information on players ranked 1 through 120 including the following on most prospects:
Unique Nicknames
Audio
Video
Quotes
Twitter
Stats
Major Needs
1 – High scoring top six forward–The Ottawa Senators are not in bad shape by any means, as they have replenished their team with young talent and still have top prospects Cody Ceci (D) and Stefan Noesen (F) waiting in the wings. However, the current state is still not quite up to par if the end goal is to win the Stanley Cup. A high scoring top six forward would be a welcome addition. If Daniel Alfredsson does decide to retire, this need may be a little more pressing.
2 – Steady defenseman  – Yes, the Sens are in a better position than most for d-men. However, most teams, the Senators included, could improve themselves with another solid d-man.
3 – Gritty forward –Yes, the Senators have Chris Neal, a personal favourite of mine. They also have Stefan Noesen coming on board in the near future. However, like the d-position you can't have too much of a good thing and it would make the Sens that much harder to play against.
4 – Best player available (BPA) – Best player available is always a good draft strategy. However, when there are many players of similar value, it is usually the one who has the qualities your team values the most that comes out on top.
Likely Draft Positions and Potential Picks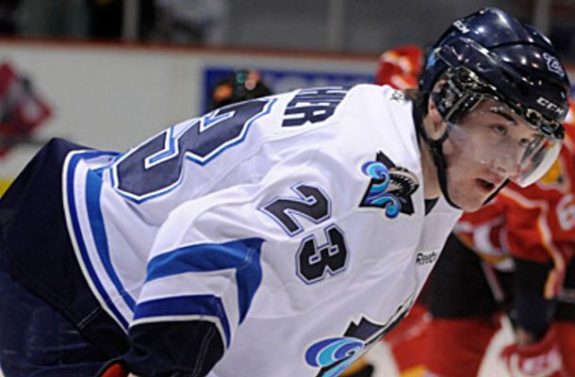 Round 1: pick 17 (The numbers in brackets are the War Room rankings)
Preference 1 – Hunter Shinkaruk (#15)
Preference 2 – Alexander Wennberg (#13)
Preference 2 – Frederik Gauthier (#14)
Preference 3 –Curtis Lazar (#19)
Preference 4 – Adam Erne (#21)
Potentially available at 13 ending at 23 are: Alexander Wennberg, Frederik Gauthier, Hunter Shinkaruk, Josh Morrissey, Samuel Morin, Ryan Pulock, Curtis Lazar, Anthony Manth, Adam Erne, Valentin Zykov and Andre Burakowky.
Pierre Dorion confirms the #Sens brought 4 players in to town last week for invus etc. They will draft 17th on Saturday. #cbcott

— Dan Séguin (@SeguinSports) June 25, 2013
Yes it would be nice to have Max Domi or Bo Horvat but it is unlikely to happen with the Sens picking at 17. Hunter Shinkaruk is the player with the most goal scoring ability that has a chance, albeit a slight one, of being available at 17. Anthony Mantha is also likely to be still there but you are probably better off passing on him unless you got a quick fix for his invisibility and level of compete issues. The other two players (Lazar and Erne) who are comfortable on wing are both excellent prospects but may not become big point getters at the next level. The two centers are also possibilities – Wennberg who has played wing and Frederik Gauthier who is better off left at center may be there as well. A 6'4, 217 lb. centre (Gauthier) in your lineup can change the complexion of your whole team even if you play him on the third line most of the time.
Round 3: Pick 78 – Historical success rate = 24%
Preference 1 – Myles Bell (#74)
Preference 2 – Matt Buckle (#75)
Preference 3 – Marc Olivier-Roy (#76)
Potential picks in the 74 to 84 range are: Myles Bell, Matt Buckle, Marc-Olivier Roy, Ryan Fitzgerald, BogdanYakimov, Mackenzie Weeger, Nick Moutrey, Ryan Kujawinski, Kurt Etchegary and Tyler Motte. The Sens seem to have an interest in Linus Arnesson (#62) but I don't think he will fall to 78 as he was #37 on Bobby MacKenzie's January listing.
When you have no real weak points, it is usually better to just go with the best payer available. The three preferences above all have strong potential. Myles Bell put up some impressive numbers for the Kelowna Rockets after being converted to left wing from defense at the start of the season. You may recall that Bell was slated to go in the second round in 2011 until he was involved in a car accident that resulted in a fatality. Matt Buckle is that power centre that you grab instantly if you think that you can impact his skating issues in a positive way. Marc-Olivier Roy is that wiry guy (6'1, 180 lb.) who doesn't play like a wiry guy and could be an effective NHL forward with a little more weight and strength.
Round 4: Pick 102 – Historical success rate = 19%
Preference 1 – Tyler Hill(#99)
Preference 2 – Will Butcher (#100)
Preference 3 – Mason Geertsen(#101)
Potentially available starting at 98 and ending at 108 are: Brendan Harms, Tyler Hill, Will Butcher, Mason Geertsen, Emile Djuse, Anthony Florentino, Gage Ausmus, Viktor Arvidsson, Greg Chase, Dylan Labbéand Jérémy  Grégoire
OK, this pick is for the guys who go to Vegas every year. You have, the man-boy, the 6'6, 225 lb. left winger, Tyler Hill who played a few games with Chicago in the USHL after the high school season ended. He remains a longshot but at 102 you are not paying heavily for a longshot with a potential big payoff. Will Butcher is a puck moving defenseman for the USA U18 team who really came on in the latter half of the season. Mason Geertsen, the king of truculence and belligerence in this draft, is a people moving D who could also produce a big payoff if he gets his game together.
Round 4: Pick 108 – Historical success rate = 19%
Preference 1 – RemiElie (#110)
Preference 2 – Gage Ausmus (#104)
Preference 3 –Viktor Arvidsson (#105)
Preference 4– Greg Chase (#106)
Potentially available starting at 104 and ending at 114 are: , Gage Ausmus, Viktor Arvidsson, Greg Chase, Dylan Labbé and JérémyGrégoire,  Jesse Lees and Remi Elie.
Remi Elie may be only a third or fourth liner but he provides that big-time spark that all clubs love and winning clubs usually have. Gage Ausmus is a stay at home defenseman for the USA U18 team who has good size and provides enough physicality to make him a consideration. Viktor Arvidsson is a small, effective Swedish winger who has already been bypassed twice in the draft. Vancouver scout, Thomas Gradin, says it won't happen again and that Arvidsson has the potential to go as high as the second round. Greg Chase is kind of a divisive choice; some scouts really love his drive, energy and competiveness; others say he is not consistent enough for their cup of tea.
Round 5: Pick 138 – Historical success rate = 11%
Preference 1 – Brendan Burke(#120)
Preference 2 – Marcus Högberg (#124)
Preference 3 – Evan Cowley (#138)
Preference 4 – Antoine Bibeau (#139)
Preference 5 – Evan Allen (#135)
Potentially available starting at 134 and ending at 144 are: Dakota Mermis, Evan Allen, Joose Antonen, Zach Glienke, Evan Cowley, Antoine Bibeau, Scott Oke, Martin Kokes, Ville Husso, Jason Salvaggio and Alexander Hendriksson. Also goalies Brendan Burke (#120) and Marcus Högberg (#124) could be available.
Unless somebody unexpectedly drops from the fourth round (usually happens in every draft as the picks start to go all over the board), the pickings are starting to get pretty slim by the fifth round. Ottawa has Chris Driedger in the prospect pool so they are not in bad shape goalie wise. However, a goalie may be the BPA come round five and Ottawa could use another goalie prospect of decent quality in their pool. Alternatively, Ethan Allen, from the USA U18 team, is a player who has a lot of energy and a scoring touch. Size (5'10, 201 lb.) is the issue that may make him available come round five.
Round 6: Pick 161 – Historical success rate = 9%
Round 6: Pick 168 – Historical success rate = 9%
Me 97 – NHL 211 – Peter Trainor (3rd time available)
Me 109 – NHL unranked – Jesse Lees
Me 114 – NHL 230 – Miro Aaltonen(3rd time available)
Me 119 – NHL >290 – Markus Søberg
Me 124 – NHL 200 – Marcus Högberg
Me 125 – NHL 165 – Cole Cassels
Me 131 – NHL 175 – Steven Harper
Me 136 – NHL 216 – Evan Allen
Me 137 – NHL 289 – JooseAntonen
Me 141 – NHL unranked – Scott Oke – (3rd time available)
Me unranked – NHL unranked – Albert Yarullin (3rd time available)
Me unranked – NHL unranked – Mitchell Theoret (re-entry prospect)
Me unranked – NHL unranked – BrendenKichton (re-entry prospect)
It is virtually impossible to tell who might be available from 161 on  so what I did was list those personnel who I have ranked in the 3rd and 4th rounds and the 5th round up to 145 which the NHL has ranked 161 or greater that still have a decent chance of still being available. As this is as good time as any to make sure you take the best player available, I have listed the prospects in ranking order. I have also added Albert Yarullinwho has a big shot on the power play,  Mitchell Theoret (6'2, 212) who looked very good for Barrie in the OHL playoffs and Brenden Kichton, a power-play quarterback with Spokane.
The Major Team Decision Makers
1 – Executive VP, General Manager and Alternate Governor: Bryan Murray
2  – Assistant General Manager – Tim Murray
3 – Director of Player Personnel – Pierre Dorion
4 – Coach: Paul MacLean
The Big Club – Current Roster
(As Found On The Team's Website)
| | | | |
| --- | --- | --- | --- |
| No. | Left Wing | Centre | Right Wing |
| 1 | Milan Michalek | Jason Spezza | |
| 2 | Cory Conacher | Kyle Turris | Jakob Silfverberg |
| 3 | Colin Greening | Mika Zibanejad | Chris Neil |
| 4 | Matt Kassian | Zack Smith | Erik Condra |
| 5 | Guillaume Latendresse | Jim O'Brien | |
| 6 | | Jean-Gabriel Pageau | |
| 7 | | Peter Regin | |
| 8 | | Mike Hoffman | |
|   | Prospect | Prospect | Prospect |
| 1 | Matt Puempel | Stéphane da Costa | Stefan Noesen |
| 2 | Shane Prince | | Mark Stone |
| 3 | | | Andre Petersson |
| 4 | | |   |
| | | | |
| --- | --- | --- | --- |
| No. | Defense | Defense | Goal |
| 1 | Jared Cowen | Erik Karlsson | Craig Anderson |
| 2 | Marc Methot | Patrick Wiercioch | Robin Lehner |
| 3 | Erik Gryba | Chris Phillips | |
| 4 | Andre Benoit | Mike Lundin | |
| 5 | | | |
|   | Prospect | Prospect | Prospect |
| 1 | Mark Borowiecki | Cody Ceci | Chris Driedger |
| 2 | | Troy Rutkowski | |
*Take one last look at the above roster before the craziness of summer begins – Snapshot from June 24, 2013.
Top 10 Prospects – Draft War Room Edition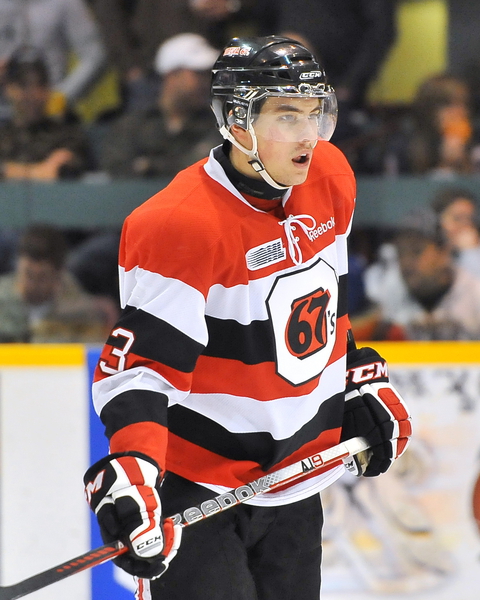 1 – 2012 – 015 – Cody Ceci
2 –2011 – 021 – Stefan Noesen
3 – 2009 – 024 – Matt Puempel
4 – 2012 – 076 – Chris Driedger
5– 2008– 178 – Mark Stone
6 – 2010 – 137 – Troy Rutkowski (Drafted by the Colorado Avalanche)
7 – 2008 – 139 – Mark Borowiecki
8 – 2011 –061 – Shane Prince
9 – 2007 –FA – Stéphane da Costa
10– 2008 – 109 – Andre Petersson
The Last Three Drafts
(As Per 2013 NHL Official Guide and Record Book)
| | | | |
| --- | --- | --- | --- |
| No | 2012 | 2011 | 2010 |
| 1 | 015 Cody Ceci | 006 Mika Zibanejad | 076 Jakub Culek |
| 2 | 076 Chris Driedger | 021 Stefan Noesen | 106 Marcus Sorensen |
| 3 | 082 Jarrod Maidens | 024 Matt Puempel | 178 Mark Stone |
| 4 | 106 Timothy Boyle | 061Shane Prince | 196 Bryce Aneloski |
| 5 | 136 Robert Baillargeon | 096 J-G Pageau | |
| 6 | 166 Francois Brassard | 126 Fredrik Claesson | |
| 7 | 196 Mikael Wikstrand | 156 Darren Kramer | |
| 8 | | 171 Max McCormack | |
| 9 | | 186 Jordan Fransoo | |
| 10 | | 204 Ryan Dzingel | |
Alternative Perspective
***
[NHL 2013 Draft Guide – The Next Ones Draft Headquarters: 
Your quintessential draft resource]
***
[THW The Next Ones Rankings – Final Top 210]
Chris is THW's senior draft/prospect analyst and a Managing Editor. Watch for "The Next Ones" Prospect Profile series, exclusive rankings, mock drafts, as well as the annual THW NHL Entry Draft Guide. Follow @ChrisRalphYQ on Twitter as he infiltrates, dissects and analyzes all happenings of hockey prospects and the NHL entry draft. Email: cralph[at]thehockeywriters[dot]com