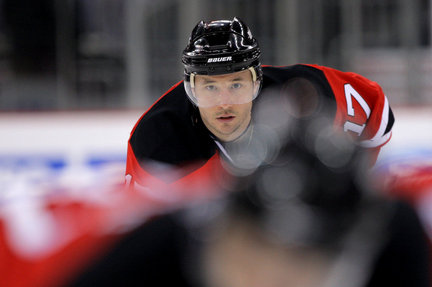 The decision of Ilya Kovalchuk's shocking retirement from the NHL in favor of returning to his homeland, Russia, has been met with some anger from Devils fans. Some say that Kovalchuk has quit on the team and that he is just leaving the Devils high and dry. On the contrary, in my opinion, Kovalchuk made a decision that is a respectful decision based partly on his family.
Kovalchuk has decided to go back to Russia with his family and possibly play in the Kontinental Hockey League. Kovalchuk released a statement that read,
"This decision was something I have thought about for a long time going back to the lockout and spending the year in Russia. Though I decided to return this past season, Lou was aware of my desire to go back home and have my family there with me. The most difficult thing for me is to leave the New Jersey Devils, a great organization that I have a lot of respect for, and our fans that have been great to me."
A completely respectful decision that all fans must realize. Your family outweighs hockey every single time. No question. Kovalchuk got a taste of what life would be back home during the lockout and clearly preferred it to the daily grind of the NHL and New Jersey. Kovalchuk has many loved ones in Russia and was born and raised in Russia. It's only natural to miss home after being away from it for so long.
The wheels started in motion back on September 28. On that date, Kovalchuk signed a deal with SKA Saint Petersburg of the KHL. Kovalchuk didn't immediately return to the New Jersey Devils when the lockout was lifted, instead, he opted to play in the KHL All-Star Game. It was then that you could tell Kovalchuk preferred to be back at home and who can blame him.
Former NHL star Jeremy Roenick took to his Twitter account to blast Kovalchuk and his decision to retire. He called it the stupidest thing since the Aaron Hernandez controversy.
https://twitter.com/Jeremy_Roenick/statuses/355417113428635648
Uwill all see now why I have talked negatively about kovalchuk !!! He doesn't want to play for the devils and he'll end up in the KHL!!!

— Jeremy Roenick (@Jeremy_Roenick) July 11, 2013
Kovalchuk is as selfish as they come!!!! I'm appalled. I feel bad for all u devils fans. U deserve better than that!!

— Jeremy Roenick (@Jeremy_Roenick) July 11, 2013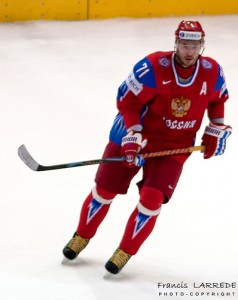 I find it shocking that a former player like Roenick can call Kovalchuk's decision "selfish". Also, with some of the comments on Roenick's tweets, people agree with him and that, to me, is a shame. If he does indeed sign with a KHL team, then so be it. Russia is really where Kovalchuk wants to be.
What if the situation were reversed? Say, you, a North American playing hockey over in Russia. It's a strange new land that you know nothing of. It's rough. That's what Kovalchuk believed. It's not easy for Europeans to play in North America being so far away from home. No amount o f money can quell those emotions and Kovalchuk just proved it by leaving $77 million on the table to return back home.
At age 30, it seems unlikely that Kovalchuk would just simply end his hockey career. He'll probably catch on with a team in the KHL and that would just fuel the Kovalchuk haters even more by calling him a traitor and a quitter for leaving the Devils in such disarray. Until you are in Kovalchuk's shoes, people need not comment on his decision to go back home.
The writer Thomas Wolfe has a quote,
"You can't go back home to your family, back home to your childhood, back home to romantic love, back home to a young man's dreams of glory and of fame, back home to exile, to escape to Europe and some foreign land, back home to lyricism, to singing just for singing's sake, back home to aestheticism, to one's youthful idea of 'the artist' and the all-sufficiency of 'art' and 'beauty' and 'love,' back home to the ivory tower, back home to places in the country, to the cottage in Bermude, away from all the strife and conflict of the world, back home to the father you have lost and have been looking for, back home to someone who can help you, save you, ease the burden for you, back home to the old forms and systems of things which once seemed everlasting but which are changing all the time–back home to the escapes of Time and Memory."
Well, just try telling Ilya Kovalchuk that. He is going back home where he feels like he belongs and every hockey player and fan should respect that decision.
Do you think Kovalchuk quit on the New Jersey Devils? Comment below or sent me a Tweet, @MarkWGraham