It was a normal, summer afternoon in the NHL world on July 11 and then at 3:33 ET, the New Jersey Devils PR Twitter account posted this tweet that turned a quiet day into a crazy day, quite unlike one we have really ever seen.
BREAKING: Ilya Kovalchuk has announced his retirement. #NJDevils #NHL

— NJDevilsPR (@NJDevilsPR) July 11, 2013
Everyone immediately assumed that the Devils' account had been hacked. How could a superstar player in the prime of his career possibly be retiring? Even one of the team's beat writers, Tom Gulitti, who is usually the first to report any breaking news involving the team was perplexed:
Ilya Kovalchuk has announced his retirement. This is not a fake.

— Tom Gulitti (@TomGulittiNHL) July 11, 2013
Gulitti had to call the Devils to make sure this was not a hoax; and it wasn't. Ilya Kovalchuk, a player with 816 career points (417g-399a) in 816 career NHL games, was indeed retiring… from the NHL. He is leaving New Jersey and the NHL to go back home to Russia — to play in the KHL.
Official New Jersey Devils press release detailing Ilya Kovalchuk's retirement from the NHL.
My thoughts immediately began racing all over the place and just as Barry Sanders' name popped into my head, a tweet from a former fellow journalist who now works for an NHL team beat me to it. This was almost the same exact scenario, save for a few details.
Both players left their sport at the peaks of their career. Both players could have easily continued to play, at the highest level of competition, and willingly chose not to. Sanders retired at the age of 31 after 10 years in the NFL. Kovalchuk retires at the age of 30 after 11 years in the NHL. Neither has won a championship, but both have achieved personal accolades and are both regarded as the most talented at their position in their eras. One difference is that when Sanders retired, he did it immediately before training camp started in 1999 — handcuffing the Detroit Lions who (quite frankly) are still looking for a suitable replacement at running back. At least Kovalchuk retired with the start of the NHL season three months in the distance, allowing his previous employers some time to figure out how to fill the void he is leaving.
Watch as Barry Sanders abuses one of the best defenses in the NFL in 1997:
For those who don't follow the NFL, when Sanders retired he was about 1,500 yards away from breaking the all-time record for career rushing yards, which was held by Walter Payton; Emmitt Smith would eventually eclipse both Sanders & Payton and is currently the all-time leader in that category. If Sanders had stayed in the NFL he would likely be the NFL's rushing king and Smith would be second.
Unlike Sanders, Kovalchuk is leaving to play elsewhere and to go home which is in another country. This is now the fourth high-profile Devils player in recent memory that has left to "go home" as I have mentioned in some previous articles before for the Hockey Writers. First it was Brian Rafalski in the summer of 2007, then last summer it was Zach Parise, and now this summer we can add David Clarkson and Kovalchuk to that strange list.
Another difference is that Sanders felt the Lions were in rebuild mode and he didn't want to be a part of that, despite signing a contract extension two years prior to his walking away from the game. The Devils are one season removed from being two wins away from the 2012 championship, and Kovalchuk was a large reason for New Jersey getting that far. The closest the Lions ever came to a championship was losing the conference championship game (in a rout) in 1991 to the Washington Redskins.
Kovalchuk played a huge role in helping the Devils to eliminate their bitter rivals in 2012:
In some ways Kovalchuk leaving the Devils for the KHL may be the best thing for their franchise. Some believe that it was never a great fit; his style and the team's style never meshed the right way. His contract & the hoopla that surrounded it had become an albatross that hang over the franchise — and one that will still cost them next years first round selection at the NHL Draft. Now because he has officially retired and his contract is now voided, New Jersey is only on the hook to pay roughly $250,000 for each season through 2024-25 as the cap recapture penalty. If he had stayed in the NHL the Devils would have paid Kovalchuk $56 million dollars over the next five years.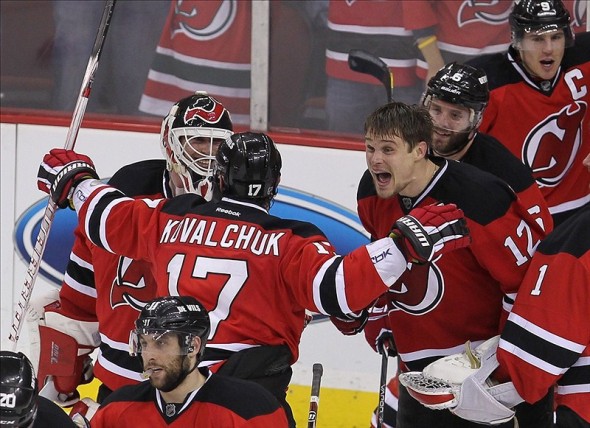 The team now has cap space to retool and find a replacement whether it's via free agency or via a trade. They can maybe add a player or two before training camp starts in September such as: Brad Boyes, Damien Brunner, Mikhail Grabovski or even Jaromir Jagr, who are all currently UFAs. Whatever move or whatever avenue the Devils and GM Lou Lamoriello choose, you can be sure that he is already thinking about ways he can improve the team, as he always does.
A third option (thanks Billy Sunshine) is waiting until next season's free agent class which will possibly contain such scorers as: Thomas Vanek, Phil Kessel, Marian Gaborik, Paul Stastny or Daniel & Henrik Sedin. One thing is for certain and that is the demise of the Devils will be written over and over again as the dog days of summer drag on, but if we've learned anything about this franchise it's that they always relish and excel in the role of the underdogs.
Dan Rice can be reached via Twitter: @DRdiabloTHW or via Email: drdiablo321@yahoo.com
Dan Rice is in his 9th year of reporting for THW & has covered NJ Devils home games for 15+ years at various websites. He began his journey working for legendary broadcaster/writer Stan Fischler from 2002-04 & completed an internship at the ECHL; he also has been writing features for the NWHL (nwhl.zone) website since 2016.