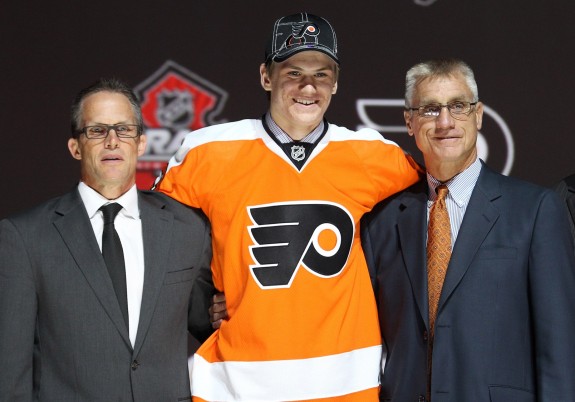 Ryan Kujawinski, Jimmy Lodge, John Hayden, Anthony Duclair, Oliver Bjorkstrand, Michael Downing, and Jordan Subban all sat waiting to hear their name get called.  The Philadelphia Flyers were up to draft with their 3rd round pick.  With many quality prospects still available the Flyers fans collectively thought to themselves: "There is no way Homer can mess this up….right?"
And with the 72nd selection in the 2013 NHL Entry Draft, the Philadelphia Flyers selected…..(wait for it)…..Tyrell Goulbourne, left winger for the Kelowna Rockets.
I, like many other fans, were baffled at the pick.
Did the Flyers have no scouts?  Did they not see who was still available?  Had nobody looked at any draft rankings?  Tyrell Goulbourne was ranked by Central Scouting 151st among North American skaters.  The pick immediately was figured to be a waste.  Fans were calling for Holmgren's dismissal as general manager.  I, myself, tended to agree with them and the the picks that followed further fueled the fire.  All in all, I deemed the draft a miserable failure.
Thirteen days have passed, I've cooled down, stayed level-headed, opened my MacBook, and began diligent research.  After hours of crunching numbers I've come to a single conclusion: under Paul Holmgren's tenure, the Philadelphia Flyers have drafted surprisingly well.
Pre-Paul Holmgren Era:
I began my research by taking the five years prior to Paul Holmgren becoming the general manager of the Flyers.  I looked through every draft from 2002-2006.  These were some of the best drafts the Flyers ever had.  The likes of Mike Richards, Jeff Carter, Claude Giroux, and many other prominent Flyers – who are still with the team or were traded away – were drafted in this time frame.  I counted the number of total draft picks the team had during that five year span, tallied the total number of NHL games played by those players.  I took the final number of total games played and divided it by the total number of picks the team made in that five year frame.  That number  is equivalent to the average number of games played by NHL draftees of the Flyers.  I then proceeded to do the same statistical measurement for every NHL team.  Here are my results in order of highest average number of NHL games played by draftees (click tab on table to reveal more than 10 entries):
[table id=110 /]
My calculations table isn't the be all end all of how productive teams draft, but it does shed some much needed light on the Flyers compared to the rest of the league.  The Flyers are ranked 16th according to my calculations.  Even though they've draft players like Mike Richards, Claude Giroux, Joni Pitkanen, and Steve Downie, the team sat in the middle of the pack in terms of producing NHL talent via the draft from 2002-2006.
Pittsburgh slots at 2nd overall on the board.  The reason is pretty simple – if your team is atrocious for long enough, you're bound to get some top picks year after year and those picks are more than likely going to contribute at the NHL level.  In Pittsburgh's case they were able to get Marc-Andre Fleury, Sidney Crosby, Evgeni Malkin, and Jordan Staal.  However, that doesn't tell the full story.  While those four players have logged a great deal of games in the NHL, it's the Penguins ability to find talent deep in the draft that catapulted them up the board.
Tyler Kennedy was picked in the 4th round of the 2004 draft.  Kris Letang and Joe Vitale were picked in the 3rd round and 7th round of the 2005 draft, respectively.  Maxime Talbot was picked in the 8th round of the 2002 draft.  Matt Moulson was picked in the 9th round of the 2003 draft.
Teams at the top of the list all seem to share the ability to not only draft well in the early rounds, but also find gems with their later selections.
Tampa Bay ranked last with a measly 32.91 games.  They were atrocious at drafting during those years and only recently have they been able to pick some quality players.
The numbers from 2007-2011 tell a very different story.
Paul Holmgren's Reign:
[table id=111 /]
Since they appointed Paul Holmgren general manager, the Flyers now find themselves sitting pretty in the 6th spot overall.  It's quite a jump from 16th, and most of it has to do with Paul Holmgren's ability to draft quality NHL players.  With players coming through the pipeline like Sean Couturier, Zac Rinaldo, and James van Riemsdyk, Eric Wellwood, Oliver Lauridsen, Holmgren and company have been keen in the players they select in the early rounds and the later rounds.
Detroit, a team praised for their drafting abilities, bottom of the list with an average of 4.91 games played by draft picks.  While the number may seem shocking, Detroit is a team that never rushes it's players and lets them develop their talents to the fullest.  With such a long development curve, it's no wonder Detroit finds themselves at the bottom of the list.  Give it a few more years and you will likely see a majority of Detroit's picks making their way into the NHL – even if it may not be in Motown.
After finding themselves 25th overall from 2002-2006, Los Angeles has been on a tear from 2007-2011.  They've had one of the highest total number of draft picks in that five year span, but have also seemed to capitalize on a lot of their players – most noticeably Wayne Simmonds, Brayden Schenn, Slava Voynov, Kyle Clifford, and Drew Doughty.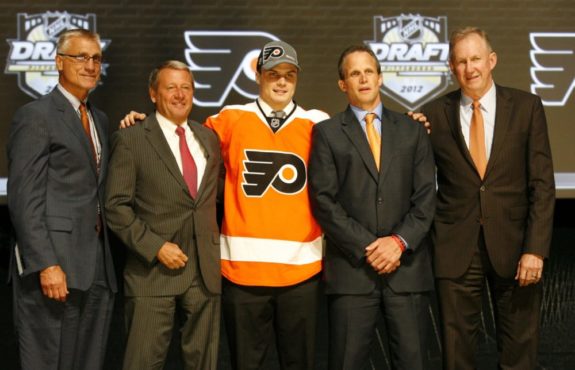 Granted, there are still many players during these drafts who have yet to develop or even have a legitimate chance to make the NHL in the next few years, but Holmgren seems to be doing a bang up job come draft day.  We've seen back-to-back first round picks (Couturier and Laughton) step in right away and impress on both sides of the puck.  A small sample size of five games for Laughton is all Flyers fans were privy to last season, but there even the average Joe could tell he has a ton of upside to his game.
Similar to Tyrell Goulbourne, Shayne Gostisbehere was a defenseman out of Union College that was selected in the 3rd round of the 2012 NHL Entry Draft.  Like Goulbourne, there were higher ranked players still on the board when the Flyers picked Gostisbehere.  And like Goulbourne, many Flyers fans couldn't believe the team picked an Gostisbehere, an undersized defenseman from a non-traditional Division 1 school.
But Holmgren and his scouting staff knew what they were doing and now Flyers fans are more excited than ever to see what Gostisbehere can bring to the team in the next couple of years.  He's become a tremendous two-way defenseman with a bullet of a shot packed into that tiny body.  He's poised with the puck, responsible, and was apart of Team USA that won gold at the World Junior Championships last year.  He's become one of the top defensive prospects the Flyers have in their system.
Anthony Stolarz is the top goaltending prospect who came into his own when he joined the London Knights.  Taylor Leier, left wing for the Portland Winterhawks, is another prospect who seems to be developing nicely.  Nick Cousins, is yet another.
Regardless of what many might say about Paul Holmgren and his drafting techniques, rest assured he knows exactly what he is doing.