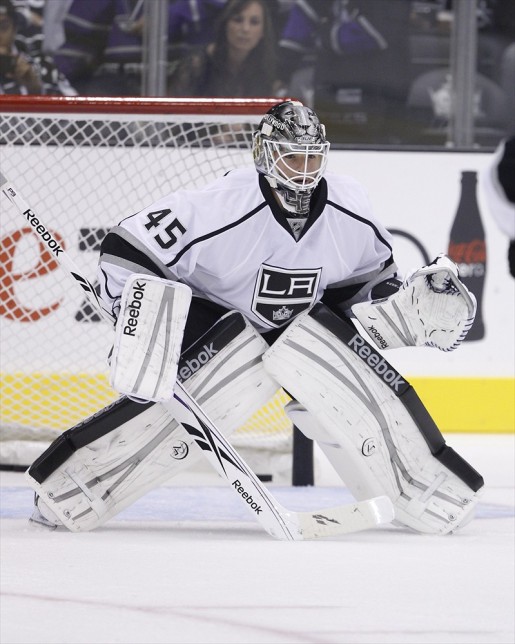 It wasn't long ago that I was ranting about it being in the Leafs best interest to NOT acquire Jonathan Bernier. In fact, it was only three days ago that I warned Dave Nonis: "don't give up assets to acquire [a goaltender] via trade (ahem Bernier not a good idea…)." Well, I'm about to go back on what I said…sort of.
Before the deal was made, I was exploring what the twitter world had to say about the recent speculation, and came across a most obvious point that I think sums up this trade extremely well:
That said, as with any trade, whether or not it'll be a good move for the Leafs depends largely on what they're giving up.

— Ryan Dadoun (@RyanDadoun) June 21, 2013
Yes, Ryan's point may seem quite obvious: DUH it matters what you give up, but it's important nonetheless. The reason I want to make reference to this is because I honestly feel the Leafs didn't give up very much. L.A. told Bernier they would trade him, and because the Kings hands were tied and Bernier had been stuck in the shadow of Jonathan Quick all these years, his value decreased. Even so, I certainly thought the price would be more.
What Toronto Gets
Jonathan Bernier
In my eyes, Bernier is a future solid number one, with the possibility of being a GREAT number one. I've always been a Bernier fan, and felt bad for the guy being stuck behind such a stud in Jonathan Quick. What strikes me more than his stats (which are good but not great by the way), or his draft position (which, lets be frank, doesn't mean much even if it was 11th overall in 2006), is that he's a winner. He won a QMJHL championship, a gold medal at the World Juniors and (most importantly), a Stanley Cup. Yes he's only got 62 games of NHL experience, but he knows the rigors of the NHL. He won the AHL goalie of the year in 2009-10 (30-21-6, 2.03 GAA, .936 SV%, 9 SO) and now he's been around the NHL for a few years and taken in valuable experience along the way. Personally, I think he's ready to bust out. His career numbers are 29-20-6, 2.36 GAA, .912 SV% and 6 SO.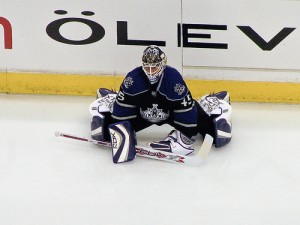 To me, this isn't necessarily a bad thing for Reimer either, as he was the main reason I was against making a move for another goalie anyway; because I truly do believe in James Reimer. I have always been a fan of 1A/1B goalies and that is exactly how I see the Leafs as a result of this transaction. Yes, Reimer feels "doubted" by the move, because it has to make him wonder what the Leafs long term plans are for him. But the fact is, although he played very well this past season, it's hard to argue he's ready to play 65 games (37 career high). From a management perspective, going with Reimer/Scrivens was too risky, and I do feel more confident with Reimer/Bernier, and would like to see them split time in something of a 60/40 fashion. Yes, Reimer is still the number one. I think Reimer will be more motivated with stiffer competition and I think he will still play more games this season than Bernier (barring any injuries) without tiring himself out. Based on his outstanding playoff performance, he is still the number one guy in my mind for the time being. As for the future, it is clearly in the hands of both 2006 draft picks, but as a Leafs fan, two possible number one goaltenders has got to be better than one.
What Toronto Gives Up
Matt Frattin
When I said I didn't think the Leafs gave up much to acquire Bernier, it was more praise for Bernier than a knock on Frattin. I am a Frattin fan. Always was. I think he's a great finisher, with a decent build and dangerous speed. I do see him as a future top-six winger. I do think he's capable of 25-plus goals.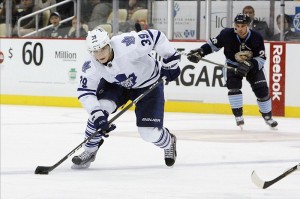 But, I think his defensive game is lacking and more importantly, I think he's going to have a hard time staying healthy. Maybe I'm wrong, but a knee injury that, after months of recovery, turns into another knee injury, at 25 years old, is not a good sign.
Also the Leafs have a decent pool of forward prospects (in my opinion) with the likes of Colborne (RFA), Biggs, McKegg and Ashton. Frattin was frankly expendable, and worth giving up to acquire the services of a possible number one goalie.
Ben Scrivens
Once again (you may see a pattern here…), I am a fan. Scrivens was a solid back-up to Reimer last year in 20 games. But that's just it: a back-up. Yes, Bernier is also a back-up but an undeniable upgrade. Bernier has more upside than Scrivens, simple as that. Yes it's only speculation that he'll have a better NHL career, but also quite likely. Scrivens would not have been able to take on the same load that Bernier can, and long-term doesn't have the same starter potential.
Remember also that Scrivens was on a one-way contract, meaning if Bernier was going one way, he was the odd man out going the other way. I'm sure he'll do quite fine as Quick's back-up in L.A.
Conditional 2nd Round Pick
The pick the Kings received will either be in the 2014 or 2015 draft, at the choice of the Leafs. This may end up being a solid NHL player, but it's certainly something the Leafs could afford. I also like that it wasn't their 2nd round pick from this year's draft, because as we all know, it's quite the draft class. Not saying that next year's isn't, but it's important that we keep our high picks for this year.
A Wee Bit of Cap Space
The last part of the deal entailed that the Leaf's retain parts of Frattin's and Scriven's salaries, the total of which comes to $500,000. Though there is no question the Leafs could use that cap space, it sounds like it was a deal-breaker, so again I see it as necessary. Rumours are the Leafs will use one of two compliance buy-outs on Mike Komisarek, which would free up an additional $3.5 million (roughly) in cap space, increasing the Leafs total to $23 million, but still with a large number of key people to sign including Kadri, Bozak, Colborne, Franson, Gunnarsson and of course, Bernier. The two compliance buyouts that each team gets are part of a transition to the lower salary cap next season, and differ from typical buyouts in that they don't count against the cap at all. I agree Komisarek is the right choice for one of them, with Liles ($3.875 million) or Grabovski ($5.5 million) as other possible candidates (Grabovski still has five years left, and because buyouts double the term, that would be a tough pill to swallow. Remember we're still paying Darcy Tucker. Yes you heard that right). More on buyouts for defencemen and forwards to come as I continue my Leafs Offseason Focus later this week.
Important to Remember
Bernier still does not have a contract, and in reality this all depends on his salary demands. Yes, he wants to be and is likely capable of being a starter but I truly hope the Leafs don't pay him like a starter right away. He needs to prove himself. Matt Duchene's last contract (2 years, $7 million) is exactly the kind of contract I would like to see Bernier sign (though 3.5/year is even high). Reimer is getting less than $2 million, so if Bernier wants much more than $3/$3.5 million, I immediately get worried. I hope he understands that he shouldn't get a long-term deal until he proves something in Toronto, something I am very much looking forward to. Which is why I feel that a POSSIBLE top-six winger, a backup goalie, and a 2nd rounder were well worth it to acquire Jonathan Bernier.
Nathan Kanter covers the Vancouver Canucks and Toronto Maple Leafs for The Hockey Writers. He received his master's in journalism from Western University in May of 2015 before serving as the first ever Digital Managing Editor at Western's university newspaper, The Western Gazette, in 2015-16. From 2016-18, he served as the radio play-by-play voice of the Battlefords North Stars in the SJHL. His work has been published in The Hockey News, at Sportsnet.ca and at Dobber Prospects.