Based on Montreal Canadiens general manager Marc Bergevin's press conference earlier this week, he remains a fan of head coach Michel Therrien's. It's just not perfectly clear how much of one.
#Habs Bergevin: "If you're ever in a foxhole, you want that guy next to you. That's what Michel is to me."

— Chantal 🐾 (@pucksnlife) January 21, 2016
I mean, for all anyone knows, the only reason Bergevin would like Therrien to be the guy in the foxhole with him is because he's an easier target. And that's true to a certain extent.
Granted, Bergevin is the one who hired him, and, in that regard, their fates are potentially intertwined, but, the fact remains, it's not as if Therrien didn't deliver right off the bat. For all intents and purposes, he coached the team to three straight 100-point seasons. That's nothing to scoff at.
So, to a certain extent, it's not as if Bergevin flubbed his first head-coach hire, and, if you would like to argue just the opposite, that's not taking into consideration the unwritten rule that GMs generally get a mulligan or two on that front.
Therrien Hired to Be Fired… Eventually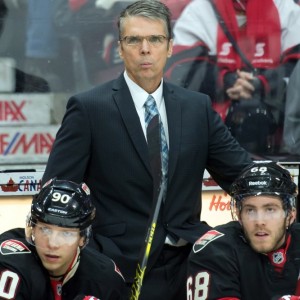 Perhaps Ottawa Senators head coach Dave Cameron said it best, ironically at the peak of his early coaching career late last season: "My profession is probably the only profession in the world where every day you go into work, you're a day closer to getting fired…"
Obviously, "human cannonball" escaped him, but facts are facts and it's hard to deny that coaches are essentially hired only to be fired at a later date. Therrien's time just seems to be coming to an end relatively soon, right?
I mean, giving head coaches a vote of confidence like Bergevin did? It's almost become synonymous with giving them a heads-up that their pink slip is in the mail.
Look no further than former Philadelphia Flyers head coach Peter Laviolette as the perfect example, with him getting a vote of confidence shortly before the 2013-14 season started. Three games in, he was fired.
Of course, the Flyers probably aimed to try and salvage their season at that point, whereas the Habs seem almost resigned to falling further out of the playoff picture, counting the days until goalie Carey Price returns.
For Habs fans, that's maybe a depressing thought. It's probably more depressing once you realize there's little else that can realistically be done at this point… and that includes making a trade out of desperation or firing Therrien.
The Perfect Time to Fire Therrien?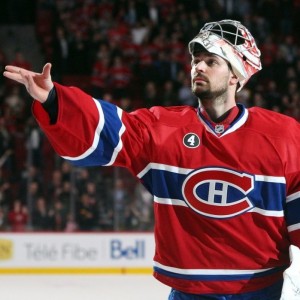 There's a school of thought out there that says now would be the perfect time to fire Therrien, with seven straight games and 11 of the next 13 against non-playoff opponents. In addition, the other two opponents, the Tampa Bay Lightning and Colorado Avalanche, are hardly elite competition.
So, there's a very real chance the Habs are able to rebound over the next few weeks, at which point Carey Price is projected to return and further propel this team into the playoffs.
In essence, firing Therrien now would give his replacement every opportunity in the world to succeed and make Bergevin look like a genius. However, for that to work, you would need an actual body to replace him. There just aren't that many viable French-speaking candidates available right now.
And, if you're Bergevin, and you pull the trigger now, to hire a guy like Guy Boucher, who's been out of the league since just after the last lockout, you're at that point gambling with your own employment that he works out in the long run.
That's pretty risky business and akin to selling a cow and betting the farm on a couple of magic beans. You might work a miracle. You might also be buying some beans no one else wanted for a reason.
Everything to Lose?
In essence, Bergevin has everything to lose by not giving Therrien a chance to right this ship, so, no, don't look for him to be fired this season. There are, however, very clear implications that all bets are off next summer.
#Habs Bergevin emphatically states that the entire coaching staff will finish the season in Mtl "regardless (of what happens). It's on me."

— John Lu (@JohnLuTSNMtl) January 21, 2016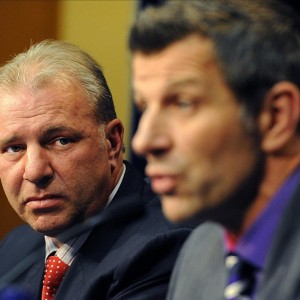 It's hard to get into Bergevin's head and speculate as to exactly what he's thinking. It's meanwhile very easy to believe him when he says the coaching staff is safe for the rest of the year. There is no kiss of death here, just acknowledgement that all parties involved in this quagmire, including Bergevin himself, could be doing better.
If the team fails to and misses the playoffs, that's the time for Bergevin to cash in his get-off-John-Scott-free card. He'll have given Therrien every opportunity to turn this around, thereby justifying the theoretical decision to fire him in a few months if the lattter does end up failing to take advantage of this easy stretch in the schedule.
On the off chance just the opposite becomes true and Therrien is able to guide this team back into the playoffs and potentially beyond, again Bergevin comes out of this smelling like roses.
It's ironic, but, in managing a team that can't possibly seem to win these days, Bergevin has, on falling on his sword to a certain degree, perfectly positioned himself in such a way that he can't possibly lose. It's just one more example of how Bergevin knows what he's doing. Give him credit for that at least.