In this edition of the Montreal Canadiens News and Rumors, the trade deadline wasn't as quiet as some expected from general manager (GM) Kent Hughes, in fact, he's already made one trade, and it seems he is poised to be active leading up to the March 3 deadline. Between making a low-risk trade and the rumors beginning to pick up on veterans such as Mike Hoffman and Joel Edmundson, the Canadiens may be poised to have the second impactful trade deadline in a row.
---
---
Canadiens Low-Risk Move
The week leading up to the 2023 Trade Deadline was kicked off in Montreal when Hughes found a trade partner for Evgenii Dadonov. The GM had to retain 50 percent of Dadonov's $5 million contract which expires at the end of the season. In return, the Canadiens got 25-year-old right winger Denis Gurianov. The 6-foot-3, 205-pound former 12th overall pick of the Dallas Stars has not had a good season. That being said, he will have every opportunity to prove he is worth a new contract as he finishes the season in Montreal.
Hoffman Opening Doors for Canadiens? 
Mike Hoffman has scored nine points in his last eight games and is having a resurgence since the All-Star Break. He has been highly visible and engaged in every game over the last month. That higher visibility has helped get eyes on him as the trade deadline approaches.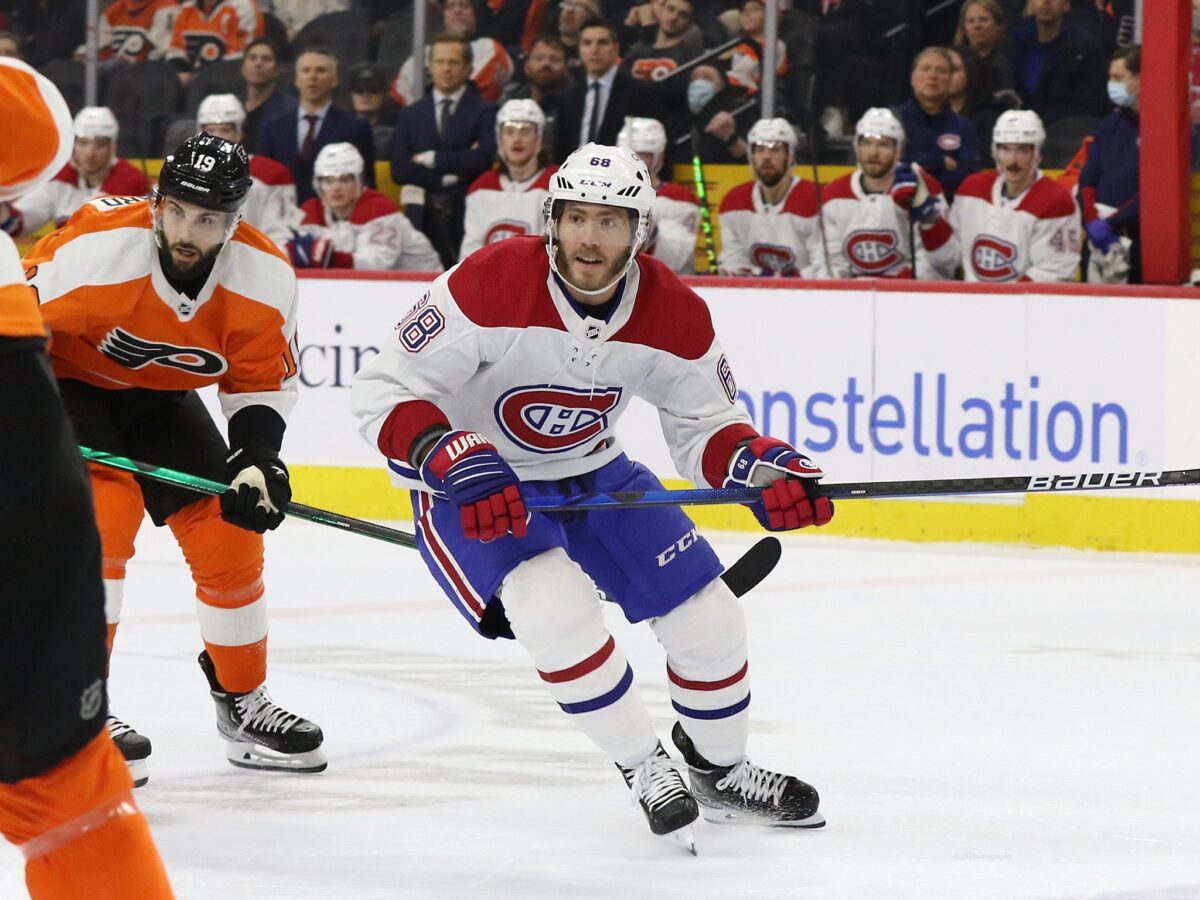 The issue is, however, according to TSN Insider Darren Dreger, the interest isn't very high. He states that the last time he was asked about this player, there was some interest, but his sources in Montreal asked where that interest was coming from. It seems that Hoffman is available but moving his $4.5 million contract that doesn't expire until the summer of 2024 won't be easy, even though he has helped the Habs' power play become highly potent again. His play may not convince a GM to deal for him in March, but a good showing the rest of the season may be enough to get him a new address this summer. 
Anderson Makes Teams Drool 
According to Renaud Lavoie on French language BPM Sports radio, Josh Anderson is making teams that are on the lookout for an impact middle-six player very interested. Teams in search of a power forward with speed who can also score will have interest in the 6-foot-3, 238-pound winger. Anderson has proven his value in the playoffs as his style of play can and will wear down opposing defenses over a seven-game series. Over the most recent road trip, former GM Marc Bergevin has been sighted taking in several Habs games. With the Los Angeles Kings preparing for their second straight playoff appearance, they may be in the market for a playoff performer.
Related: Canadiens GM Hughes In Driver's Seat Heading into Deadline
---
Latest News & Highlights
---
This season, Anderson has 17 goals and is on pace for a 24-goal season playing in a weak Canadiens lineup. His $5.5 million salary cap hit until 2027 could become an issue for any contending team. That means Hughes would need to retain salary, which is highly unlikely or take on a cap dump in any package deal. Teams that were in on Timo Meier may circle back to Anderson. Seeing the return Meier netted the San Jose Sharks, which was the equivalent of three first-round picks, the trade value for a proven power forward is clearly high, and while Anderson will not get the Canadiens the same value in return, he can conceivably give Hughes more than one significant asset such as a first-round pick or top prospect.
Canadiens and Oilers in Talks 
Elliotte Friedman on the 32 Thoughts Podcast brought up Canadiens defenseman Joel Edmundson stating "I've just heard the activity on Edmundson is down just because his body has been through so much and he really hasn't played. I think they would be surprised if anything happened with him here." This should have cooled the rumors of him and his $3.5 million contract until 2024 moving out of Montreal. However, according to Darren Dreger, there is a renewed interest in Edmundson.
With the Habs still talking with the Edmonton Oilers, as they have been rumored to have been all season, there is a chance that Hughes can pull off a trade deadline week that could surprise and please Canadiens fans.
The Canadiens continue to surprise and play entertaining hockey while they're on their way to a lottery pick in 2023. There will be more news to keep up with, so keep an eye on THW's Canadiens coverage for all your hockey needs, including THW's affiliated podcast Habs Unfiltered for the latest news, notes, and rumors.