Montreal Canadiens general manager (GM) Kent Hughes was reportedly going to have a quiet trade deadline, instead, he is finishing his weekend ahead of it with a trade, acquiring Denis Gurianov from the Dallas Stars. The cost of that trade was veteran winger Evgenii Dadonov, with 50 percent of his salary retained. 
Related: Canadiens Mock Trade Deadline: The Results
---
Latest News & Highlights
---
For Montreal, the addition of Gurianov is low-risk as he is in the final year of his deal. As a restricted free agent Hughes still has control over negotiations as he can choose to either place a qualifying offer to retain his rights, offer him a contract extension, or choose to not qualify him and allow him to leave Montreal as an unrestricted free agent. This trade signals not only that the Canadiens are ready for the impending deadline, but also that they are approaching it with a view toward player development and not just to add futures. 
Dallas Stars Situation  
The Stars, as one of the leading teams in the Western Conference, must be considered Stanley Cup contenders this season. Even if it's only a dark horse as they may not match up well on paper compared to some favorites coming out of the Eastern Conference. They are in a tight "money-in, money-out" situation, and without their first and third-round picks in 2023, meaning their second-round selection is very valuable to them, could stall their efforts to reel in a big-name rental like Patrick Kane.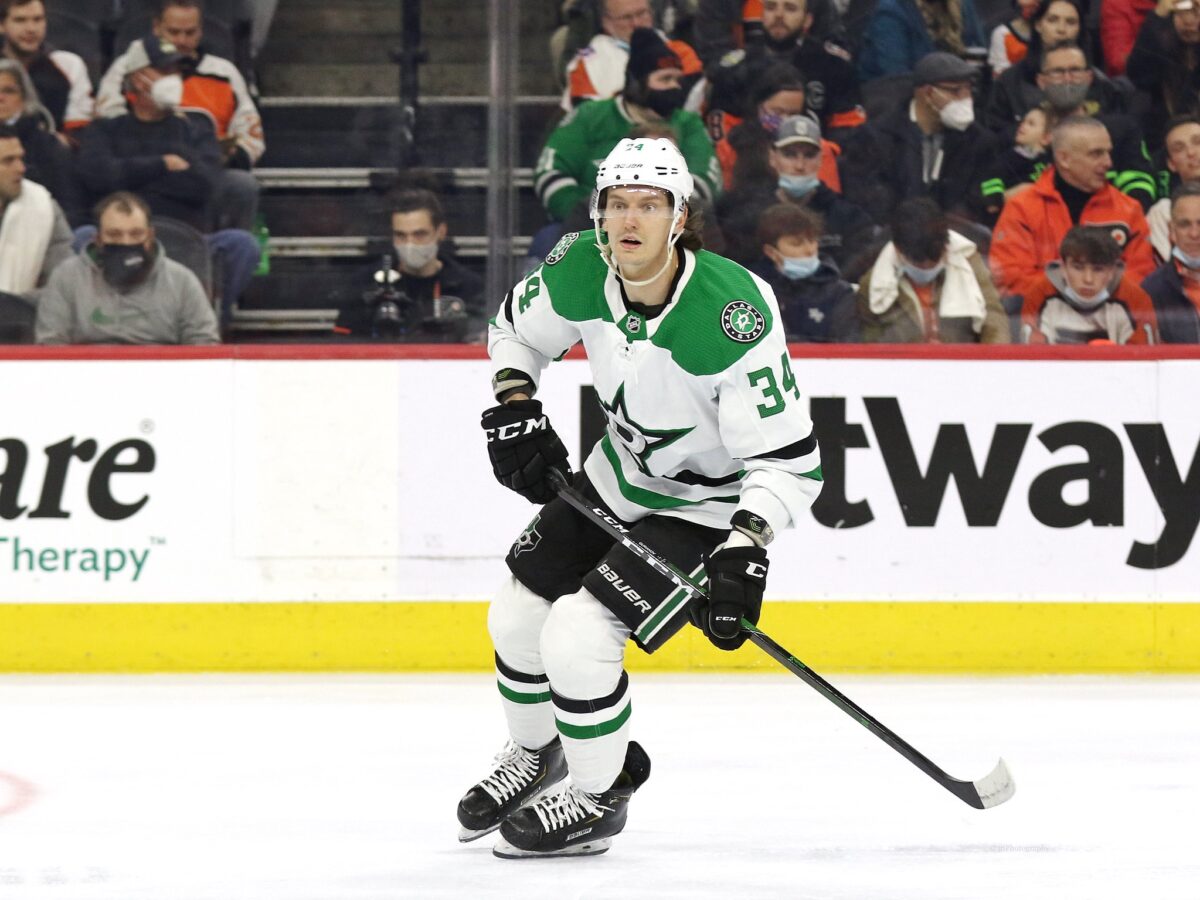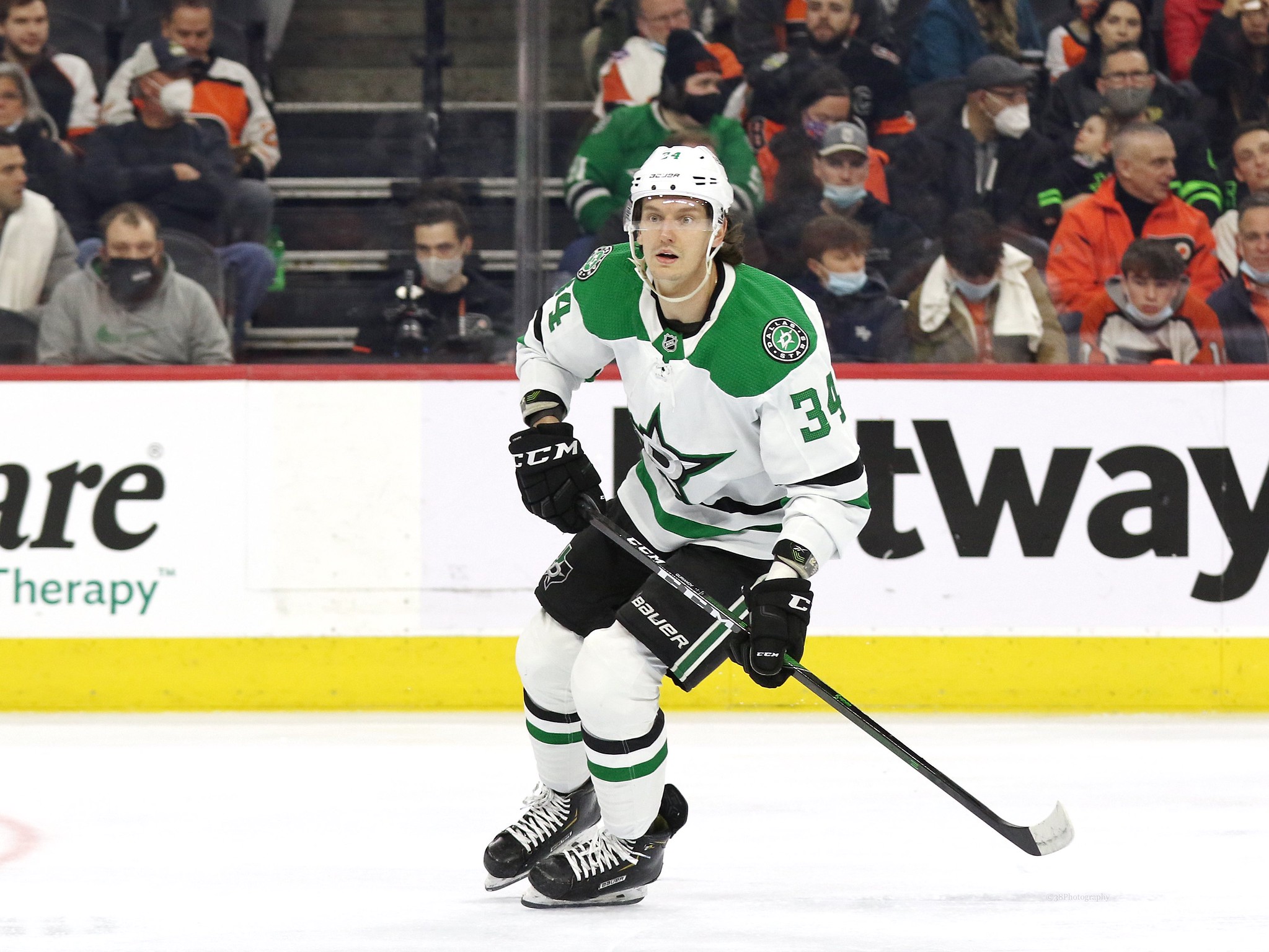 With less than a week to the deadline, the Stars haven't gone "all-in", not yet anyway. But that isn't necessarily a bad thing as their most glaring need going into the TDL is depth scoring, and finding a third liner on the market has been filled. For now, they add depth with the addition of Dadonov. At only 50 percent of his salary, $2.5 million on an expiring deal, he fills that need for depth scoring. Also, it is a cap-saving move as they drop Gurianov's full $2.9 million salary. This move adds $400,000 to their deadline cap space which could allow GM Jim Nill the leeway he needs to make an addition elsewhere in his lineup. 
The Stars have a bright future with good young players like Jason Robertson. With their top six producing offensively, to the point that they boast the best goal differential in the Western Conference after 59 games played with a plus-39, additional help with depth was called for. 
Canadiens Return on Investment 
The Canadiens send Dadonov to the Stars. For the Stars, they get a veteran winger with a proven track record and do so at only 50 percent of his $5 million salary. In return, Montreal gets a 6-foot-3, 205-pound right-winger in Gurianov who has had a down year offensively scoring only two goals and seven assists in 43 games. Gurianov hasn't had much of an opportunity to make himself valued offensively playing only 12 minutes per game on average this season but also being used more defensively than in an offensive role. The 2015 12th-overall pick, at 6-foot-3 and 205-pounds, has good size, which is something the Canadiens are looking for. Also, he has excellent mobility, speed, and a hard, yet accurate, shot.
---
---
Even at 25 years of age, his skills are still very raw, being buried in the Stars' bottom six hasn't done much to help him develop his game. With only two goals in 42 games this season, and a 2021-22 season where he had difficulty offensively with only 11 goals and 31 points in 74 games, he has reached the point where a change of scenery was an absolute need as he was considered a bust for the Stars.  
Even though the Habs' power play (PP) has been an impressive ninth in the NHL at a whopping 26.3 percent since the 2023 NHL All-Star Break, Gurianov's addition as a net-front presence on the second wave could add to the impressive turnaround the special teams are enjoying. In Montreal, he would be elevated into the top six and given an opportunity to play the up-tempo style he was known for in his draft year. It could be a worthwhile gamble for the Habs' development department to tap into this potential again. His mix of skating, size and offensive instincts will make him an instant upgrade in the Canadiens' top six, where he is likely to play.  
Canadiens Bet on Development 
Development is not a straight line. Each player develops in their own way and in their own time.  The Canadiens are approaching development in a modern way — as a marathon, where it isn't about meeting specific standards by specific dates. They allow the players to grow in their own way and time until they reach their potential. A trade like this places faith in the work of development director Adam Nicholas and his tailored approach. 
Development and assessment are more than just point totals. In order to assess a player's development, team development staffs look deeper into a player's performance. Are they improving their defensive posture? Are they adding what was asked — size, speed, and focus on one aspect? There are as many aspects as there are players. What the Canadiens value in a prospect should help to indicate who they may target in future drafts but also in any trades. Hughes wants the Canadiens to play fast and with skill under head coach Martin St. Louis, but he also realized the team needed to get bigger and faster. Selecting Juraj Slafkovsky was a great first draft choice to add to a franchise in need of those skills. But beyond that, he desired to be a difference-maker, his character that set him apart. This trade points to a management team looking for similar traits in a low-risk gamble with Gurianov.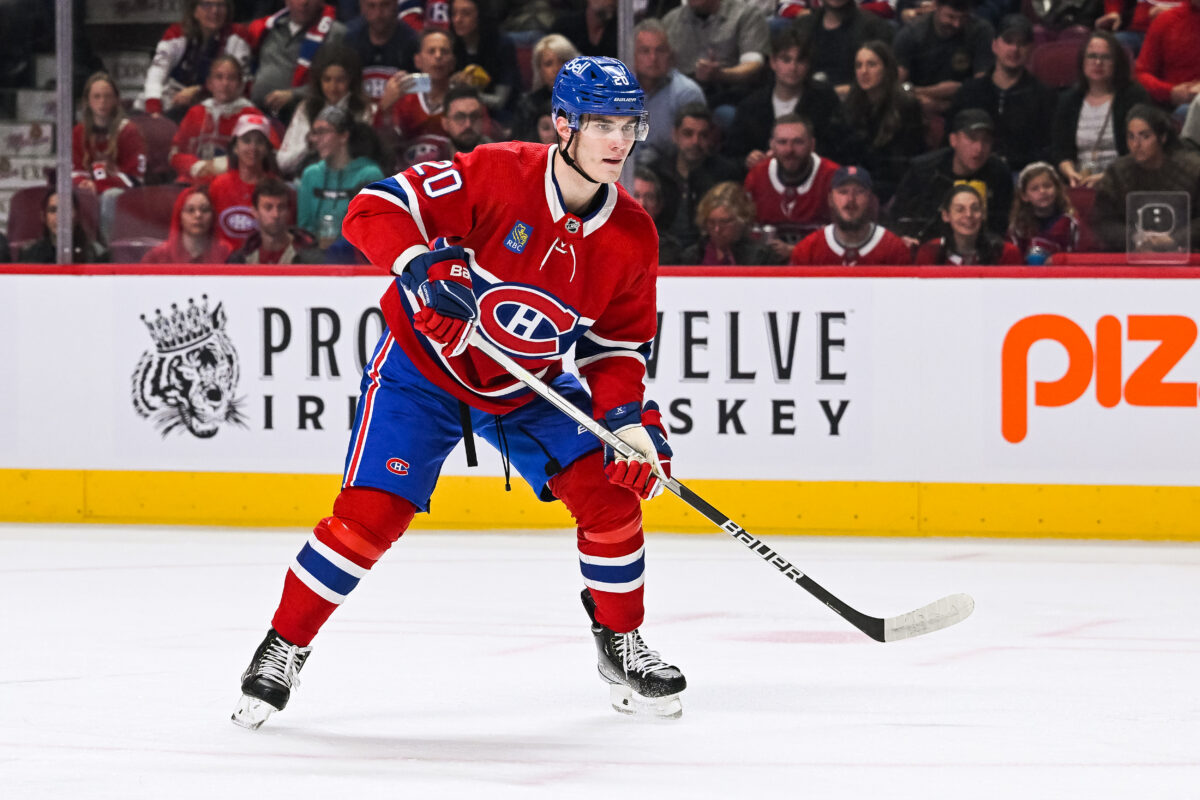 The changes in the player development department have provided positive feedback. Using their expanded staff, the Canadiens have provided the players with a sounding board. More importantly, they remain approachable and available to the players, ready to give advice when needed, or when asked for it. To a man, they describe how each player, including prospects, is given some sort of individually tailored development plan. Moreover, in conversations with Canadiens prospects at the 2023 World Junior Championship, there is constant communication on their progress and adjustments on what to focus on. 
"We always just have feedback back and forth. They're letting me know what to do better, what was not that good. There are a couple things to round out my whole game. It's a consistent talk and always try to improve. Everything is pretty positive so far."  

– Vinzenz Rohrer (post game, relegation round, Game 1 vs. Latvia, Halifax, Jan. 2, 2023) 
For Gurianov, this move to Montreal should lift a massive weight off his shoulders. He is provided with a clean slate with the staff and the fans. He receives a fresh start and an opportunity to benefit from the new focus of the Canadiens on development. His role as a fourth-liner with no PP time was less than ideal. Now, Gurianov arrives in Montreal as a low-risk/high-reward player, as the Habs can let him walk away as a UFA if he doesn't show signs of improvement. Worst case scenario, Gurianov only becomes a player used as a warm body to fill a roster decimated by injuries and continues to underperform. Best-case, he finds his game and becomes a viable and inexpensive third-line winger.
---
---