When Marc Bergevin cleaned house during last season's debacle, he was looking to the future. Fans knew the team hit rock bottom when Bergevin was selling off players in what was a tough season for the Montreal Canadiens.
Despite the mess, there was good that came from it. The Habs made an important move at the trade deadline.
The Canadiens cashed in when they dealt away free agent forwards Dale Weise and Tomas Fleischmann to the Chicago Blackhawks for center Phillip Danault and a 2018 second round draft pick. At the time, Weise was producing, Fleischmann was serviceable and Stan Bowman wanted some depth heading into the playoffs. It was a trade that made sense for both sides considering their situations.
In 2017, Danault is an important and flourishing player in the Canadiens' lineup. Injuries to key players have pushed Danault into a larger role, and he's taken full advantage of the situation.
The Trade
When the Canadiens were in the tank last season, fans knew changes were coming. The first to go were the unrestricted free agents that had trade value for future assets. Among those players was PTO (professional tryout) standout Fleischmann and breakout player Weise.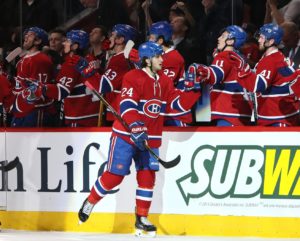 Bergevin, who was part of the Blackhawks organization before he became general manager of the Canadiens, was familiar with the players in their system. One of his favourites was Danault whom he was instrumental in drafting 26th overall in the 2011 NHL Entry Draft.
Through his early seasons in Chicago's system, Danault struggled to find his game in both the National Hockey League and American Hockey League and was on his way to being labelled a first-round bust. Still, Bergevin had enough confidence in his pick to strike a deal with Bowman.
The Blackhawks saw a player that wasn't improving and who was another body in the way of Marcus Kruger's emergence, whom the Hawks ended up signing to a long-term deal last summer. So the decision was easy, Bowman received depth players while unloading a player who didn't fit into the overall picture.
2016-17 Season
When the Canadiens began the 2016-17 season, Danault was expected to be a bottom-six player or, more specifically, the fourth line center. Some expected him to be in and out of the lineup while some expected him to be called up and sent down regularly.
No one expected Danault to have the season he's having. Much like Paul Byron, Danault has raised his game with the opportunities he's been given. He has nine goals and 15 assists, good for 24 points, far more than his previous career high of five points.
"He's been a surprise to you guys, but not to us" – Marc Bergevin on Phillip Danault.

— Аrpon Basu (@ArponBasu) January 17, 2017
With the early season injuries to Alex Galchenyuk and David Desharnais, Danault has stepped up and he is looking like a much different player than the one that left Chicago. His improved play could be enough to push Bergevin to trade veteran Tomas Plekanec either at the deadline or in the summer.
The season is only half over but if Danault can move forward at even 75% of his current pace, he'll still be well over expectations and would give head coach Michel Therrien added flexibility in the lineup.
Keeping It Up
Danault's biggest challenge will be to continue improving his game. He's playing with confidence and he needs to keep that confidence to get better. Like any player, there will be cold streaks or droughts and fans should be patient with a young player who's only 23 years old.
Yes, he's playing above his expectations, however, you can't count on him to be your second line center on a contending team. If he works hard, focuses on his game, in the future yes, he could reach that level but at this stage of his development, he's an excellent 3rd line center.
For now, Hab fans, enjoy his emergence. Look's like Marc Bergevin found a player.