The Montreal Canadiens are finally getting a little bit healthier, even though Josh Anderson recently went down for the remainder of the season with a high ankle sprain, and while management begins to shift their focus to their offseason to-do list, there's still plenty to play for over the final stretch.
In a better, deeper lineup, here are five players to watch over the final nine games of the 2022-23 campaign even if most fans are more concerned with the team's draft lottery position.
Justin Barron
Justin Barron has taken his game to a new level since being recalled by the Habs in late December after a strong start to the season in the American Hockey League (AHL) with the Laval Rocket.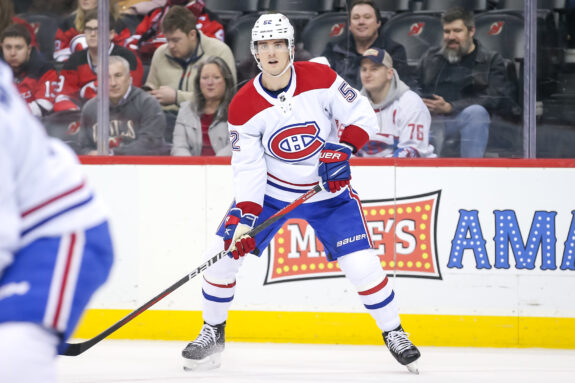 The 21-year-old has been one of Montreal's best defencemen during the second half of the year and has solidified his place in the team's top-six on the blue line. His time in Laval allowed him to improve his play without the puck in his own zone. Getting better in those areas has allowed him to express himself more offensively and showcase the strengths of his game. As his confidence grows, he'll become even more dangerous off the rush and from the point in the offensive zone. Already his first passes are more decisive. Plus, his decision-making in all three zones shows that he's reading the play at an NHL level.
The result of the work he's put in is a more complete defender who has put up three goals and 14 points in 30 games with the Canadiens and who will be looking to send a message over the last matchups that his spot on the blue line is secured for 2023-24. 
Kirby Dach
Kirby Dach has played three games since returning to the lineup following a significant injury layoff and he's picked up right where he left off. It's impossible not to notice him, in a good way, when he's on the ice. His presence changes the dynamic of the Habs' lineup entirely and he makes the players around him better.
Related: Top 5 Times Canadiens Shot Their 2023 Draft Hopes in Foot
The 22-year-old has quickly established himself as a key cornerstone for the franchise going forward and every goal, assist, or point he collects from here on out will establish new career highs for him. The fun part will be watching to what heights he can soar, both this season and beyond because his ceiling appears to be higher than many initially thought.
Brendan Gallagher
Contrary to Dach, Brendan Gallagher has struggled in limited action this year. His body continues to take a beating and he's lost a few steps. He's no longer able to impose himself the way he used to even though all of his intangibles remain.
---
Latest News & Highlights
---
The veteran forward has long been the heart and soul of his team and will always provide value in a leadership role, but his place within the future forward group is unclear and he'll have to figure out ways to put less strain on his body if he hopes to remain an effective, contributing piece. He had a strong game against the Columbus Blue Jackets on Mar. 25 which should help finish with confidence heading into an important offseason for him.
Denis Gurianov
It's no secret that Denis Gurianov has something to prove during the final stretch, especially since he's playing for a new contract.
His offensive production has increased since joining the Canadiens at the trade deadline and he's fit in nicely with his new squad. He's shown flashes of his potential and he has a wicked shot, but inconsistency remains an issue. It's hard to ignore his potential though and wonder what a full season with this young group under head coach Martin St. Louis will do for his game. General manager Kent Hughes has indicated that he would like to extend him so can Gurianov make it a foregone conclusion over the next few weeks?
Jesse Ylönen
Against the Blue Jackets on Mar. 25, while Rafaël Harvey-Pinard was scoring his first-career hat trick, fellow Rocket call-up Jesse Ylönen notched his fourth goal in five games in Montreal's dominant 8-2 win. Harvey-Pinard has been grabbing most of the headlines, but the Finn has quietly and steadily progressed since getting an extended look with the Habs. He has an NHL calibre shot and possesses a high hockey IQ.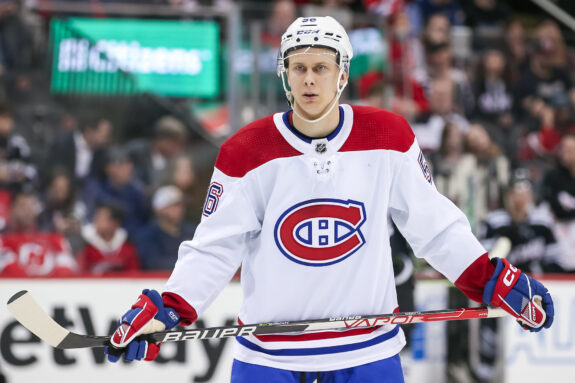 These next nine contests are important as he positions himself on the depth chart for training camp in September. He doesn't want to get lost in the shuffle with an influx of promising talent coming in at forward ahead of next season.  
One of those young players is Sean Farrell who is expected to turn pro and sign his entry-level deal with the Canadiens very shortly. He'll be another player to keep a close eye on if indeed he does finish the year in Montreal.
While dissecting the standings has become the pastime of choice for most Habs fans these days, there are still plenty of reasons to tune into the final nine games before another exciting summer of change begins.