When Montreal Canadiens general manager (GM) Kent Hughes acquired Denis Gurianov from the Dallas Stars in exchange for Evgeny Dadonov at the trade deadline, he was gambling that the move would help the rebuild more than adding draft picks. Finding players who deserve a second chance has been a common theme in Hughes' short tenure and points to his faith in his development staff. With that in mind, he decided that Gurianov discovering his game and becoming a top-nine forward was more likely than a mid to late-round draft pick making it to the NHL.
Gurianov has the speed, size, and shooting ability of an NHLer, but there are reasons why he was seen as expendable for a depth player. The Canadiens must decide if they will extend him a qualifying offer to retain his rights, sign him to a contract with term in exchange for a lower cap hit, or allow Gurianov to become an unrestricted free agent at the end of the season. The decision comes down to whether or not he has improved enough to earn a new contract.
Canadiens Relying on Development
Gurianov is an excellent straight-line (north-south) skater. He has speed to burn on the break out that can explode past defensive coverage, and he is capable of pressuring defenders on the forecheck. Along with an imposing 6-foot-3, 205-pound frame, he can physically dominate opponents, strip pucks with his reach and protect possession along the boards on the cycle.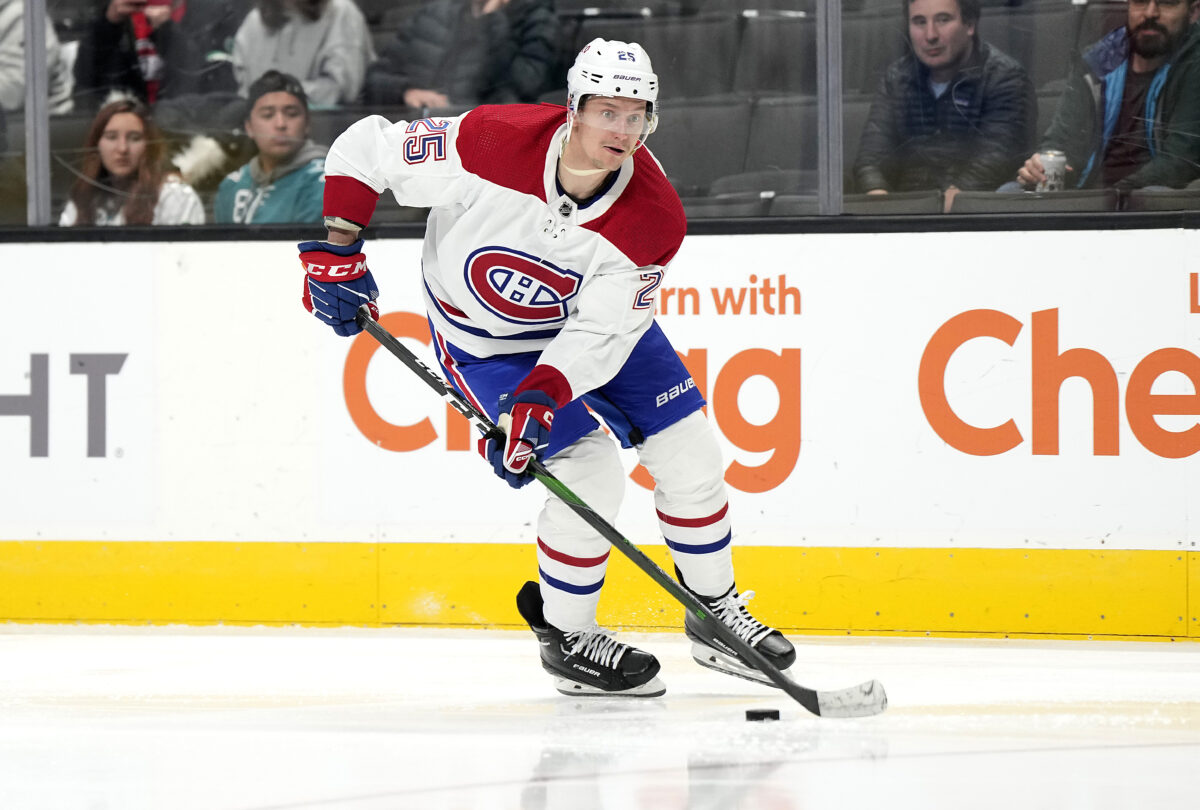 That being said, he hasn't shown consistency in applying those skills. He has had several opportunities to prove himself under multiple head coaches in Dallas, but they noticed that he only put his skills to use when it gave him a personal advantage. Gurianov was unable to earn many opportunities due to his lack of consistency playing within their structure, especially in the defensive zone.
Related: Canadiens' Player Development Changes Having a Big Impact
---
Latest News & Highlights
---
The good news is that Canadiens head coach Martin St. Louis and player development director Adam Nicholas have a modern approach to development, which has shown early returns with the rookies on the roster. All season, they have talked about the importance of an individualized approach, and how focused work in the video room and on-ice instruction can be used. However, no overall plan or individual skill development can be done without a basic understanding of a player.  
"As Marty said, he wanted to take time to understand who he was as a player and as a person. It's really difficult to take a guy into a team, give him two games and figure out what his strengths and weaknesses are and 'we're going to fix you right away.' There's an assimilation process to me, too, in terms of the environment, the dressing room, getting to know how a player accepts constructive criticism and is best able to incorporate it. So, we see there's elements of his game that he needs to improve — just to let his skill set shine more consistently, and there's a consistency element in general."

– Kent Hughes (from Pierre Lebrun, 'LeBrun: How the Canadiens are approaching the Bedard lottery, Caufield contract and more, with Kent Hughes,' The Athletic, 21 March, 2023)
After 12 games in a Habs sweater, St. Louis now has some familiarity with Gurianov as a person and player. They've done some work to help him integrate into Montreal's system, but have only just begun to work on his hockey IQ, his ability to anticipate the flow of play, and identify advantages. 
Canadiens Have a Project in Gurianov
Even at 25 years old, Gurianov's skills are still raw, especially after being buried in the Stars' bottom six. With only two goals in 42 games this season, his usage affected his production. However, the team is competing for a Stanley Cup, which limits opportunities for developing players. This isn't an issue for a rebuilding team like Montreal that has been decimated by injuries.
The heavy lifting will be in improving Gurianov's defensive play. Even becoming average defensively would significantly help his chances of earning a contract. His consistency on the backcheck is still a work in progress, but he also needs to work on his positioning. As an offensive player, it should be easier for him to identify developing offensive plays and place himself in those lanes, but, so far, he is still a step behind.
Since his arrival, Gurianov's goalscoring rate, five goals in 12 games for 0.42 goals per game, is encouraging, especially since four of his five goals have come at five-on-five. However, to improve on those numbers, he will need to identify and exploit more shooting opportunities, and to do so, he will need to be more situationally aware and find those open pockets near the net. The use of a power forward like Josh Anderson on his line has allowed Gurianov to focus on that and not the harder work along the boards.
The Canadiens need shooters who can complement all of their playmakers, so Gurianov should find a home in Montreal. His speed is also a good weapon playing alongside a strong transitional player like Kirby Dach or Nick Suzuki. He has shown improvement in his engagement, possession stats, and usage because he has been placed in a top-six role, and the coaching staff has empowered Gurianov to use his tools and unleash his scoring acumen, making this a great trade in the short term. But he hasn't shown he can sustain it long-term due to his inconsistencies in performance.
As a restricted free agent this summer, Gurianov's qualifying offer should match his current one-year $2.9 million contract. While he hasn't shown enough to earn that amount, a lower cap hit for two years would be fitting, especially if it gives at least one Habs prospect more time to develop in the minors. He's proven he can fill a third-line role as well as add a shooting option on the second unit of a power play. While he is still developing good habits in all three zones, he has shown enough to be signed to a short-term deal.