The Montreal Canadiens have three players participating in this year's World Junior Championship (WJC). Cole Caufield playing for the USA, Jan Mysak playing for the Czech Republic, and Kaiden Guhle for Team Canada. Here is what we can expect from the three of them in this tournament.
Kaiden Guhle, D, Team Canada
Guhle was the Canadiens' first-round draft pick, 16th overall in the 2020 Draft. He was a surprise pick to many, and a few thought the Canadiens would go for a winger. Guhle is a gifted skater who is a beast in his own end, he often closes gaps in a hurry and easily moves players off the puck; he is always moving his feet and has an excellent hockey sense.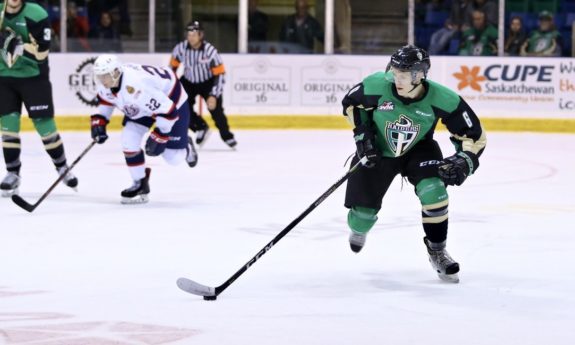 Guhle was an easy selection for Team Canada; he brings stability and size to the blue line. He will be lined up on the third pair with Halifax Moosehead defenceman and Colorado Avalanche prospect Justin Barron. Although Guhle has yet to play any games this season due to the Western Hockey League (WHL) not starting yet because of COVID-19, he has worked hard and had an excellent camp with Team Canada.
Current defencemen who play like him? Marc-Eduoard Vlasic might be a good comparison. I had Shea Weber in junior in Kelowna. Not the same shot or the mountain man like Shea but Guhle is nasty to play against. 

Prince Albert Raiders Defensive Coach Marc Habscheid (from 'Little surprise Kaiden Guhle made Team Canada roster for Marc Habscheid,' Edmonton Journal, 12 Dec 2020)
Guhle is from Edmonton and is only one of three left-handed defensemen on Team Canada. This gives his selection a bonus, and it will be interesting to see what he brings to the tournament.
Jan Mysak, C/LW, Czech Republic
Mysak was the Canadiens' second-round pick at 48th overall in the 2020 NHL Draft. He is a very strong forechecker and is good at drawing the defence to open up his linemates. He's not a great skater, but has good puck skills and vision in the offensive zone. Mysak is a straightforward attacker who isn't very flashy but gets the job done, a very good two-way player and could be a fringe top-six player in the NHL.
Related: 2021 World Junior Championship Team Czech Republic Preview
This will be Mysak's second year at the WJC; he played five games and scored two points in last year's tournament. However, this year, he was named team captain and will get more ice time playing a bigger role. Mysak has struggled while playing for HC Litvinov, scoring only one point in 11 games this season. He is hoping that playing with players more his age and the added ice time will help him improve his game and gain some confidence.
Cole Caufield, RW, Team USA
Finally, we have the Canadiens' top prospect Cole Caufield, who returns for his second tournament. He played last year and had a lacklustre tournament, only producing one goal and two points while playing minimal minutes on the third line. The entire USA team played a poor tournament and will be hoping to bounce back this year.
Related: Canadiens' Prospect Caufield Needs to Excel at World Juniors
Caufield was drafted 15th overall in the 2019 Draft, and he was predicted to be selected top 10 due to his record-breaking 72 goals while playing in the USDP during the 2018-19 season. Due to his size — 5-foot-8, 165 pounds — he fell to the Canadiens. His pure goal scoring and ability to always get open will be his calling card for his career; however, his skating is something the Habs want him to work on in the NCAA.
This season with Wisconsin, Caufield has worked on everything the Canadiens have asked him to do. He has improved his skating — as you can see in the video clip above, he's even gotten a little tougher. He will have a bigger role this year with the USA, playing on the top line and being named alternate captain. Caufield, the Canadiens, and Team USA will all be looking for him to have a great tournament, and judging by the two goals in his pre-tournament game against Finland, he's ready to go.
No matter how well the Canadiens' prospects do, let's all just sit back and enjoy some good hockey. The best part about this year's WJC is when it's over, the NHL will be getting ready to start, and we can go back to arguing over who has the best team.
---
---