The Montreal Canadiens' rebuild may not take as long as first expected as the previous management team had already begun a focus on acquiring and using as many draft picks as they could to flood the prospect pool with as many players as possible. The current general manager (GM) Kent Hughes is continuing that direction, but he has added more emphasis on development. 
Related: 4 Reasons the Canadiens' Rebuild Is Succeeding
Now, with several of these prior draft classes reaching the age to play in the American Hockey League (AHL), the draft-and-develop plan is coming to a head. The last three draft classes have provided many prospects that show potential to fill middle-six and bottom-four positions on an NHL roster, which will provide the Canadiens with quality, inexpensive depth. They have a major influx of prospects arriving for training camp in 2023-24, with the majority playing with the AHL's Laval Rocket first. These players will need time and support to reach their potential, and management will be busy this summer to ensure they have that in place.
Canadiens NHL Competition 
Every prospect at the age of 20 years or more will be competing for a roster spot with the Canadiens, however, the majority will not be able to make the team. Those who do not force themselves into an NHL job will be available to Laval. There are some who already have some professional experience who will make the coaching staff's decisions difficult.  
Rafael Harvey-Pinard is the first player that stands out from the prospect pool. In 40 games with Laval, he had 16 goals and 31 points. Following his call-up due to injuries, he was able to step into a top-line role and score 14 goals in 34 games (on pace for 33 goals in 82 games). His playing style and approach remained unchanged, he played "his game" and provided the Canadiens organization with a gritty, energy player.  
"I think I played my last game with Laval. But I have to say again, training camp will be very important. With all of the injuries in Montreal who will return I will need to prove myself again and earn a full-time job"

– Rafael Harvey-Pinard (translated from French)
As well as he played, the Habs' 2019 seventh-round pick displayed confidence in himself, but also that he had a strong grasp of what he must do to remain a part of the Canadiens roster for 2023-24.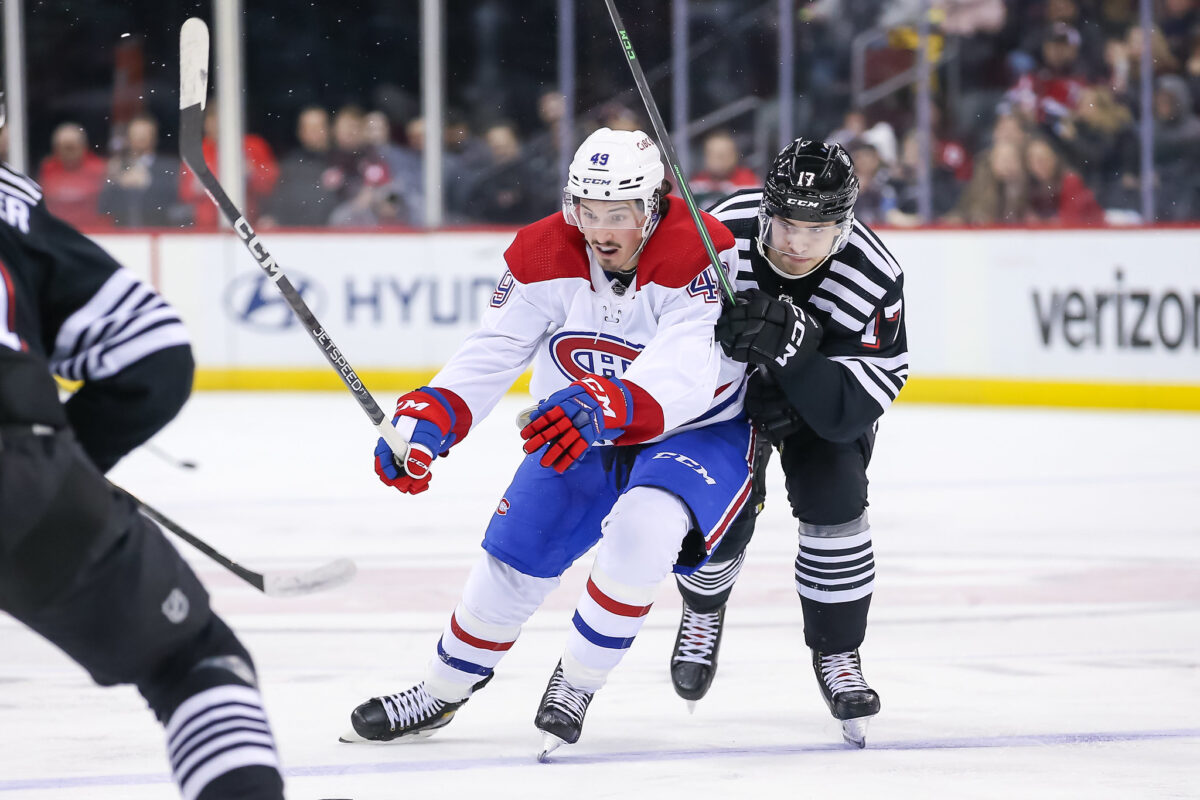 At forward, Emil Heineman, who joined Laval at the end of the season, will compete for an NHL job, but if he's sent down, he will play a top-line role. Jesse Ylonen got a 37-game audition with Montreal this season and showed flashes of the skill set that could make him a particularly good middle-six winger, but he will also need a very strong camp. Filip Mesar, Joshua Roy and Riley Kidney have nothing left to prove at the junior hockey level and will step into the AHL and need to play significant minutes to continue their impressive development arc. 
The biggest question mark is in the goaltending depth. Cayden Primeau is now at a crossroads as he is no longer waiver eligible. This means that if he can't earn an NHL roster spot, he would need to clear waivers to be returned to Laval, and that is a risk as he is still young enough to attract attention from other NHL teams. Only one needs to decide they have a need for his services in the NHL for Montreal to lose him on the waiver wire. 
Canadiens System – Laval Rocket 
Management's focus on development is going to be put to the test as several of their prospects begin to arrive in the professional ranks. As the youth movement continues, it becomes even more important that the AHL affiliate be capable of competing not just to earn a playoff position, but also win a few rounds. A precursor to NHL success is usually AHL success, and this past season was the first time since 2011 that a Canadiens farm team made the playoffs two seasons in a row. 
---
Latest News & Highlights
---
Part of the problem was the injuries in Montreal forced a dozen call-ups, depriving the AHL roster of many of its top players for long periods of time. The callups did however provide direct evidence that the development plan is starting to work, Harvey-Pinard being the best example. Laval was unable to win the series against the Utica Comets, and the reasoning given by head coach Jean-Francois Houle goes hand-in-hand with Hughes' desire to add size to the system. 
"I don't think we were built for the playoffs; all you guys could see that. I'm not going to sit here and say we were built for the playoffs. We're young on defense. On the left side, we had three 20-year-olds. In the playoffs (especially) in the AHL, if you want to go far, you need some veteran presence and you need some size. Our team gave everything they had. For the team we had, we competed hard. But you need some size on the fourth line. There's a lot of things we were missing."

– JF Houle (Herb Zurkowsky, Rocket coach admits team wasn't built for an extended playoff run, The Montreal Gazette, 22 Apr 2023) 
If Roy and Heineman return to the AHL, that would help add size, grit and skill up front. On defense, Logan Mailloux's arrival adds a large-framed puck-moving defenseman who plays a physical style. He will need significant playing time but doesn't bring much experience. After playing only one full season in the last three years, he needs to gain that experience to help his development. In goal, Jakub Dobes, who signed a two-year entry-level contract (ELC) starting in the 2023-24 season, will likely fill in as the AHL backup to Primeau, assuming he can clear waivers if he doesn't earn an NHL job with the Canadiens. Despite the potential these young players have, there will be slumps, pitfalls and growing pains as they adjust to the demands of professional hockey, leaving a glaring need for veterans to provide support to the skilled youth. 
Laval UFA Needs 
As their coach pointed out, there are significant needs to be met in Laval. There seems to be a significant influx of talent for the Rocket to use, but they are still missing some size, grit, and veteran presence in the lineup. While this summer will be filled with fans looking to unrestricted free agents (UFA) for the NHL roster, Hughes is more likely to focus on adding UFAs to fulfill the needs on the Rocket's roster. As Houle pointed out, they will need supporting veterans but will also need a team captain. 
Alex Belzile is an ideal candidate as captain, as he played that role in 2022-23. But after his season where he finally had an opportunity to show he can play in the NHL, will he be willing to start the season in the AHL and not take a chance as a UFA with another NHL team, especially if they offer a real shot at an NHL job right away? Mitchell Stephens is another veteran that would be a great fit. He knows the system under Houle and has shown he can lead a top-six line and play a two-way game. The 26-year-old restricted free agent is also capable of playing in the NHL as a temporary call- up at any forward position if necessary.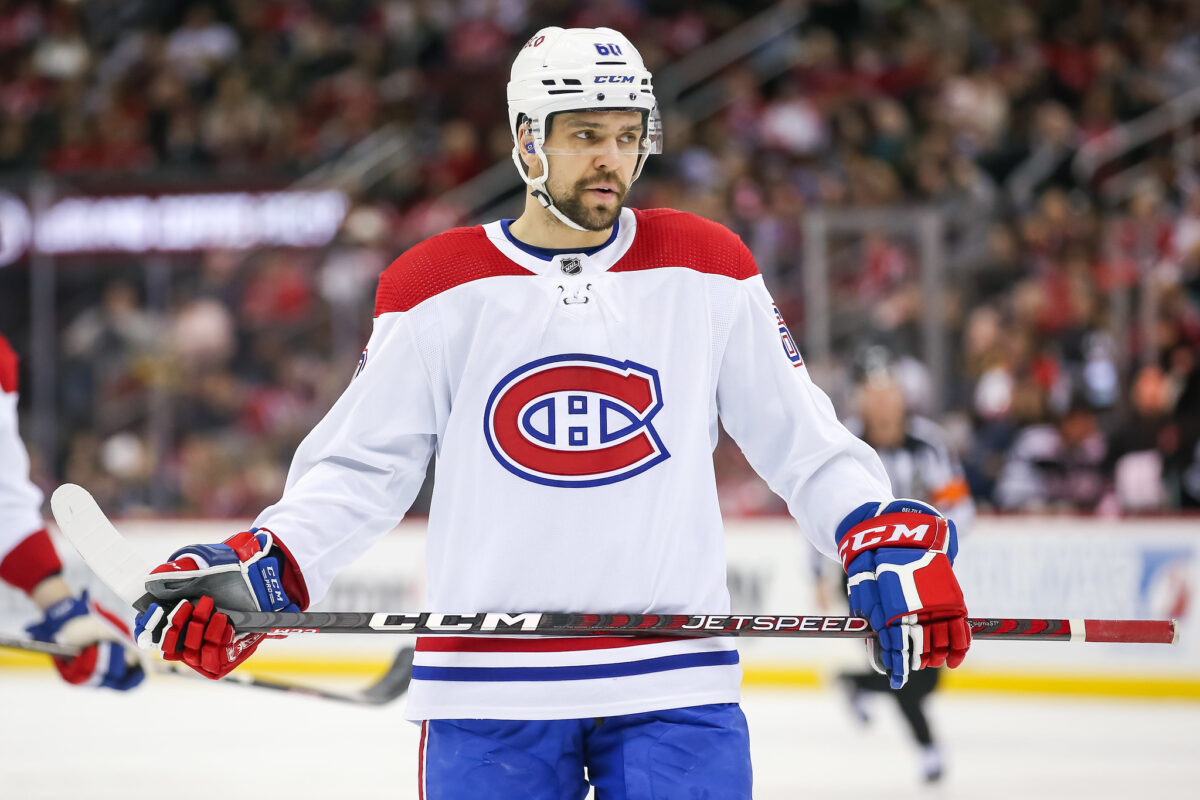 Anthony Richard has shown he can be an offensive weapon at the AHL level and provide quality play in a bottom-six role as an NHL call-up, but if the Rocket really are looking to add grit, size and experience, there is a UFA available that can bring all three. Adam Cracknell is a 6-foot-3, 216-pound right-handed center that has nearly 700 AHL games, over 200 NHL games and experience playing for Canada at the 2022 Olympics on his resume. In 2022-23, he was the captain of Tucson Roadrunners where he finished second in team scoring with 21 goals and 53 assists. He is familiar with Laval as he played one season with the Rocket in 2017-18 under former coach Sylvain Lefebvre. His physical style and experience would be highly beneficial for a team loaded with young, skilled players who lack professional experience.
It is important that Laval not only compete for a playoff position but play deep into the postseason. The playoffs are an opportunity to help prospects develop by playing meaningful games. It is an important aspect as the intensity in playoff games is high, and the physicality adds a degree of difficulty that forces players to play at a higher pace, something that could help them at the NHL level. For them, it's a great learning tool, but with some key veterans graduating or moving on to other AHL teams, management's prime concern will be to find a balance between proper development and support for the youth and having NHL-capable players to call up in case of injury.