Since his arrival in February 2022, Montreal Canadiens general manager (GM) Kent Hughes has been busy making trades to add futures and shed veteran contracts and salary. He has taken a novel approach, focusing on skill and speed. The other half of the "draft and develop" plan is about a player's trajectory and if they have proven themselves capable of filling a need and of continuing their progression in the Habs' system.
Related: 4 Reasons the Canadiens' Rebuild Is Succeeding
With the current focus on the NHL draft, which is coming up quickly, one eye will need to be on the next step, the restricted free agent (RFA) qualifying offer deadline. Decisions regarding who should get paid, who is worth offering a lower contract and who is worth keeping will need to be made as soon as possible so Hughes can properly manage his 50 NHL contracts.
What Is an RFA?
If a player does not receive a qualifying offer (QO), then they become an unrestricted free agent (UFA). There are many rules, but essentially all QOs must be extended by either the Monday after the Entry Draft or June 25, whichever comes first. A player doesn't need to accept the offer, but the team that offers one retains that player's rights.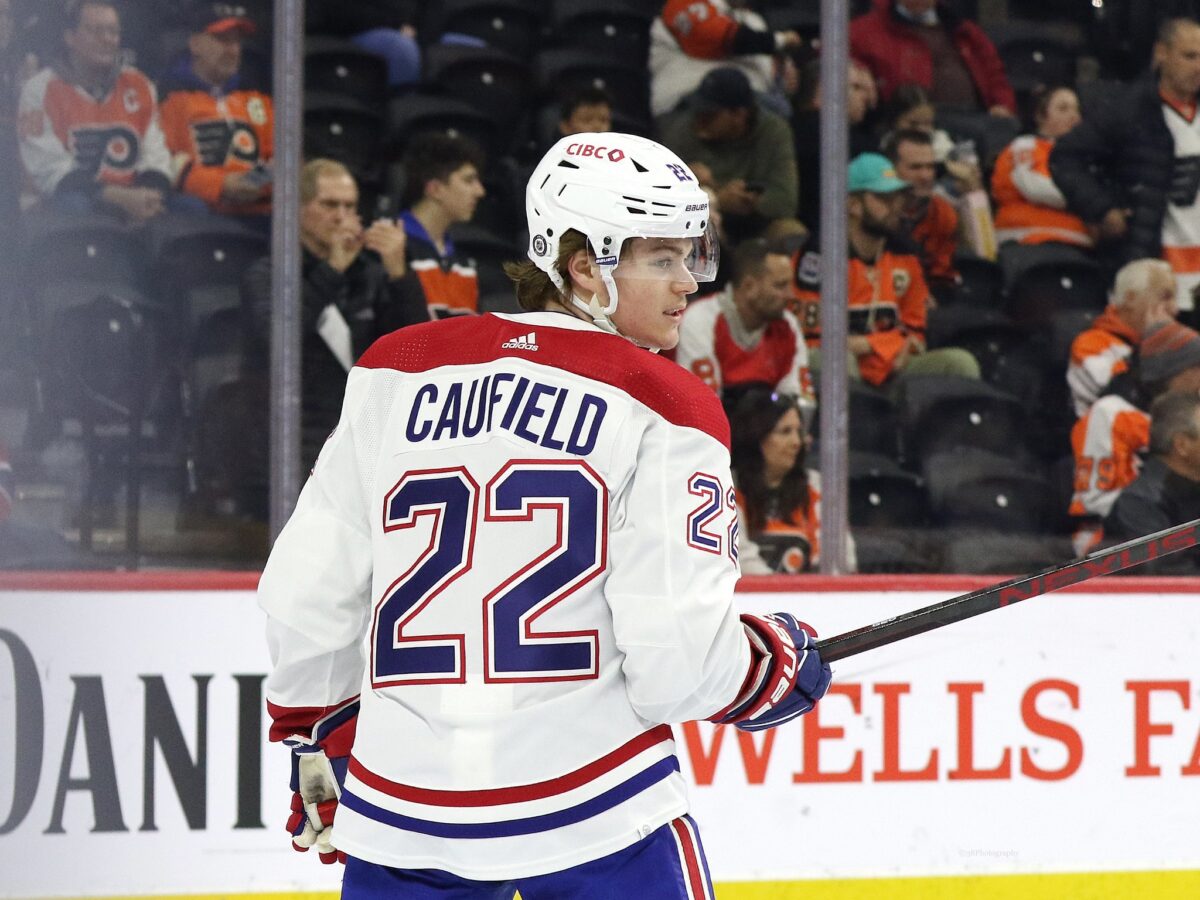 Meet the RFAs
The Canadiens have nine RFAs this summer, but not all are equal. Some are part of the team's core, others provide depth, and finally, some are expendable.
Cole Caufield
Caufield's next contract is the biggest storyline to follow this offseason in Montreal. There is a heated debate about his true value, but it also depends on the type of contract he signs. Caufield has stated he wants to be in Montreal for a long time, and he could get $8 million per season on a long-term deal, but the fanbase is anxious for him to get signed.
---
Latest News & Highlights
---
He could also choose a shorter-term deal to "bet on himself" and hope he can improve on his 48 goals in his last 83 games under head coach Martin St. Louis. The other option is to buy into being a key part of the core of the franchise for the long term, as Nick Suzuki has.
Rafael Harvey-Pinard
If there is one RFA not named Caufield who has proven himself worthy of a new deal, it's Rafael Harvey-Pinard. The 2019 seventh-round pick has done everything asked of him. He proved himself in the American Hockey League (AHL), then he produced offensively when called up to the NHL with 14 goals and 20 points in 34 games this season.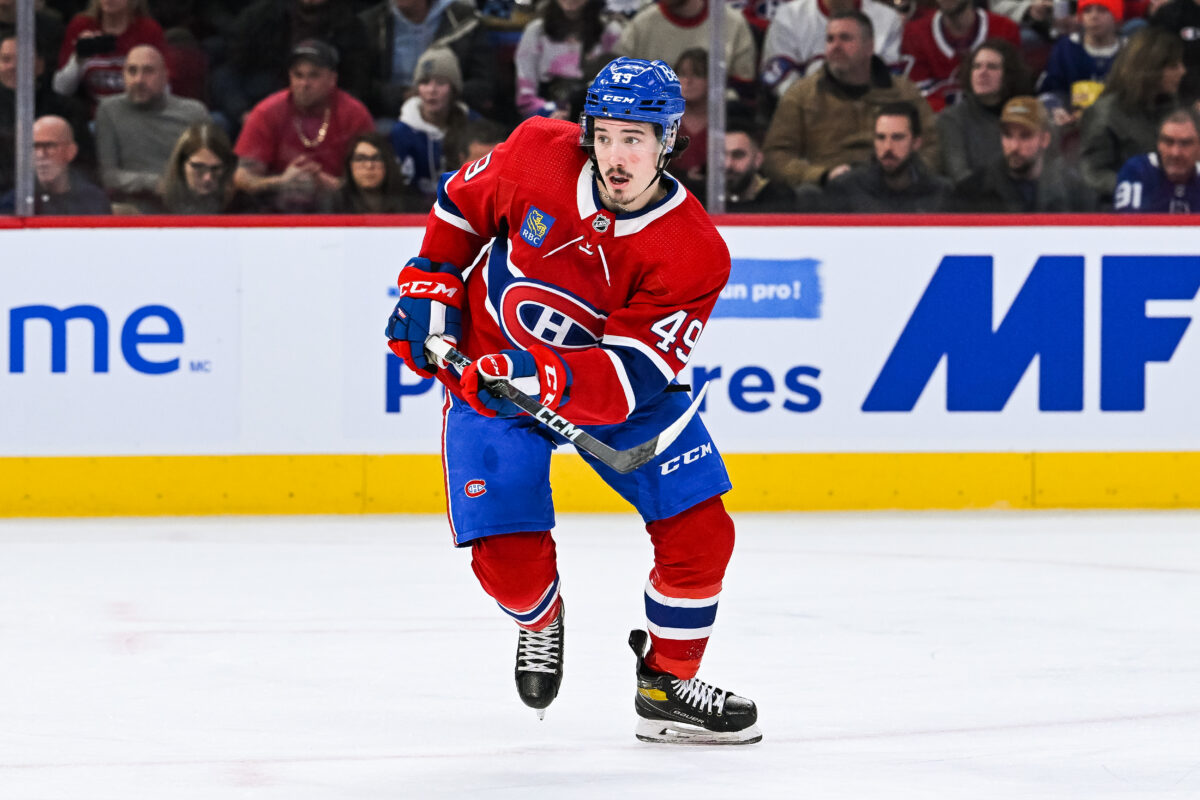 More importantly, he maintained his gritty style, never shying away from the corners or the front of the net, making life very difficult for his opponents in the same way that Brendan Gallagher does. Offering him a two-year bridge deal at $1.5 million per season wouldn't be a surprise.
Denis Gurianov
Gurianov is an excellent straight-line (north-south) skater. He has speed to burn on the breakout that explodes past defensive coverage, and he is capable of pressuring defenders on the forecheck. The problem is that he is highly inconsistent. In 25 games with Montreal, he scored five goals and eight points, nearly matching his output of nine points in 43 games with the Dallas Stars.
---
---
Gurianov has not done enough to offer him a $2.9 million QO. However, he has done enough that Hughes could offer him a one-year deal worth $1.25 million. He can produce as a third-line winger with power-play duties. Yet, he hasn't proven he is worth retaining long-term just yet. If Gurianov decides he wants more term or salary, Hughes should let him walk as a free agent.
Hughes' Upcoming Decisions
The Canadiens have several other RFAs. Micheal Pezzetta, Jesse Ylonen and Lucas Condotta have all shown they are capable of filling NHL roles if required. Ylonen has shown flashes of his middle six winger potential and is the likeliest of those mentioned to get signed, likely on a bridge deal for under $1 million. Joel Teasdale, Mitchell Stephens and Nicolas Beaudin are the remaining RFAs, but their future with the Canadiens organization is up in the air. If they want to remain with the Laval Rocket in a leadership role, they might receive offers, but they will likely be AHL deals.
That's because the Habs have a tidal wave of prospects who will be moving up to the professional leagues, competing for AHL and NHL roster spots. In goal, Jakub Dobes, who signed a two-year entry-level contract (ELC) starting in the 2023-24 season, will likely fill in as the AHL backup to Cayden Primeau, assuming Primeau can clear waivers if he doesn't earn an NHL job with the Canadiens.
At forward, Emil Heineman, who joined Laval at the end of the season, will compete for an NHL job, but if he is sent down, he will play a top-line role. Joshua Roy and Riley Kidney have nothing left to prove at the junior hockey level and need significant AHL roles to continue their development. Xavier Simoneau and Filip Mesar will likely earn larger roles as well. Finally, Jared Davidson has done more than enough to show he is worthy of at least an AHL contract.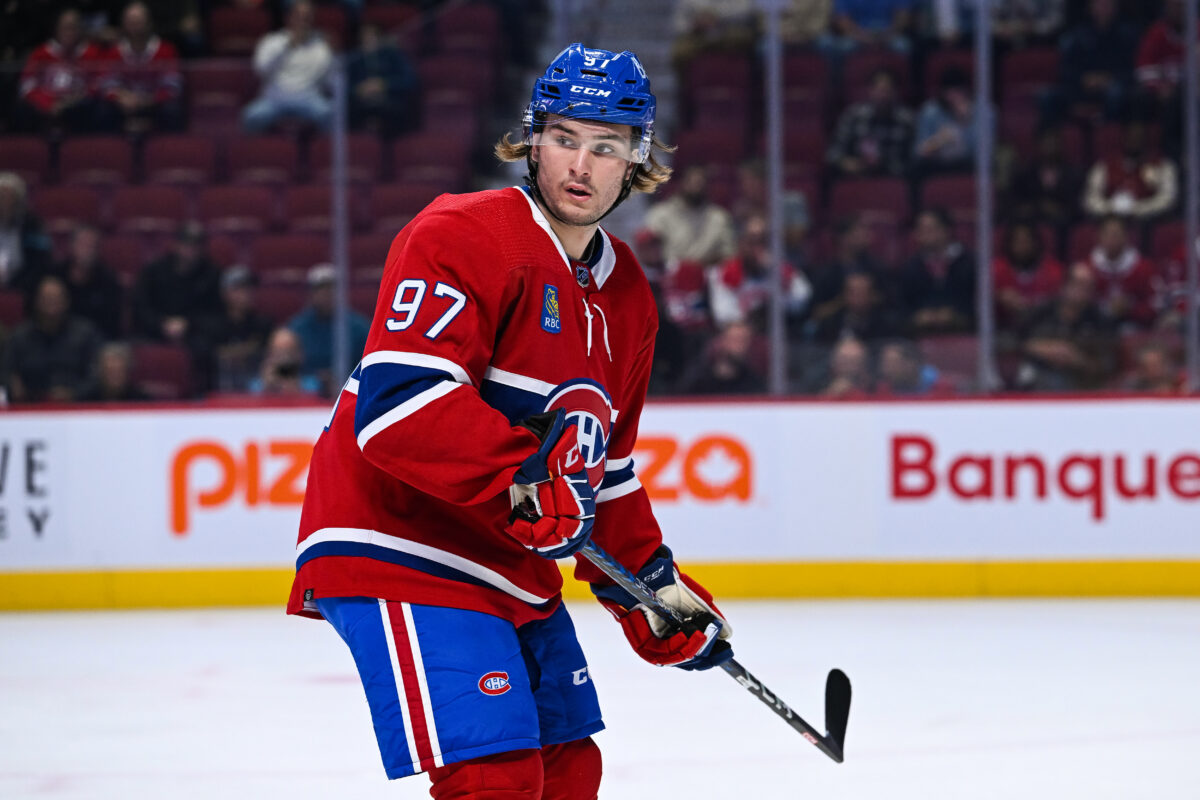 On defence, the newly signed Miguel Tourigny should provide some offence and, as a player with one year of professional experience, a bit of leadership. Logan Mailloux is another defender who will need significant playing time. After playing only one full season in the last three years, he needs to gain experience in the AHL, especially since he fills an organizational need as a right-handed puck-moving defenseman who can score and play physically, given his large frame.
The new direction by management to rely on development is starting to show some return, as the prospects graduating are showing much higher potential than when they were drafted. The prospects have also been groomed to fit in with the new up-tempo style of play the Canadiens are installing. It is only natural that they take their time to assess who they want to keep, who they can replace, and who they want to sign from their massive pool of prospects.
Last season, salary cap relief played a significant role in that decision-making process. Yet this season, as the salary cap is not going to be an issue for Hughes, there is no need to move players off the NHL roster unless they want to open a spot for a younger player. With only 29 of 50 NHL contracts signed for 2023-24, there is plenty of room to maneuver. But with 10 RFAs, several unrestricted free agents and prospects to sign before losing their rights, that space will fill up quickly.
Hughes is in a desirable position as his decisions to extend QOs are now based on hockey decisions and not financial ones. This places the GM in a position to use his large and varied prospect pool to accelerate his rebuilding plans.