The video game "Fortnite" took center stage at the NHL Combine. But upon further inspection, one interesting comment from a top prospect gave light to an extremely interesting story that could be just developing as we speak.
Filip Zadina spoke to the media in Buffalo multiple times this week. He said some of the most interesting things that anyone said during the Combine week. First on Friday, he told reporters, "Maybe Montreal wants to trade their pick with another team. I would love to be there, but we'll see what happens." This was in response to how Montreal could be a possible landing spot for him.
Then came what he said in a story by Michael Traikos of the National Post.
Interesting comment from Filip Zadina pertaining to #Habs in @Michael_Traikos story: "Montreal, I know very well. I've been to the city many times and they're fans are awesome. But I think they're looking for a centre or a D."

— Murray Pam (@Pammerhockey) June 5, 2018
Well then.
As many of you know, the consensus number-three pick for most of this season has been Zadina. Now he's saying he might not go to Montreal because they want a center or a D. It's not often a prospect dishes out that kind of a response about how a team interview went. It's certainly noteworthy.
No matter what happens now, the Montreal Canadiens will define the 2018 NHL Draft. I'm not even talking about the fact they own 10 total picks in this draft, all in the first five rounds, including five picks in the first two rounds with four picks in round two. It's what they decide to do with the third pick. They are the first domino in a long line of dominoes destined to fall.
Evaluating This Situation
Ok. What do we make of Zadina's comments? Is he on to something here? Or is Montreal throwing a bunch of smoke at us? It could be any of those things. That's what makes this fascinating.
First, Zadina must have gotten some kind of inclination from the interview that Montreal was interested in a center or a D. I don't suspect he randomly comes up with that on his own. Either he was asked some questions pertaining to this or the Canadiens flat out told him this was their intention. I can't imagine a scenario where a team tells a prospect this kind of information, unless maybe it's to see how he'd react to it.
Could Montreal have leaked this seeing how Zadina would respond? He said "I would love to be there, but we'll see what happens." He seemed pretty convinced that Montreal was serious in not looking for a winger.
Here's my take. There's a couple of scenarios possibly playing out here. Either they truly have someone other than Zadina third on their list or they could be inviting teams to call to see about a trade. Why not, right? Why not see what others would be willing to do to trade up? Maybe you get other assets and you still get your player.
Until proven otherwise, it appears the third pick is not set. Could Montreal really be looking at players like Jesperi Kotkaniemi or Barrett Hayton third overall? Might they consider Adam Boqvist, Quinn Hughes, Noah Dobson or Evan Bouchard if they go with a defenseman? All are good players, but could be had slightly lower in the draft. I'm not sure you pick any of those players over Zadina.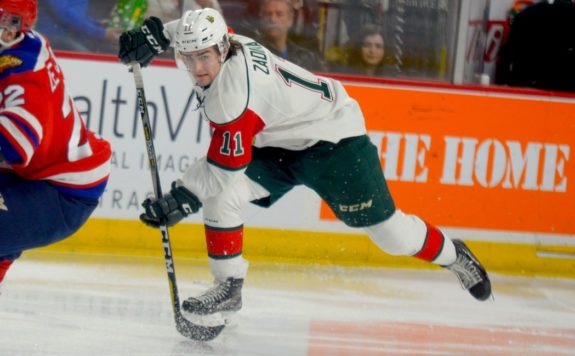 The Talk Leadin Up to Dallas
This is why Montreal holds the keys to this draft. They could go any number of ways here. Heck they could be trolling us all and they're set on taking Zadina. We really don't know but we can't ignore what Zadina said.
The ball is in Marc Bergevin's court. If he is not convinced Zadina is their guy, this decision will have lasting effects on the Canadiens and the teams directly below them. Imagine if Montreal takes any of those other players listed above or they agree to a trade? A move like that would immediately go under the microscope and will go on the long list of things that define the Bergevin era in Montreal.
Ottawa is sitting fourth. Barring a trade, they would be the Zadina benefactor if the Canadiens pass on him. Nothing like helping a division rival if that's the play.
What is Montreal thinking right now? Wouldn't we all like to know? Thanks to Zadina's comments, we now know to watch for this at the beginning of the draft. And that's just the beginning for the Canadiens with 10 picks.
What do you think happens with the third pick? Do they go Zadina despite his comments? Is there another target? Is there a trade in the works? Feel free to share your comments below. No matter what happens, this will be the talk leading to Dallas. It's for all these possible reasons that Montreal will define the 2018 NHL Draft.