Author's Note: As part of the Wilkes-Barre/Scranton Penguins' 15th anniversary season, the team has announced that it will induct a group of players into its first Hall of Fame class. The players chosen will be determined by a fan vote, as well as input from front office staff and local media. Twenty-three players are up for election, and in this series, we will profile four players at a time for five articles, with the final three players being covered in the last article.
Over the last 15 years, countless players have come through Wilkes-Barre/Scranton on their way to careers in the NHL. They have become Stanley Cup champions, coaches, scouts or created lives outside of hockey.
The 23 players who are up for election to be inducted into the Penguins Hall of Fame have made significant contributions to the team both on and off the ice.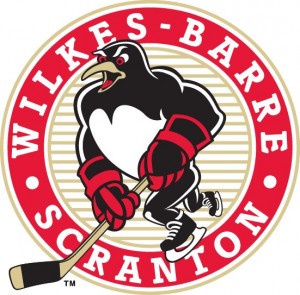 Here is a list of the criteria for potential Hall of Fame members, as indicated by the team's website:
-Must have spent parts of at least two seasons in Wilkes-Barre/Scranton
-Been retired from professional hockey for at least two seasons
-Made a significant contribution to the Penguins and community, either on the ice or off
Here are profiles of the first four players on the ballot:
Adam Berkhoel, Goaltender
Seasons in Wilkes-Barre/Scranton: 2008-09 and 2009-10
Berkhoel was signed to an AHL deal prior to the 2008-09 season and was a solid backup for John Curry that year. He was the first Penguins netminder to post three consecutive shutouts and finished the year with four. He had a 15-11-2 record with a .910 save percentage and 2.53 GAA.
He spent much of 2009-10 with the Wheeling Nailers, the Penguins' ECHL affiliate, due to the arrival and breakout of prospect Brad Thiessen. He was 12-11-3 with the Nailers and posted a .888 save percentage and 3.13 GAA. In seven games with WBS, he still had a winning record (4-3), but his numbers were lower (2.98 GAA and .892 save percentage).
Berkhoel retired following the season and is currently a player representative with Vaughn Hockey, a company which specializes in goaltending equipment.
His college career at the University of Denver is somewhat connected to two Penguins players. He was teammates with former WBS forward Connor James, who played in Denver from 2001-2004. In 2004, Berkhoel was named the NCAA Tournament's Most Outstanding Player, an award that went to fellow goalie Peter Mannino in 2005. Mannino signed with WBS over the summer.
Dennis Bonvie, Right Wing
Seasons in Wilkes-Barre/Scranton: 1999-2001, 2005-2008
Bonvie is unquestionably a lock to make the Penguins Hall of Fame. He is arguably the most popular player in team history, as the arena is often referred to as "the house that Bonvie built." He got the crowd going with his willingness to fight almost anyone and was one of the nicest guys fans could ever meet off the ice.
He holds the professional hockey record for most all-time penalty minutes (4,804) and had five seasons of 200 or more penalty minutes while playing for the Penguins.
After originally leaving the team in 2001, Bonvie played for the team's East Division rivals, the Binghamton Senators (2002 through 2003) and the Hershey Bears (2003-2005). He came back to Wilkes-Barre with much fanfare following the 2004-05 season and stayed through his retirement in 2008.
Bonvie is currently a scout with the Stanley Cup champion Chicago Blackhawks and still lives in the area with his wife and two children. He also opened a business called Bonvie's Old Forge Pizza, which is found in area grocery stores. In addition, he hosts a "battle camp" for youth hockey players every summer that teaches them how to defend themselves on the ice.
Jesse Boulerice, Right Wing
Seasons in Wilkes-Barre/Scranton: 2009-2011
Boulerice came to Wilkes-Barre/Scranton with a reputation for being a fighter, and he carried that on in a Penguins uniform. His hits were often controversial, and he was suspended for 10 games in 2011 for running over a referee after he was angry about a missed call. Some of his notable fights include bouts with Trevor Gillies (then with the Bridgeport Sound Tigers), who was a part of the Pittsburgh Penguins/New York Islanders brawl in 2011, and Grant McNeill of Hershey.
He posted more than 100 penalty minutes in both of his seasons with the Pens and also contributed eight goals in that time.
Boulerice retired following the 2010-11 season and is currently a financial advisor with Merrill Lynch. He resides in North Carolina with his wife and children.
Brendan Buckley, Defenseman
Seasons in Wilkes-Barre/Scranton: 2000-2004
Buckley was one of the most popular early Penguins players, as well as one of their most dependable. He played all 80 regular season games in both the 2001-02 and 2002-03 seasons. In 2002, he posted an AHL career-high 20 points and was part of the team's first run to the Calder Cup Finals.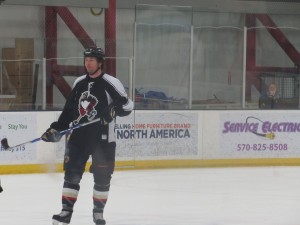 He was traded during the 2003-04 season and finished out the year with the Syracuse Crunch, who were then affiliated with the Columbus Blue Jackets. He then bounced around the AHL for the next few seasons, finding homes in Worcester, Peoria and Manchester before playing three out of the next four years across Europe.
Since hanging up his skates in 2011, Buckley has worked as an agent at Buckley Sports Management, a firm run by his brother Jerry. The firm has represented current and former Penguins such as Tom Kostopoulos and Brian Strait, and other NHL stars like New York Islanders forward Michael Grabner and Phoenix Coyotes defenseman Keith Yandle.
Alison is currently covering the Wilkes-Barre/Scranton Penguins of the AHL for The Hockey Writers after writing about the NHL's New Jersey Devils from 2011-2012. She is currently employed for the fast growing sports website Bleacher Report as a quality editor and hopes to one day have a media relations career with a professional hockey team. Follow her on Twitter @AlisonM_110.