The third and final day of rookie camp for the Colorado Avalanche is in the books. Tomorrow, Avalanche veterans will report and take care of all of their physicals before training camp officially gets rolling on Thursday. The third day was much like the previous two; drills with some conditioning work done at the end of practice, but there are some story lines to follow going into training camp.
Solid Coaching
I mentioned this in yesterday's article, but it bears repeating. Each of the days of rookie camp started 20 minutes or so before the scheduled start time with all the goalies working drills with Jean-Ian Filiatrault, goalie coach for the Lake Erie Monsters. Now the Avalanche did see Kirk McLean working with goalies at starts of practices last season, but there was rarely any work done on technique and form. It was all pretty much; warm up the glove, warm up the blocker, get ready to slide, etc… Filiatrault has been working on much more specific technique with the youngsters, and it is incredibly encouraging.
Both today and yesterday I saw Avalanche coaches far more involved in solid teaching practices than I have in a long time. Tim Army was the main star yesterday, and Andre "The Bear" Tourigny was in the center of things again today. When players needed correcting, drills were stopped and the situation was both discussed and demonstrated. Players then repeated their responsibilities and then demonstrated them. Immediate improvement was then seen. I know this sounds like a very basic thing to expect during a training camp situation, but this was sorely lacking during Joe Sacco's tenure.
Some Struggles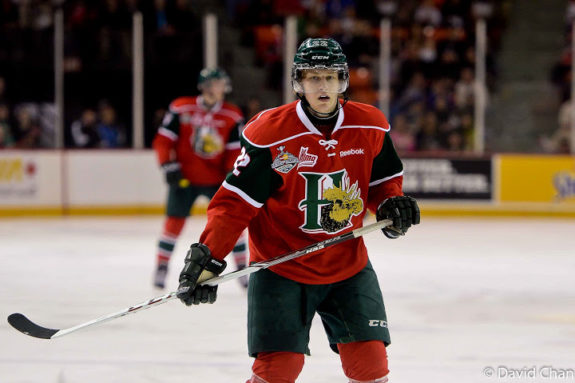 MacKinnon continued to have a few struggles today. Mostly because it seemed like every time he had the puck during a drill, he was tripped or taken down in some way. The worst moment happened when Duncan Siemens got his stick right in MacKinnon's face. MacKinnon was fine and didn't appear to have any blood, but a stick to the face is never a pleasant experience. I'm not discouraged by MacKinnon's struggles, one on one drills don't exactly mean too much, but it shows that there's going to be a period of adjustment for MacKinnon.
Spencer Martin, newest goalie drafted by the Colorado Avalanche this past season, had a horrific day. Straight form the get go he was absolutely lit up. High glove, high blocker, you name it. He's still very young and it is expected that a young goalie is going to need some work. Mama said there'd be days like this, and it was one of those days for young Martin.
Mason Geertsen started the day off by getting burned by simple speed on his first attempts in one on one drills. He was late turning his body to establish position a couple of times and just allowed his opponent to waltz in uncontested. A guy his size should never put himself in a position where he isn't able to make some kind of contact with a player driving towards his net. To his credit, he did battle very hard throughout practice and made marked improvements. He started taking better angles, recognizing when he should shift his body to maintain position which resulted in much better stick play as well. Give Geertsen credit for taking what could have been a bad day and working hard enough to turn things around, that shows some good mental toughness.
Michael Sgarbossa is having an interesting time out there right now. Yesterday, just before all the rookies were given a bag skate, Sgarbossa was part of a group that was restarted in drills multiple times because of bad passes he made or because of his inability to receive a pass cleanly. He was better than that today, but there were a few moments, most notably an odd-man rush drill, where his passes were just off the mark and sloppy. He's still got great speed and a quick shot, but it seems like he may have taken a bit of a step back at the start of this year, which is not a good thing.
Some Positives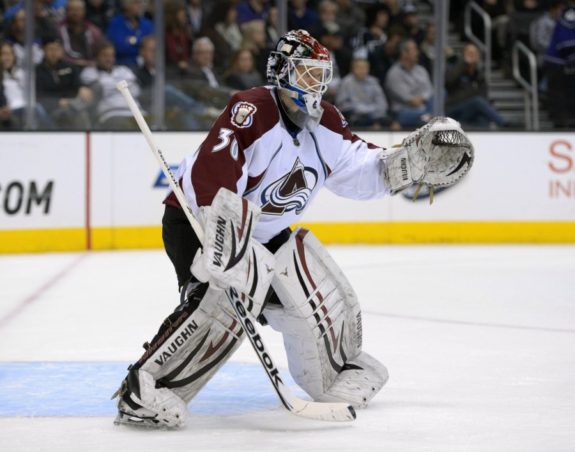 Young Finnish goalie prospect, Sami Aittokallio looked fantastic today. Something about him just looked so calm and comfortable right from the start. The first drill had three players coming in and shooting uncontested on the goalies from three different angles in rapid succession, and Aittokallio was a wall. He was square, made strong pushes while sliding, showed a quick glove and block and was able to control his rebounds well. The rest of the drills saw Aittokallio continuing all of these things well and just managing to see the puck at all times. If there was a negative to mention, it's that Aittokallio's fatal flaw is still around. He has a habit of dropping his glove hand too low. His reflexes are good enough to mask it, usually, but it just starts to creep down enough that opponents will look to target him. You can only tell so much from drills, and we'll learn much more as training camp continues, but Aittokallio looked very strong today.
Duncan Siemens looks great. People talk about Siemens and they talk about how mean he is and how he's like a junkyard dog, and all that is true, but it's remarkable that people overlook how well he skates. Watching Siemens move today was almost hypnotic. He is so in control of how he skates, it is all very smooth, there is no wasted motion, his strides are powerful and his positioning is smart. Watching the way he skated was markedly different than most of the other young defenders out there, and it really reminded me of Adam Foote's silky smooth skating. I have no doubt in my mind that he'll be playing in Lake Erie at the very least this season.
Garret Meurs and Colin Smith started to stick out to me even more today than yesterday. Both guys are smaller, water-bug type of players, but both guys are fiercely determined. Neither player is afraid to get into puck battles with bigger players against the boards and in the corners, and both players were able to just out work opponents to gain puck possession. Smith shows a bigger offensive upside than Meurs does at the moment, man does Colin Smith have a quick shot.
Next step for the Colorado Avalanche will be the beginning of full training camp on Thursday. There is when we will start to see what some of these younger kids are made of.
I'm a Denver native who has been a fan of the Avalanche since they came to town and a fan of the game before that. I started writing my own blog a couple years ago before moving to Bleacher Report and becoming a Featured Columnist there. You can also find me the Burgundy Brigade Podcast