After suffering a loss to the New Jersey Devils on Sunday, the Carolina Hurricanes fell to a dreadful 3-5-3 record to start off the year. As the Hurricanes quickly plummet to the bottom of the Eastern Conference, many fans are already sounding the alarm on what could be yet another lost season, and to be fair it's hard to blame them.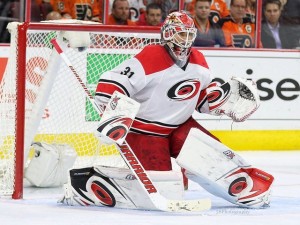 The performances of  goaltending duo Cam Ward and Eddie Lack have been incredibly poor, Carolina isn't scoring nearly enough goals, and the team as a whole has had a difficult time converting on scoring chances. All of these issues are not new for the Hurricanes and will be definite areas of improvement going forward.
But even despite all of these concerns, there is still reason to believe that the Canes will rebound from this early-season slump.
The Early-season Schedule
Out of every NHL team, it is hard to argue that anyone has had a more strenuous starting schedule than the Carolina Hurricanes. The season began with a six-game road trip, where the Hurricanes stopped in Winnipeg, Vancouver, Edmonton, Calgary, Philadelphia, and Detroit. Currently, only Calgary has had as many away games as the Hurricanes, who are both tied for a league-leading eight games on the road.
The Carolina Hurricanes (a team I think will surprise people this season) open up with a six game road trip. Oof.

— Jeff Marek (@JeffMarek) October 12, 2016
Even with certain home-ice advantages such as last line changes and home-field familiarity being put aside, there are multiple factors which can adversely affect the performance of visiting teams. When players are far from home they give up luxuries such as sleeping in their own beds, home cooked meals, and relaxing mornings, and replace them with late nights, hotel rooms, and long flights.
While these issues may seem superficial at first glance, they all carry harsh consequences for teams playing on the road. In 2016-17 the record for all teams that have played at home is 114-56-9, which is astonishing when compared to the 65-84-30 record for all visiting teams. This is a tremendous difference in playing performance between home and away teams, one which exposes a possible reason for Carolina's early record.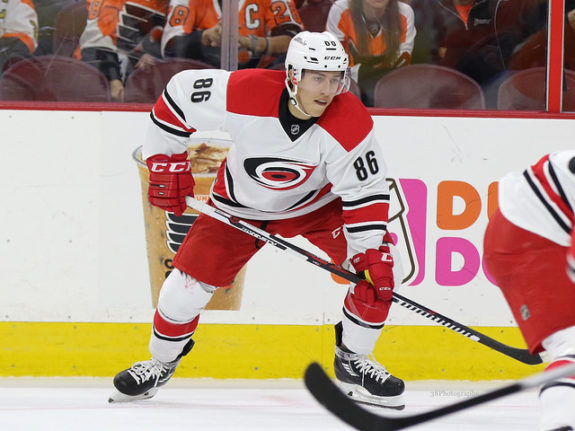 Shots, Saves, and PDO
It was addressed earlier that the performance of Carolina's goaltending tandem has been incredibly poor thus far. What wasn't addressed, however, was that these stats are well below average for both Cam Ward and Eddie Lack. A good way to measure theses averages is with a statistic called PDO.
PDO uses the sum of a team's shooting percentage and save percentage to determine if a team is playing either above or below their means. A PDO of over 100 generally signifies that a team is winning more games than expected, and will most likely not be able to maintain their high level of play, while a PDO below 100 suggests that a team is losing more games than expected, and will most likely see their level of play improve as time goes on.
Carolina's PDO currently ranks as the fourth-lowest in the league at 97.1. A PDO this low indicates that Carolina's current slump is only temporary, and should begin to correct itself when the save percentages of Cam Ward and Eddie Lack revert back their own individual averages.
In summary, the beginning of the 2016-17 season has been an extremely unlucky one for the Hurricanes. Between long road trips and bad puck luck, the Canes find themselves already in a deep hole. However, the season is still young and the bad luck won't last forever. It is not too late for Carolina to turn this season around, and a strong mid-season push will put them right back on track.