Back in November 2013, Sportsnet magazine published an article on the incoming phenom Connor McDavid. The cover read "Better Than Crosby." The piece went on to talk about McDavid's domination in Junior Hockey, and the likelihood that we are witnessing a true generational player, maybe even on the verge of eclipsing what Crosby has done. "Been a few years since we have seen Crosby's likes. Will be a few more years before we see another McDavid. And it just might be we'll be talking about how dominant 87 was until No. 97 came along." – Gare Joyce. Tonight, the two will face off head to head for the first time. Let the comparisons roll on.
Crosby Is the Best Skater in the Game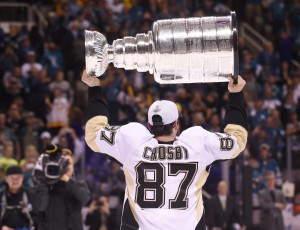 Last year, Sidney Crosby (and the rest of his Penguins team for that matter), came out of the gate rather slowly. In fact, it was the worst statistical stretch of his illustrious career. Many a hockey pundit was wondering if Crosby's best days were behind him, and if he was on the decline. He later admitted that save for his injury trouble, it was the most difficult stretch he's ever been through. But a mid-season coaching change seemed to spark something in Crosby, and he went on a tear.
He was a Hart Trophy nominee by season's end and helped lead his team to a Stanley Cup Championship (he was awarded the Conn Smythe trophy for playoff MVP). Crosby followed that up by helping Canada to a World Cup title, where he was named tournament MVP. He had concussion issues to start this season, but he's healthy again, leading the league in points per game, and skyrocketing to the top of the goal leaderboard. For a guy who was washed up just a year ago, he's certainly been impressive.
Crosby has faced plenty of ups and downs in his NHL career. He's been the best player on the planet for a long time, though many other players have briefly tried to knock him off his perch. Hockey is so unpredictable. Players can steal our attention for a moment. They can capture our imagination for a stretch. But Crosby has proven his elite status, especially over the last year. No matter how brilliant a player is, he'll always be judged by his next accomplishment. It feels as though Crosby has to keep proving himself, but the reality is, he has already proved that he's a special player, and we're all fortunate to watch him play.
The War on Connor McDavid
The sub-headline on that issue of Sportsnet magazine read: "Why scouts say Connor McDavid is the best prospect in a generation." That would be accurate. Even with the presence of the Auston Matthews, Jack Eichels and Patrick Laines of the world, McDavid remains a cut above. But he's going to have to fight for every inch he gets, and that fight is already becoming a full-fledged war. Last week, when the Oilers faced the Toronto Maple Leafs, Nazem Kadri stole the show offensively, and according to Toronto media, he wrote the book on shutting down McDavid.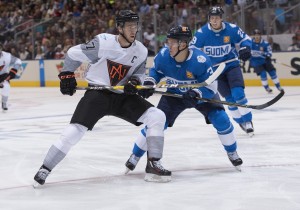 Kadri is a good skater, and he was able to keep up with McDavid, which made a big difference. But if hooking, holding and interfering with McDavid is the blueprint on shutting him down, well don't give that credit to Kadri. Elite players have to fight through a whole lot to get space on the ice, and opposing teams know that the best way to neutralize McDavid is to hinder his ability to pick up the puck on the rush. Stop him from going full speed down the ice and you have a chance.
McDavid started the season off remarkably well, but he's slowed as of late. Some feel he's had too much ice time and is getting fatigued. Others feel as though teams have figured out how to get him off his game. It could be a bit of both, but that's the reality of being a superstar in the NHL. Teams are gunning for you. They don't want to be embarrassed by you. Connor is going to have to learn how to fight through it, just as Crosby has.
If you watch any given game involving the Penguins, you'll see Sidney Crosby getting mugged and held on almost a shift by shift basis. But the strength of Crosby's game is his ability to hang onto the puck. You can't knock the guy off his skates. He takes possession and you have to cheat to get it back. It's easy to get frustrated when you're being played like that, and Crosby has been plenty frustrated in the past. But his maturity has shown lately, particularly in this past year's playoffs.
Joe Thornton punches Sidney Crosby after getting annoyed! by @EverySport100 – https://t.co/fCxXuQqOS6 via @DailymotionUSA

— Every Sport (@EverySport100) June 2, 2016
Crosby has learned that he will be beaten up every game, and he has to find a way to fight through it. McDavid is starting to realize just how difficult it is to break through the tight checking of the NHL. He can do it, there's no question, but he's going to find a lot of frustration along the way. If McDavid is going to finish his career on a higher level than 87, he's got his work cut out for him. (And thankfully he's got a lot of time to figure it out.)
McDavid vs Crosby
The Oilers have been playing well. In fact, they currently boast the best record in the Western Conference. The Penguins were forced to face life without three of their best players this season, but they're getting healthy again and appear to be finding their groove, which is a terrifying thought for the rest of the league.
If McDavid wants to take the best-player-in-the-world mantle from Crosby, he's got a lot of work to do. Sid has learned to evolve and adapt his game to become more effective. When he wasn't scoring enough, he worked on it and became a Rocket Richard winner. When he wasn't playing good enough defensively, he worked on it and got himself into the Selke Trophy conversation. The best thing about Crosby is his willingness to work hard. He never quits and he never gives up.
Crosby says that Connor McDavid's speed and hockey sense are what sets him apart from other players. pic.twitter.com/mEj0CF4gui

— Pittsburgh Penguins (@penguins) November 7, 2016
McDavid may be more physically gifted than Crosby, but this isn't Junior Hockey. There is no space out there to make plays. There are teams that want to slow the whole game down. The neutral zone is as clogged as a truck stop toilet. McDavid's best weapon is his skating ability and his speed, and everyone knows it. The Penguins play a speed game themselves, so we may end up seeing something of a track meet tonight.
It's probably not the time to ask the question, "Has McDavid hit a wall?" He's going to get his points, and he's going to dominate the league. He may have to adapt a few things along the way, and he has a chance to learn from the best. As for the game itself, well, it could go either way. Will McDavid and Crosby steal the show? It certainly would be fun. But one game does not a legacy make. This is just the first chapter of the current one vs. the next one, and Crosby isn't ready to give it up just yet.