The Toronto Maple Leafs and the Vancouver Canucks recently teamed up to provide one of the more entertaining spectacles this season. When I say that, I'm not referring to the goal scoring that went on during the contest. Instead, I'm talking about the chippy play that eventually led to a full out line brawl.
In the third period alone, there were eight fighting majors and seven game misconducts handed out. Just about everyone was involved in some capacity or another. That included non-fighters like Morgan Rielly, Leo Komarov and Jannik Hansen.
Nazem Kadri's questionable hit on Daniel Sedin is essentially what sparked the entire series of events in the first place. Kadri, who was not suspended for the check, has a history of playing with a bit of an edge. That's when he is at his most effective.
After that happened, it was Derek Dorsett's turn to get involved with someone. He decided to exact his pound of flesh from Komarov, who is much more of an agitator than a fighter. As Dorsett was being led off the ice by an official after receiving an instigator and misconduct, Martin sat on the Leafs bench and began jawing at him.
Martin was wondering why Dorsett decided to fight Komarov instead of coming after him. It was another wild moment in the game that ultimately got even more crazy about five minutes later.
Going After Troy Stecher
Troy Stecher, the Canucks rookie, was following the play down to his own end. He ended up in the corner and it was there that he met Martin, who got a hold of him and threw him to the ice. Stecher, not liking the treatment he received, began to fight, which is exactly what Martin was looking for.
That sparked the entire line brawl as all players on the ice were involved in some capacity. Canucks goaltender Ryan Miller was even in the middle of the fisticuffs attempting to help out his young teammate. That brought Frederik Andersen all the way down the ice, though no punches were thrown by the big Dane.
The incident didn't sit well with a number of Canucks players who thought the decision of going after a rookie was unforgivable and against the code. In the NHL, rookies are treated a certain way. They are protected by their older and more veteran teammates and messing with one is generally considered a move you know not to make.
Martin broke that rule when he went after Stecher. Martin, who is known as a tough customer throughout the league, had the size and strength advantage on the rookie and even though the fight itself only took mere seconds, it put the Canucks on notice. With all the hits and fighting, the game continued to escalate. Martin was trying to find a way to get under the Canucks' skin even further and by going after Stecher, and he accomplished his goal.
A canucks player yelling in the hallway: "Matt Martin's dead. Everyone can hear it. Matt Martin's dead."

Teams play again Dec. 3.

— Chris Johnston (@reporterchris) November 6, 2016
Erik Gudbranson, the Canucks' hulking defender, had some choice words for Martin as he headed to the dressing room after the game was over. He is quoted as saying, "Matt Martin's dead, everyone can hear that right now. F#!@ing dead." Martin for his part shrugged off the comments and said the next game will run its course.
Matt Martin didn't seem too concerned about the threat from #canucks pkayer; says it'll run its course.

— Chris Johnston (@reporterchris) November 6, 2016
December 3, 2016
If you haven't guessed by now, that is the date these two teams will meet next. It's now a much-anticipated game because of all the shenanigans involved in the first contest.
Martin was brought to the Leafs on a four-year contract this past summer. He has two key responsibilities when he puts on the Blue and White. The first is to play a tough and gritty style on the fourth line and chip in a little bit of offense from time to time.
The second is to protect the team's younger players. There are three I'm specifically talking about that include Auston Matthews, Mitch Marner and William Nylander. Those three are the future of the franchise and have led the revitalization of the Maple Leafs so far this season.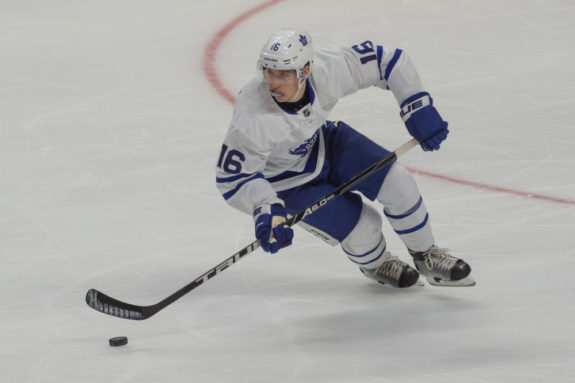 With Martin going after Stecher, a rookie who was playing in only his fourth game at the time, has that set the precedent that it's open season on all the rookies the next time these two teams play? It's a scary situation to think about.
Martin will definitely have to answer for his actions next game. Whether that comes in the form of a hit or a fight, I'm not sure. The question will be if it ends with Martin. The Maple Leafs have more than a few rookies in their lineup and that shows no signs of changing. Will the Canucks take a run at Nylander, who's already had one bad concussion in his career? Or will they potentially go after the most recent first overall pick in Matthews?
It may be too soon to tell if anything at all happens. The game could be a civil affair, or it could get out of hand in a hurry. Only time will tell which way it goes. I understand that Martin was standing up for his teammates.
However, all actions have consequences and this situation has potentially put some of the younger Leafs at risk.
It's a delicate affair, and no one knows exactly how the next contest is going to unfold. All we can do is watch and hope the entire thing blows over for the good of all those involved on both sides.