There were no real outstanding performances on Monday and the closest thing to a fantasy winner was Tuukka Rask who made 32 saves for a shutout against the Buffalo Sabres. It was a slow day for hockey and an even slower day for fantasy.
Tuesday, there are 10 games in the NHL highlighted by the Sidney Crosby versus Connor McDavid showdown taking place in Pittsburgh. There are also a couple teams trying to change their losing ways. Unfortunately for the Canucks, the New York Rangers are not a team you want to be taking on to snap a nine game losing streak.
Yesterday's Games
I had devised a plan to take a game where I thought there would be a more likely chance of a high scoring affair. The Florida Panthers versus the Tampa Bay Lightning game was where I focused my attention and it only half paid off as Florida scored three goals, but Tampa didn't live up to their end of the bargain.
Keith Yandle came through with two assists and Jonathan Marchessault scored a goal.
Tonight's Games
Carolina Hurricanes at New Jersey Devils
Detroit Red Wings at Philadelphia Flyers
Edmonton Oilers at Pittsburgh Penguins
San Jose Sharks at Washington Capitals
Vancouver Canucks at New York Rangers
Boston Bruins at Montreal Canadiens
Los Angeles Kings at Toronto Maple Leafs
Dallas Stars at Winninpeg Jets
Ottawa Senators at Nashville Predators
Arizona Coyotes at Colorado Avalanche
Centers
Kevin Hayes ($4100)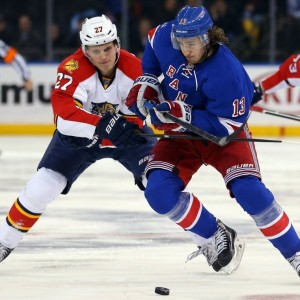 Hayes has 12 points in 13 games, 29 shots on net, a game-winning goal, is getting penalty kill time and has a short handed goal to show for his troubles. Right now he's giving fantasy owners something to think about every time the Rangers play.
He wasn't necessarily a strong fantasy performer in his first few games of the season, but over the last eight games or so has been one of the more valuable Rangers to take and his price is a fraction of some of the bigger name players like Crosby or McDavid.
Sidney Crosby ($7800)
In the McDavid versus Crosby showdown, I expect Crosby to rise to the challenge. There isn't much more he needs to do than play the way he's been playing as of late. With a fraction of the games played this season compared to other centers, he leads the position with eight goals. He also has 10 points in 6 games with a torrid pace of 1.67 points per game.
As an Oilers fan I'm cheering for McDavid to outplay Crosby and it's possible he just might, but I can't really take both players at their price tag. You could do well either way but Crosby is simply on fire and a couple dollars less expensive.
Forwards
Michael Grabner ($4600)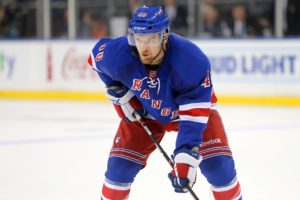 I like the Rangers against the struggling Canucks. On a Rangers team that has scored more goals than any in the NHL, Grabner has been a very productive forward. He now has 10 points in 13 games and 24 shots on net. The thing to like about Grabner's game is that he's not afraid to go into the scoring areas and as a result has seven goals on the season. That has him tied for second in the NHL and most on the Rangers.
J.T. Miller ($5300)
With 13 points in 13 games, Miller is a nice weapon to have at a relatively good price. He makes for a nice trio with Grabner and Hayes and the Rangers should walk all over the Canucks. He has seven points in his last five games.
Defense
Erik Karlsson ($7300)
Karlsson is the backbone of the Senators defense and they will face a Nashville team that doesn't fare so well when it comes to goals against and shots against per game. Karlsson now has 10 points in 11 games, is second on the Senators in shots with 27 and has two game-winners on the season.
He's been a reliable fantasy pick all season and sometimes it's good to take a player, that whether the team wins or loses, is bound to earn you some fantasy points. Karlsson is that kind of player.
Value Pick
Matthew Benning ($2900)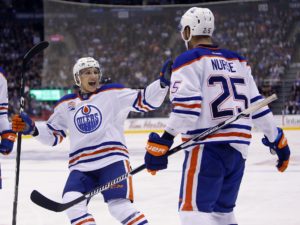 Benning has played in four games for the Oilers and has two points. A free agent college signing for the Oilers, it wasn't clear how much ice time Benning might see this season but with Kris Russell and Mark Fayne out of the lineup due to injury, not only has Benning come in and played effectively, he's contributed on offense.
The coaching staff have liked what they've seen so far and his time on the ice per game has slowly increased in each game he's played. He's not afraid to jump into the play and if Edmonton can break out with a multi-goal performance, he could be in on the score sheet.
Goaltender
Henrik Lundqvist ($8200)
At some point the Canucks are going to win a game. I just don't see that happening against a Rangers team that has one of the NHL's best over the past decade between the pipes. He's 7-3-0 on the season, has a 2.21 goals against average and Vancouver is playing a back-to-back on the road. On paper this game looks to be an absolute mismatch and Lundqvist has good odds of not only winning, but potentially posting a shutout.