The Carolina Hurricanes refuse to fade. Nearly seven weeks past the traditional Thanksgiving "line in the sand" that is normally a reality check on a team's playoff chances, and the 'Canes are still hanging around. A team with many of the earmarks of a classic rebuilding program apparently hasn't yet gotten the memo that they are supposed to be fading by now.
500
Prior to hosting the Pittsburgh Penguins Tuesday night, the Hurricanes were 18-18-7. Thanks to a super December that has continued in January, the 'Canes were only four points away from the New Jersey Devils and the Boston Bruins for a Wild Card spot. Who would have predicted that Carolina would be where they are after their rocky start to the season? Many disgruntled fans were already looking ahead to the 2016 NHL Entry Draft with faint hope that the answer to the "when will we make the playoffs again" question might come in June.
But, here we are near mid-January and the team is playing hard, playing with intensity and having a good time. Cam Ward and Eddie Lack are doing serviceable jobs, and the shadow of Eric Staal's contract question has become a footnote. The "Caniacs" are starting to show up at Raleigh's PNC Arena again, although still not selling out. It's as if some fans are still waiting to see if the phenomenon of their team winning is for real before they dip into the water. To be honest, can you really blame them?
Turning Point
There was a clear turning point to the Hurricanes' season. On December 4, 2015 'Canes General Manager Ron Francis recalled Jaccob Slavin, Brock McGinn and Phil Di Giuseppe up from their AHL affiliate Charlotte Checkers. The previous night, the Hurricanes brought to the ice what was arguably one of their worst displays of apathetic hockey ever. They were blown out by the Devils 5-1. It was horrid.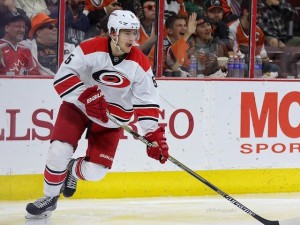 I have written more times than I can count in the past year about the repeated mantra, "We didn't start on time" that was characteristic of the team after many losses, especially at home. In fact, I asked nearly every player at the end of last season about the frequency in which the mantra was uttered after games. (Read "Inside Hurricanes Locker Room Part 3)
The game against the Devils was a "didn't show up at all" game for which there was no explanation or excuse. Coach Bill Peters said it well: "I didn't think we were engaged emotionally in the game." That was evident from the start to the finish. Something had to change and change fast or the season was going to be over.
Calling up this group of "young guns" was a brilliant move by Francis. Names like Hanifin, Slavin, Di Giuseppe, McGinn and Brett Pesce are not only the future of the team, but they are the "right now" of the team, also.
Jaccob Slavin is so important. In our last 5 or so games, he's my hands down MVP. The kid does EVERYTHING

— Jonathan Wagner (@j_wags74) January 13, 2016
Will take this opportunity to say that Jaccob Slavin is just incredibly good. Can't fathom that he is only 21.

— Cardiac Cane (@CardiacCane) January 13, 2016
Led by All-Star defenseman Justin Faulk, these young defenders are not intimated by the likes of Sidney Crosby or Alex Ovechkin. Sure they are going to make mistakes, but they are bringing energy back to the Hurricanes game that was missing desperately a couple of months ago. Apparently they did not get the memo that the team is supposed to be dismal, lethargic and out of playoff contention by now. Let's hope they never do.
Hockey is becoming fun again in Raleigh, and that's a very good thing.
Mark Shiver is a staff writer for The Hockey Writers credentialed with the Carolina Hurricanes. You can follow him on Twitter @markshiver