To win a Stanley Cup in today's NHL requires a dynamic core of elite young players. In order to forecast an organization's future, it is important to examine the franchise's key players under the age of 25. The young talent in-house is a good place to start when determining where the team is trending.
Go ahead and look back in recent memory to perennial cup contenders and see that the Chicago Blackhawks had Jonathan Toews, Patrick Kane, Duncan Keith, and Brent Seabrook. The Los Angeles Kings had Anze Kopitar, Drew Doughty, Jonathan Quick, and Dustin Brown. Hell, the Pittsburgh Penguins drafted Marc-Andre Fleury, Evgeni Malkin, and Sidney Crosby in consecutive years (throw Kris Letang in the third round of the Crosby draft as well).
Those were extremely high-end young pieces to build a winning roster around. It is a valuable exercise to evaluate where the Vancouver Canucks stand in terms of their young core, in order to see which direction the organization is heading. The Canucks by no means have a wealth of U25 talent, but they have some good starting pieces.
Before taking a closer look at the Canucks organizational depth, let's make things a little easier and split it into three categories – keep, cut, or bubble. The names here being relatively straightforward – players in which it would be in the organization's best interest to keep, cut ties with, or those that are on the bubble of whether or not they should be involved in the franchise's future.
Canucks to Keep
Brock Boeser
Let's get the obvious out of the way here – everyone in the hockey world knows that Brock Boeser is the Canucks' knight in shining armor. The young sniper is showing the passionate Vancouver fanbase that there is some light at the end of the tunnel. Boeser's 27 goals and 49 points lead the team – Canucks fans, you are looking at your future centerpiece. The shoo-in Calder trophy nominee appears to have the potential to be a perennial all-star and perhaps the team's next captain.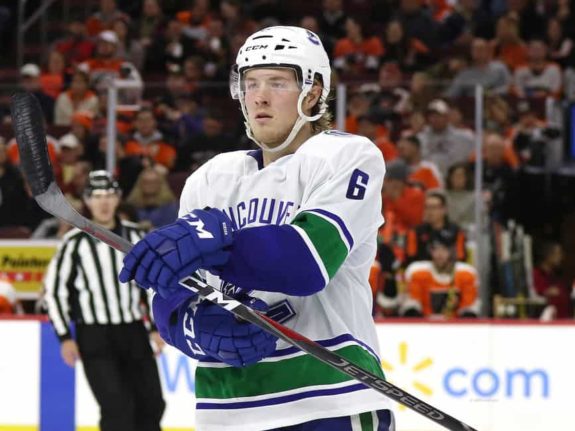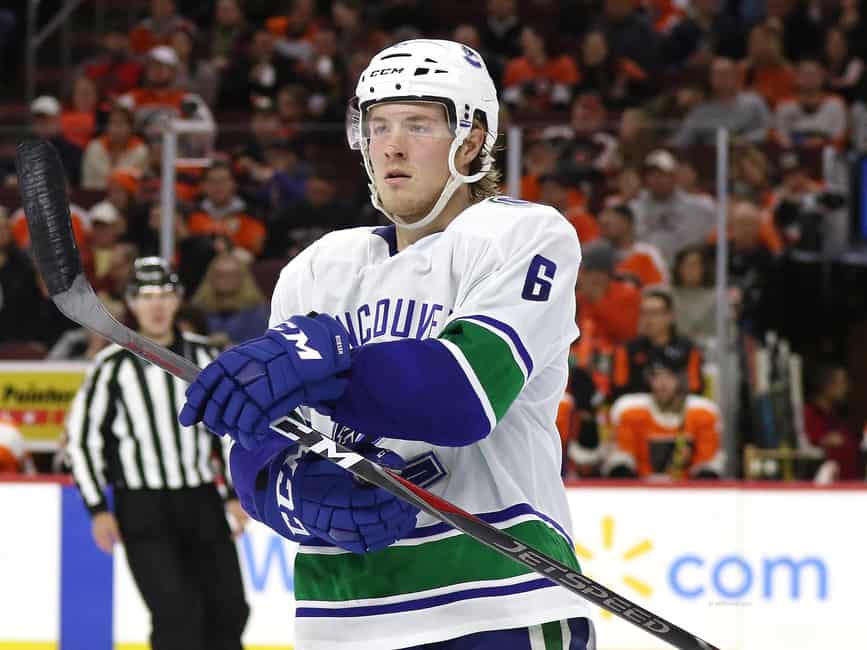 Bo Horvat
Before Boeser came along, there was another big piece that was laid down in the Canucks foundation – Bo Horvat. In 2014, the Canucks traded Cory Schneider to the New Jersey Devils in exchange for the ninth overall pick, which Vancouver used to select Bo Horvat, and boy did they find a winner here. The skilled two-way center is coming off an All-Star season in which he notched 14 goals and 52 points. Though he has had a bit of an injury hampered 2017-2018 campaign, Horvat could potentially develop into one of the stronger two-way pivots in the NHL.
Troy Stecher
Troy Stecher is an interesting case. The skilled defensemen and local Vancouver product has been a mainstay on the Canucks blueline since coming from North Dakota in the NCAA. Stecher has shown flashes of dynamic play, scoring 24 points last season as a rookie. Unfortunately it seems that Stecher has been relatively underused. Stecher leads all Canucks defensemen in even strength Corsi numbers yet ranks seventh in time on ice per game. Stechers analytical numbers and sucess last season show that perhaps he should be used in an expanded role in the future.
Canucks to Cut
Jake Virtanen
The experiment has ended. The first draft pick of the Jim Benning regime – fifth overall in 2014 – Virtanen has had a brutal start to his career. Virtanen has mustered up just 28 points in 117 games in his first three NHL seasons. He was a popular draft choice – a local boy and former big-time scorer in the WHL, but he clearly looks to be a step behind in the big leagues. Even when Virtanen is down in the AHL in the organization's attempts to develop him, he has produced only 19 points in 67 games. It is time for Virtanen to go.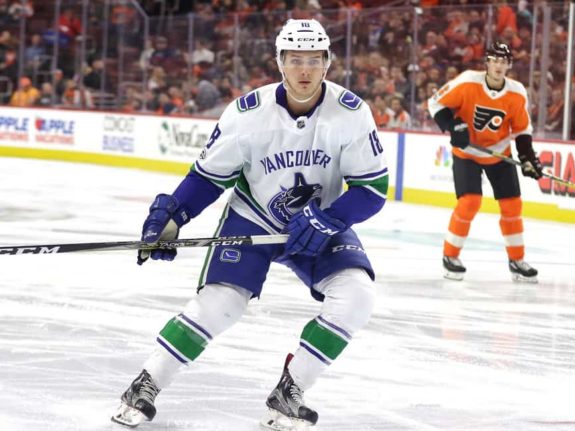 Ben Hutton
Something about Ben Hutton just hasn't clicked this season. Hutton earns $2.8 million a year and has not scored a goal yet this season, struggling with only four helpers. The defensemen has looked a little out of place on the Canucks blueline as of late, and it's making the Canucks faithful wonder whether or not he is a fit with future plan of Vancouver. With the trade deadline looming, it is in the Canucks best interest to use Hutton as a trading chip and try and get a decent return. There is shortage of defensemen in the NHL and Hutton would likely get a decent haul.
Markus Granlund
Markus Granlund has had a fairly abysmal season after coming off a 19-goal, 32-point season just last year. Granlund has sluggishly produced just 12 points this season and sits at minus-10, often playing in the lower half of a fairly weak Canucks forward group. To make things worse, Granlund is going under the knife and could miss the rest of the season. Granlund's contract is up at the end of the season, and it may be time to cut the cord.
Canucks on the Bubble
Derek Pouliot
Derek Pouliot, the eighth overall pick in 2012, came over via trade in October from the Pittsburgh Penguins where he struggled to stay in the lineup. Similar to Stecher, Pouliot has shown good possession numbers at times, but he ranks last on the Canucks D-core in terms of plus/minus at minus-16. Pouliot was a highly ranked prospect, but has not been able to transition to the NHL level smoothly. Pouliot's future with the team is a question mark to say the least.
Sven Baertschi
Sven Baertschi is the most debatable one on this list, Baertschi is on pace for a career year in the points department and his contract expires at the end of the season. Vancouver needs to decide whether or not the Swiss winger is a part of their future, or whether they want to flip him for assets at which highest value. Baertschi would likely bring in some good pieces if Jim Benning decides to "blow things up" and build for the future. One of the few bright spots in Vancouver this season, it seems that either decision the Canucks make on Baertschi, will be a good one.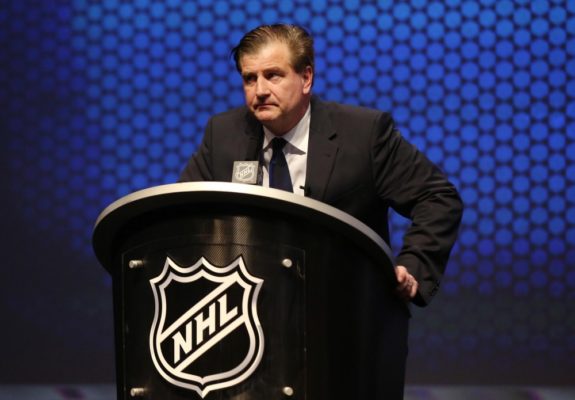 The Canucks organization is at somewhat of a crossroads. Since the team's Cup run in 2011, they have been trending downward and delaying the obvious need to rebuild. Though they have a few key pieces in Boeser and Horvat to build around, Jim Benning and the rest of the Canucks brass have their work cut out for them in order to increase the amount of young talent needed to take another run at hockey's holy grail.
My name is Spencer Bacon, I am a 26 year old from Victoria, BC. I played junior hockey all around North America and attended Mercyhurst University in Erie, PA on a hockey scholarship and played for the Division 1 NCAA team. I have an Honours B.A. in National Security Intelligence Studies and am coming off a year of professional hockey, primarily for the Columbus Cottonmouths of the SPHL. I am a big time hockey nerd and hope to bring a fresh perspective to THW from being so closely removed from the game we all love.