Remember the time when Michael Del Zotto was the Vancouver Canucks number one defenceman? Yeah, that was when the Canucks were winning games. As funny as that may sound (except for Canucks fans), you could make the argument that Del Zotto shouldn't even be in the top six.
It's been a perplexing season for the 27-year-old defenceman. Del Zotto came to the Canucks via free agency on July 1. Jim Benning signed him to a two-year, $6 million dollar deal so that he could act as a stopgap for the Canucks' young defenders. The problem? The youngsters have outpaced him in the turtle derby of defenders. It's not like anyone is really playing well but Del Zotto may be the worst of the bunch.
Del Zotto is Green's Dude
Every coach has their favourites and it was clear early in the season that Travis Green had taken a liking to Del Zotto. The cost was ice time ice time for guys like Ben Hutton, Derrick Pouliot and Troy Stecher. That's three defencemen under 24-years-old that are losing ice time to a defensively unsound veteran.
Early in the season, Alex Edler went down with an injury and Del Zotto became the de facto number one defender. He was logging upwards of 24 minutes per night and was near the league-leaders in average TOI for the season's first quarter. In fact, he ranked 20th in average TOI (24:35) through the Canucks' first 13 games.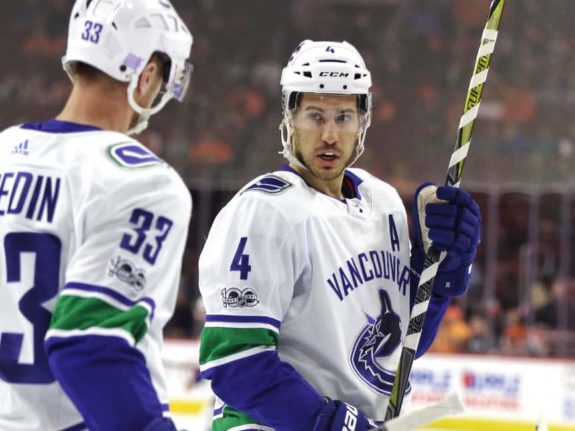 Arguably the defender who got shafted the most by Del Zotto's promotion was Stecher. The Richmond native was voted as the Canucks' best defenceman at the end of last season but he found himself in Green's doghouse early. Willie Desjardins used Stecher in all situations last year but Green gave him nothing but third-pairing minutes with no time on special teams.
Stecher became less noticeable in his diminished role before getting injured but since then he's been one of the best Canucks players in his own zone. Even with more ice time later in the season, he's still averaging 18:08 per game. That's just under two minutes less than last year's 19:58 per game.
Despite sheltered minutes, Pouliot was posting Corsi number near above 57% until December. After the team unravelled like a badly wrapped Christmas present plummeting down the stairs, his play also faltered.
Even though Hutton and Del Zotto have had porous seasons defensively, it's Hutton who's received the brunt of Green's wrath. In fairness, he was second to Del Zotto in TOI early in the season but since then he's seen his role drastically diminish. Green has called out Hutton in the media and made him a healthy scratch for a chunk of games mid-season.
https://twitter.com/JanikBeichler/status/970744209299922944
Why didn't Green ever consider scratching Del Zotto instead? For NHL defenders who have played more than 500 minutes, he's bottom-20 in shots against and Corsi against. Most telling? He's second-worst league-wide in terms of scoring chances against. Yeah, the dude has problems defending. Hutton, in comparison, allows the fewest number of scoring chances per 60 among Canucks defenders.
Free MDZ?
There's no doubt that Hutton has had egregious gaffes but Green also killed his mojo with constant badgering and questionable benchings. Meanwhile, Del Zotto has had a free pass despite being a slightly better version of Luca Sbisa.
Del Zotto was signed to insulate the Canucks youth but all he's really doing at this point is muzzling it. Even though he's scored more than any other Canucks defender, his goals-for percentage is just above 42%. He also allows the most goal per-60 at even-strength (2.89).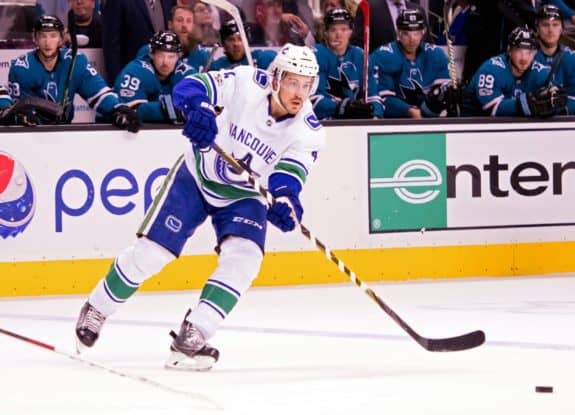 There's a terrifying proposition out there that the Canucks could return to action with the same defence next year. Everyone is signed for next season except for RFAs Stecher and Pouliot. One way to shake up this defence would be to get rid of Del Zotto and his contract for a draft pick. With another organization, there's a chance that he'll improve his game in a sheltered third-pairing.
A trade is something the Canucks need to consider because other than charisma and locker-room beats, Del Zotto is harming th team more than helping them.