Jacob Markstrom will be an unrestricted free agent this offseason after having an MVP worthy season for the Vancouver Canucks. Markstrom carried the load for the club in 2019-20, as he played in 43 of the club's 69 games. 
Related: 7 Things About Roberto Luongo
In the playoffs, Thatcher Demko replaced Markstrom in Game 5 of the Second Round. Demko filled in for the Swedish goalie in the final three games against the Vegas Golden Knights and saved 123 of the 125 shots he faced. The 24-year old has created three different scenarios the Canucks may face heading into next season. 
Markstrom and Demko Split Starts
If Markstrom re-signs with the Canucks, he will likely split starts with Demko next season. General manager Jim Benning is in favor of this situation since it benefits the club the most.
"[Coach Travis Green] is a big believer in having two good goalies, and with the travel schedule we have during the regular season, I believe we need to have two good goalies."

Benning said about having two goalies.
Markstrom will benefit from splitting starts with Demko since it'll help prevent him from being fatigued, and he's less likely to get injured. It was obvious he was overworked after he played in 33 games by January, while Demko only played in 15. Markstrom suffered a knee injury in February due to the heavy workload. He was injured once again in the playoffs after playing in 14 consecutive games, which included three sets of back-to-backs.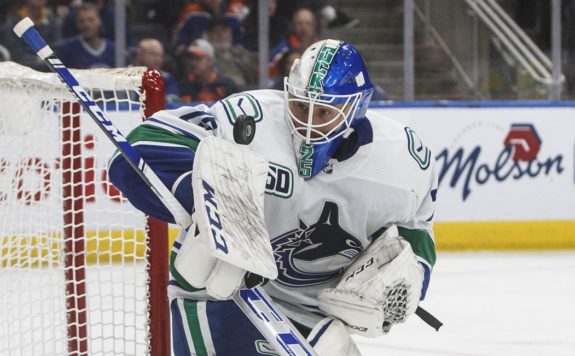 This scenario gives the Canucks the best chance of putting together a winning season, and it also helps Demko's development. Carrying the workload as the lone starter will hurt Demko, since he hasn't played more than 30 games in a season and jumping to close to 60 starts would be tough. It is not ideal, since it puts him in the same situation as Markstrom, which could lead to injury and fatigue down the road.
This situation is the most likely out of the three, and it pushes the decision of which goalie the club decides to keep till the 2021 Seattle expansion draft. The rules will be the same as the Vegas expansion draft for the Seattle Kraken, which means each club can only protect one goaltender. Both Canucks' netminders will be strong considerations for the NHL's 32nd team.
Markstrom Leaves Through Free Agency
If Markstrom decides to sign somewhere else, Demko likely becomes the starter next season. Although this will be tough on Demko's development, the Canucks can sign a free agent goalie who is capable of splitting starts with him. There are quite a few goaltenders that will be free agents this offseason, which includes Thomas Greiss, Cam Talbot and Brian Elliott. All three have started and split starts in the past as well. 
Although he will be turning 35 in January, Greiss is a top option to split starts with Demko. In 2018-19, he split starts with Robin Lehner on the New York Islanders and posted a .927 save percentage (SV%) in 43 games. As for Talbot, over the past few seasons, he hasn't had the same performance as he did in the 2016-17 season when he helped the Edmonton Oilers advance to the second round of the playoffs. This season, he backed up David Rittich but had a better SV% between the two with .919. Talbot is capable of splitting starts, but a split where Demko plays a few more games is favorable.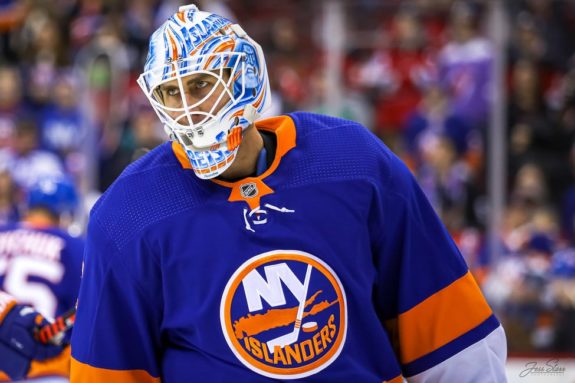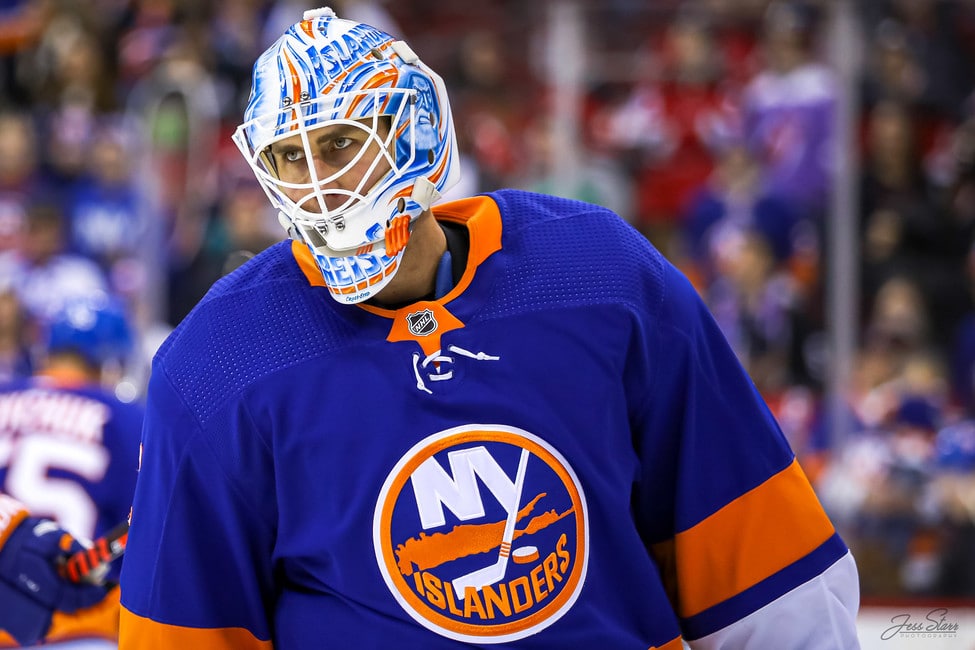 Elliott is also an option, but splitting time with Demko may not work as his performance has dipped over the past few seasons. His SV% declined from .910 in 2016-17 to .899 in 2019-20. Therefore he is better suited as a backup for the Canucks.
This scenario also helps the Canucks in free agency. With the club in a cap crunch, they have $14 million in cap space. If Markstrom leaves, the club frees up cap space for other pending free agents, such as Chris Tanev and Tyler Toffoli. Demko has shown promise throughout his short career, and if the Canucks do decide to move on from Markstrom, he can slowly take over in the next few seasons while splitting starts with another goalie.
Markstrom Re-Signs and Demko Asks for a Trade
Demko wants to be a No. 1 goalie, but if Markstrom re-signs for a long term, the chances of his goal coming to fruition with the Canucks next season isn't likely. Although Demko could wait a few seasons, his agent may force a trade to speed up the process (from 'Patrick Johnston: Jacob Markstrom's strong play buttressing his contract claim,' The Province, 08/22/2020).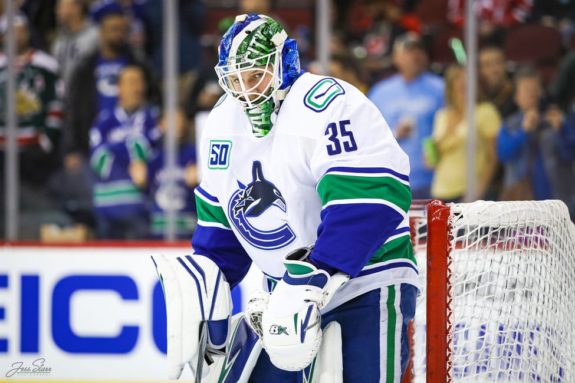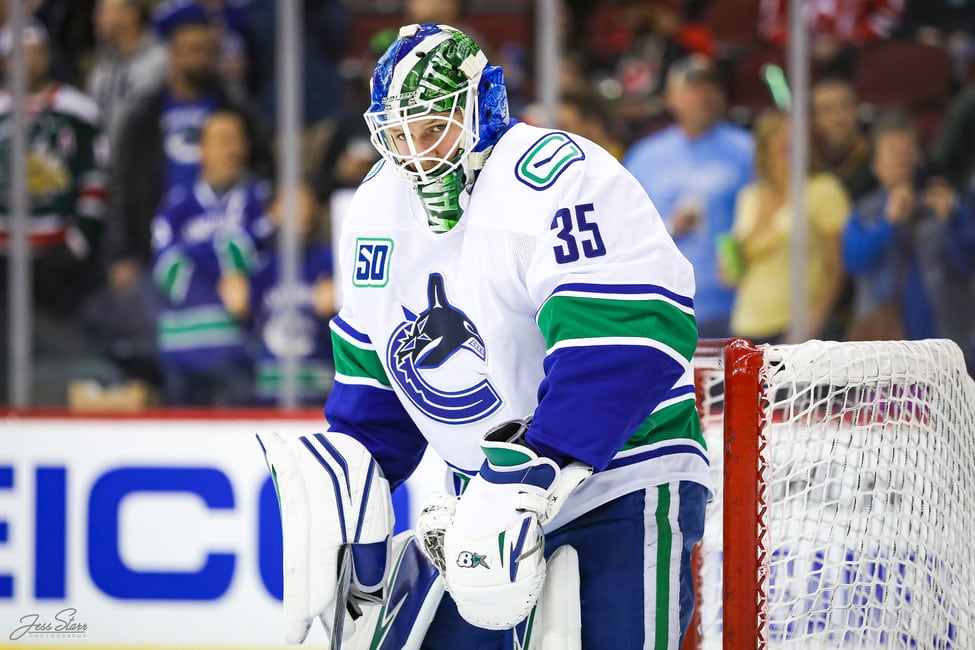 The three games he played in the 2020 Stanley Cup playoffs show how much promise he has. Losing a 24-year old goalie who performed as well as Demko did could hurt the Canucks down the line. Markstrom is 30 and likely will be at his best for a couple more seasons, while Demko's ceiling is pretty high and may last longer for the club. 
If the Canucks do decide to trade Demko this offseason, they have quite a few options. Teams such as the Calgary Flames, Oilers and the Colorado Avalanche are searching for a starting goalie. The expected Matt Murray trade will set the market value for a potential Demko trade, as the Pittsburgh Penguins are looking to trade the restricted free agent and are expecting to receive a first-round pick in return. 
Canucks Have an Important Decision in Net
The decision made by the Canucks this offseason will set them up for the next few seasons. They will likely lose either Markstrom or Demko, whether that's this offseason or next offseason at the expansion draft. The most likely situation is the Canucks keep both goalies and split starts, which gives them an extra season to decide which netminder they will protect at the draft. 
Related: 3 Greatest Canucks Forwards of All-Time
The least likely situation will be trading Demko away, since keeping a 30-year-old Markstrom over a 24-year-old is very risky. Markstrom's at his peak and will only be at his best for a few seasons, while Demko has a lot to give and show. 
---
---