The Vancouver Canucks had a very rough ride at the end of 2017, being plagued with injuries — none more vital than the injury to Bo Horvat. The 22-year-old went down with a broken bone in his ankle and missed a month-and-a-half of hockey.
Prior to his injury, Horvat was playing some of his best hockey and in turn, the Canucks were actually winning a fair amount of games. When he got back into the lineup, it was a slow start, understandably, but now he's back to business and firing on all cylinders.
Horvat Coming in Hot
It's no secret that Horvat is projected to be the future captain of the Canucks, and it's also no secret that he's happy to accept the leadership role of this upcoming team. Horvat came out of the gate red-hot and led by example, potting two in the season-opening win against the Edmonton Oilers. It was a statement game, carried by Horvat — the Canucks were projected to be the punching bag of the league and they showed the Oilers and the league that this is a team that's not going down without a fight.
'You always want to start off hot, you always want to start off strong,' Horvat told NHL.com.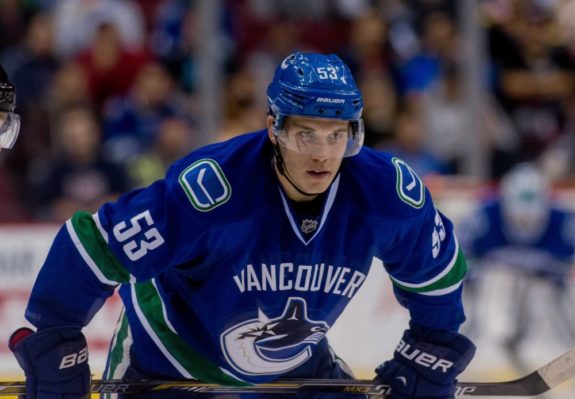 In the 28 games he played, prior to being sidelined, Horvat managed to tally 10 goals and nine assists, but most importantly, he led the Canucks to a winning record of 14-10-4 and kept them in the running of the competitive Pacific Division. You can't sleep on Horvat's two-way abilities — his prowess comes in all three zones of the ice and if he wasn't contributing offensively, you can bet your biscuits that he was getting the job done defensively. He was a plus-five in that stretch and only found the negative column seven times.
Down Goes Bo
As previously mentioned, Horvat's injury came at a time when a handful of other key Canucks were already injured and it effectively killed the surprising playoff hopes of the Cinderella-Canucks. Horvat went down on Dec. 5 in a duel with the Carolina Hurricanes and following that, the Canucks dropped 14 of their next 18 games in Horvat's absence. Talk about a change of pace. Without their number-one center, the pressure was on for the remaining men down the middle.
.@imacSportsnet: I think Gagner knows that there is a lot of expectation on him. He's a veteran player and he's aware of the injury circumstances – with Sutter and Horvat out, he's pushing himself to be more involved.https://t.co/mDLZc4njsd

— Sportsnet 650 (@Sportsnet650) December 22, 2017
Horvat's injury not only hurt the team at a key point of a rebuild, but it also put a halt on his development at a very pivotal time in his young career. Concerns began to arise about whether or not he would return to his previous pace, and with a foot/ankle injury, concerns are abundant.
Horvat Back to Business
Horvat made his return back on Jan. 21 against the Winnipeg Jets and had a very quiet return, finishing with no points and a minus-one. Peoples' concerns grew stronger. However, Horvat knew it would be a slow start, coming back from an injury like his.
'It took me a little bit to get going and get my timing back.' Horvat told Winnipeg Reporters after the game.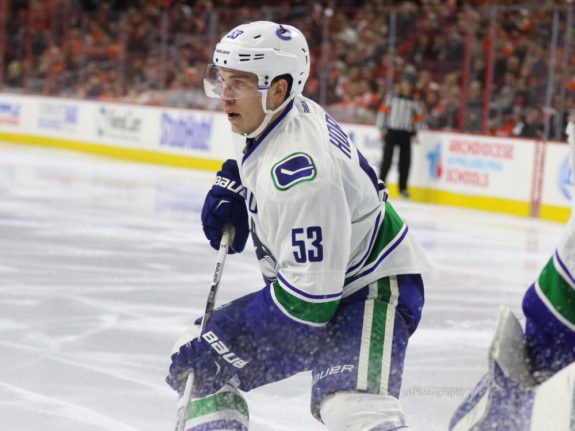 In his first 10 games back, Horvat chalked up three goals and three apples, finishing a minus-one over the stretch. Skeptics worried that it was perhaps more than just a slow start and that the injury might have more long-term consequences with his growth. Cue the bounce-back.
In his last five contests, the London, Ontario product has gotten back to his game and managed to find twine four times and assist on an additional two. He's looked very strong — he carries the puck with purpose, drives the net hard, and creates a buzz whenever he's got the puck. You can tell that he's not letting an injury slow him down, and he's also letting us know that we haven't seen anything yet.
https://twitter.com/ryanbiech/status/965067614174167040
Despite being sidelined for as long as he was, Horvat is still on pace to surpass his previous goal record of 20 and could possibly even reach the 25-30 range if he stays on track. If that's not a good sign for Canucks fans, then I don't know what is. It's hard to deny that he could be a regular 30-goal guy, and playing alongside talent like Brock Boeser, he could even reach the 40-goal milestone.
The Canucks have had a handful of dynamic duos in the past and I think Horvat and Boeser are going to be the next one.
Tell me how you think Horvat will perform in the back nine of the season below!
Matt is a longtime fan, player and student of the game of hockey. Broadcast and Online Journalism student at the British Columbia Institute of Technology.