We're fewer than two months away from the start of the Stanley Cup Playoffs, and it's clear that the Arizona Coyotes will once again be sellers at this year's Feb. 26 trade deadline. In fact, they've already started unloading assets, as they traded forward Tobias Rieder and goaltender Scott Wedgewood to the Los Angeles Kings on Wednesday in exchange for Darcy Kuemper, who racked up a .932 save percentage in 19 games as LA's backup netminder this season.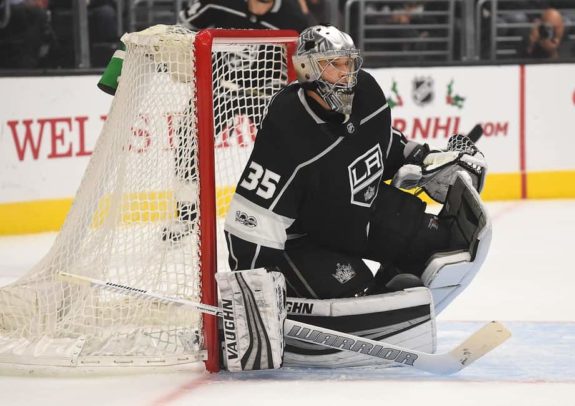 However, the Rieder move may be only the first of many as 'Yotes general manager John Chayka looks to re-tool his roster and build for the future in Arizona. Here's a look at some of the names that could be discussed in the coming days:
Oliver Ekman-Larsson
Position: Left-handed top-pairing defenseman
Age: 26
2017-18 stats: 8 goals, 21 assists, -37, 120 hits, 57 blocked shots
Contract status: 2 years, $5.5M AAV
We'll kick things off with Ekman-Larsson, who is undoubtedly the Coyotes' most valuable trade piece.
We've been over this a thousand times before, but we'll say it again – unless Ekman-Larsson personally goes to Chayka and requests a trade, he's going nowhere. Plain and simple. He's a top-10 defenseman in the league and likely is the frontrunner to be the team's next captain. The Coyotes aren't going to trade him just for the sake of trading him.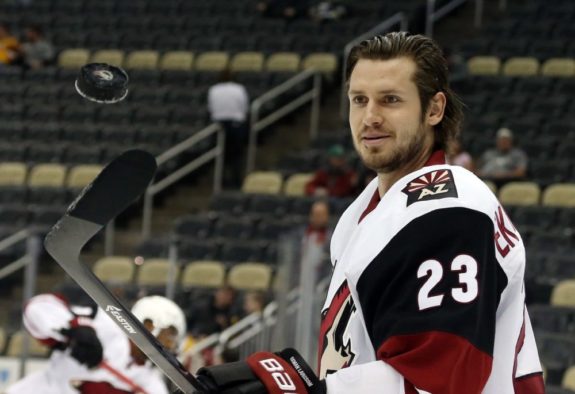 However, should Ekman-Larsson indicate that he's unlikely to re-sign in Arizona when he becomes a free agent on July 1, 2019, the Coyotes need to move him now while his value is at its highest. Since he wouldn't be a pure rental, he'd fetch a hefty return at this year's deadline.
Don't get me wrong – I'm not saying the Coyotes need to trade Ekman-Larsson now. They just need to be very careful – if they wait until next season and Ekman-Larsson then decides to test the market, they'll have to trade him and will be forced to accept the best offer on the table, or else risk losing him for nothing when free agency begins.
Chayka has repeatedly stated that Ekman-Larsson isn't available, though, so it appears as if the organization is confident he'll sign an extension.
In lieu of Sens listening on Karlsson, I asked Chayka about OEL: "I'll reiterate my previous statements that I'm neither listening nor talking about Oliver Ekman-Larsson other than to his agent to try and get an extension done or at least have discussions to see where he's at.''

— Pierre LeBrun (@PierreVLeBrun) February 22, 2018
Money shouldn't be an issue for the Coyotes – there's a lot of dead money coming off of the books over the next few seasons, so there's absolutely no excuse not to get a deal done with the Swedish superstar.
Don't expect to see Ekman-Larsson traded at this year's deadline, but things could get interesting next February if he doesn't sign a contract extension in Arizona.
Antti Raanta
Position: Starting goaltender
Age: 28
2017-18 stats: 12-14-6 record, 2.45 GAA, .923 SV%, 1 shutout
Contract status: 1 year, $1M AAV
The most valuable trade piece for Chayka is undoubtedly Ekman-Larsson, but goaltender Antti Raanta might not be too far behind. The 28-year-old netminder has been outstanding for the Coyotes as of late – since the calendar flipped to 2018, Raanta boasts a 7-3-4 record with a .937 save percentage and a 1.97 goals against average. Simply put, those numbers are outstanding, and it may behoove Chayka to sell high on his starting goaltender.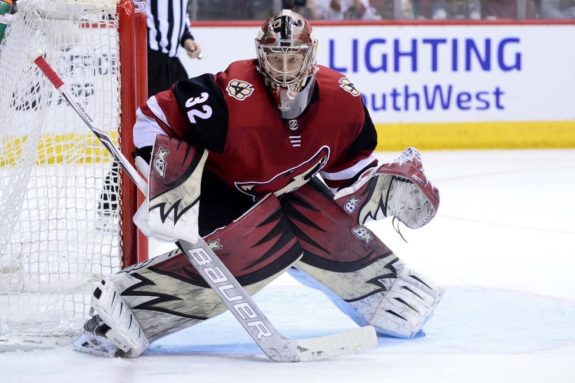 Raanta could instantly become the starter on a number of bubble teams who have struggled with goaltending this season – the New York Islanders, Carolina Hurricanes, Colorado Avalanche, and, to a lesser extent, the Chicago Blackhawks, come to mind as potential deadline destinations for a goaltender. These teams aren't out of it, per se, but acquiring a solid netminder like Raanta would go a long way toward boosting their playoff hopes.
The Kuemper acquisition also opens the door for Raanta to be moved, but it seems unlikely at this point – Raanta reportedly wants to stay in Arizona, and the organization is also interested in bringing him back.
This Kuemper trade/extension is not expected to impact Antti Raanta's status with ARI. While ARI has gotten calls from other teams, ARI and Raanta's reps have talked about getting an extension completed post-deadline. He wants to stay; ARI has indicated they want to keep him.

— Bob McKenzie (@TSNBobMcKenzie) February 22, 2018
Unless the Coyotes are blown away by an offer, it's unlikely that they'll move Raanta at the deadline. He's shown this season that he can be a dominant No. 1 goaltender when healthy, and the Coyotes need to lock him up as soon as possible.
Max Domi
Position: Top-six forward
Age: 22
2017-18 stats: 4 goals, 22 assists, -19
Contract status: 1 year, $1,363,333 AAV (entry-level)
The 2017-18 campaign started off well enough for Max Domi – after struggling with injuries last season, the 22-year-old recorded 10 points in his first 14 games of this season and appeared to be back on track after dazzling the league as a rookie in 2015-16.
Then, November, December and January happened – Domi recorded just 12 points in 37 games during those three months and was a non-factor in many games. In fact, Max recorded only five shots on goal during the entire month of January – a span of nine games. For comparison's sake, Zac Rinaldo recorded six shots in four games.
Domi wasn't the only player in Arizona to struggle, though. After the team's brutal 1-11-1 October, many Coyotes went into months-long funks, and Max was no exception. As a result, trade speculation surrounding the young forward began quickly, with many suggesting that he needed a fresh start in a new organization. After Anthony Duclair was traded to the Chicago Blackhawks on Jan. 10, it looked like Domi would indeed be the next young piece to be shipped out.
However, Domi has significantly picked up the pace lately – he's recorded a goal, three assists, seven shots on goal, and a plus-two rating during Arizona's six-game point streak, and seems to have re-established himself as one of the Coyotes' offensive leaders.
Despite his down season, he's still a fan favorite in Arizona, and many have compared the 22-year-old with Captain Coyote, Shane Doan. Like Doan, Domi does a lot in the community and with the fans in Arizona, and he never backs down from a confrontation on the ice. As is the case with Raanta, don't expect Domi to be moved unless someone makes Chayka an offer he can't refuse. He's still a big part of the Coyotes' future.
Other Coyotes to Keep an Eye on
While Domi, Raanta, and Ekman-Larsson are the main trade targets in Arizona, they're far from the only ones who could be moved at the deadline. Players like Jordan Martinook, Brad Richardson, and Luke Schenn could also be moved to teams looking to add depth players to their lineups for the playoff push.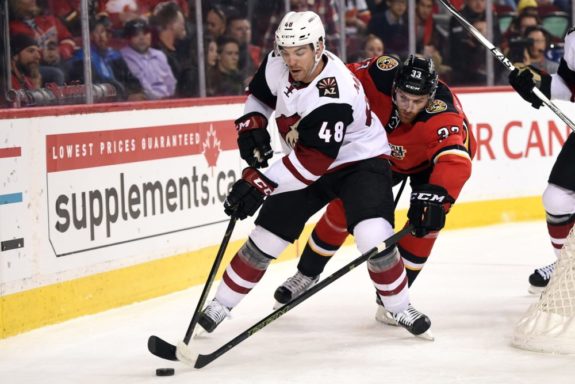 Martinook and Richardson are solid bottom-six guys who can kill penalties, and Schenn is a shot-blocking, physical, right-handed defenseman. You can't have enough penalty killers once the playoffs begin, and right-handed D-men are always at a premium during this time of year.
Also, keep an eye on Niklas Hjalmarsson – the Coyotes just acquired him last summer, but he'd bring a lot of value to a playoff team looking to add a veteran defenseman. If they're unable to acquire Erik Karlsson to bolster their blue line, the Tampa Bay Lightning may be one of the teams who could have interest in acquiring the three-time Stanley Cup champion. He'd provide outstanding veteran leadership to a team looking to get over the hump this season, and he'd be a great mentor to 19-year-old sensation Mikhail Sergachev.
At any rate, the Coyotes will be one of the teams to keep an eye on as the deadline closes in. They've already made one trade, and, as one of the few teams in the NHL with no chance at making the playoffs, there could be more activity as contending teams begin loading up to make a run at the Stanley Cup.
A lifelong Phoenix resident, Louis has been following hockey since 2010, has covered the Arizona Coyotes since 2015, and has been playing hockey since 2020. So far, Louis has visited eight NHL cities, and one of his personal goals is to eventually make it to all 31 NHL arenas. For any questions or concerns, contact the writer via Twitter @LouisPannone.