One of the biggest hockey questions in South Florida last year was who the Florida Panthers were going to protect from Vegas in the expansion draft. Aleksander Barkov, Jonathan Huberdeau, Aaron Ekblad, Vincent Trocheck and James Reimer were all obvious and, aside from Reimer, those are the guys of the future. Players like Mike Matheson and Denis Malgin will be integral to success, but those guys were not in need of protection due to their contracts. It was hard to imagine the Panthers exposing leading goal scorer, Jonathan Marchessault, or Reilly Smith, their best player during the 2015 playoffs.
When the time came, Panther management opted for a defensive strategy and traded Reilly Smith to Vegas, exposed 30-goal scorer Marchessault in the expansion and protected Nick Bjugstad. It was a move that didn't exactly shock the hockey world but, in the NHL, 30-goal scorers come at a premium, so to allow Vegas to get one for free was a move that left many searching for answers.
Why Would Florida Give Away a 30-Goal Scorer?
Prior to last season, Marchessault had played 45 games in Tampa registering seven goals and eleven assists, and had played only two games per season during the 2012-13 and 2013-14 seasons, scoring one goal over both seasons. Perhaps this small sample size and lack of production led Florida to believe his 30-goal season may not speak to his true value.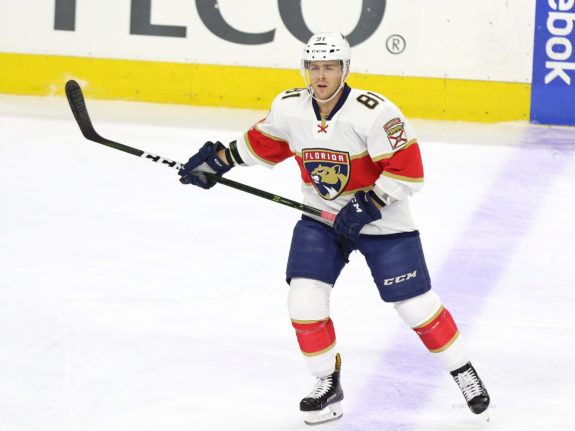 The NHL is a league in which reliability and consistency may be the most valuable attribute in a player. Offensive prowess is of course vital, but a player who will score 30 goals and 70 points on a year-to-year basis is one that is more valuable than a guy who may have had one huge season to go along with five or six average ones. James Neal scored 40 goals and 81 points in 2011-12, but has broken 60 points only one time since. Neal is a great player, no doubt, but for most teams, the value is in consistency long-term, not one career season. Perhaps Florida saw Marchessault as a player who reached his peak, and was nervous about his future.
Also possible, is that management was fonder of Nick Bjugstad's playing style. Bjugstad is a much bigger body at 6-foot-6, 220 pounds and has the ability to play a power forward role that Marchessault will never be able to play. If there is one thing the Panthers have, it's small skilled forwards, so while Marchessault was fresh off a career season, at the time, it may have made sense to hold on to Bjugstad simply for his size and different style of play.
Only Panther management could say for certain what made them comfortable exposing a 30-goal scorer to Vegas, but as the most successful expansion team continues to break records, and for as long as the former-Panther Marchessault continues to help them do it, it's fair for Panther fans to agonize over what they may have missed out on.
Marchessault Beating the Odds in Vegas
In exposing Marchessault, the Panthers essentially gambled on whether his first year in Florida was a fluke, or whether he had the talent to make a difference long-term. The past said the former was more likely, but turns out, Marchessault was anything but a fluke. While many believed Florida made a bad decision in exposing Marchessault, it was also hard to call it a mistake, considering career-long statistics. With a lethal shot and quick release paired with swift skating ability, Marchessault has become a reliable top-six and power play performer, a piece that the Panthers could desperately use.
Sitting six points outside of a playoff spot, the Panthers are still far from out of the race, but one can't help but think the difference Marchessault could have made this season. The trio of Huberdeau, Barkov and Trocheck has been beyond impressive combining for 160 points, but a team without depth scoring will have a difficult time making the playoffs, and an even harder time succeeding in them.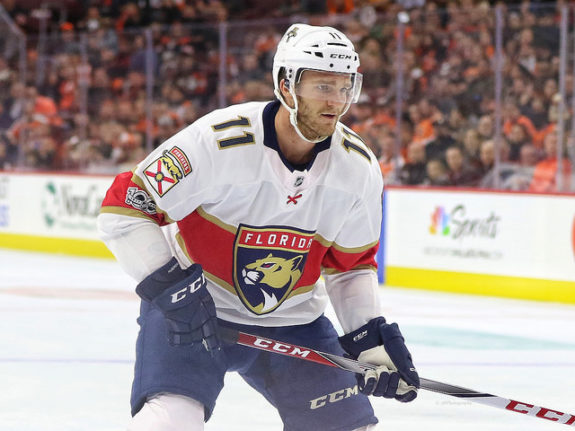 Another top-six scoring threat, on top of Huberdeau, Barkov and Trocheck would have provided some depth upfront they currently lack. Now, already sitting on a career high 58 points, and agreeing to terms on a six-year contract extension worth $30 million dollars, Marchasseault has proven the Panthers wrong while Vegas continues to reap the reward.
Bjugstad Not Producing
The thing which makes the Panthers expansion decisions worth reminiscing is the Bjugstad vs Marchessault comparison. If Bjugstad were producing the numbers expected of him when he was drafted 19th overall in 2010, then there may not be much debate, but Bjugstad was coming off a season in injury-plagued, seven goal, seven assist season in which he had also been a healthy scratch at one point.
This season, he is on track to once again approach 40 points, but with ten goals and 19 assists thus far, even with the bounce back season, his numbers are far from Marchessault's. The big forward's production has certainly increased from last season's measly 14 points, but since his 24 goals in 2014-15, the Panthers have not seen the production level expected of a former first round pick.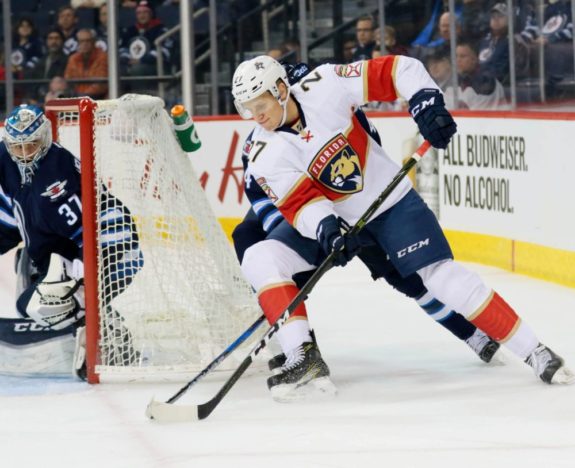 The organization's lack of secondary scoring is the most significant need of their club, and Bjugstad will need to regain his scoring touch if they are to reach their full potential. He is 25 years old and in his prime, and if he is able to enhance his confidence to the level it once was, then not only will the team's chances of success increase greatly, but the organization could also stop wondering what might have been if they had opted to protect Marchessault instead.
As the hockey world continues to watch former Panther coach Gerard Gallant, and former players Smith and Marchessault, lead the Vegas Golden Knights to stardom, one can only wonder what might have happened if the Panthers had played the last two years differently.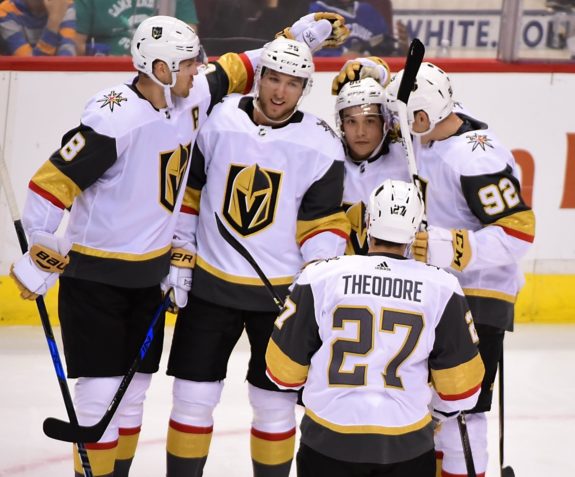 The NHL is a league where sometimes things work out and sometimes they don't, but either way, the Panthers have an immensely talented prospect pool, so, the future remains bright.
Packy has been a hockey player and fan since he first put on skates at three years old. He is a former employee of the Florida Panthers, and has moved on to work as a marketing professional in Syracuse, NY. He has written for several blogs, mostly about hockey, thus far in his career and enjoys sharing his passion for this great sport.