Long gone are the days of big names dominating July 1; or 'Free Agent Frenzy Day,' as us hockey fanatics choose to see it. It is a new age in the NHL, as teams tend to lock up their franchise studs a year before their contracts end and star players' longevity with their initial team is longer than ever before. High-end players have seldom been on the free-agent ticket in recent years, let alone two perennial Norris Trophy candidates.
This brings us to the summer of 2019, where we could see both Sens superstar Erik Karlsson and two-time Stanley Cup champion and LA Kings blue-line stalwart Drew Doughty hit the open market. Not only is this creating a buzz around all hockey circles and daydreaming fans (we're looking at you, Toronto), but it is also providing an interesting narrative on two players that play in markets that are going in different directions.
Erik Karlsson and the City of Ottawa
Now let's start with Erik Karlsson, which I see as the more interesting storyline and the more likely of the two to actually test free agency—but that's not to say things won't get VERY interesting leading up to next July. Karlsson is in the midst of what is seemingly the most frustrating year of his illustrious career thus far. The Swedish captain of the Ottawa Senators entered this season with little to no offseason conditioning and missed training camp after undergoing surgery in July to repair a badly broken ankle he suffered during last season's Stanley Cup Playoffs.
The Senators are a full-on tire fire and sit in the basement of the Eastern Conference. Karlsson's minus-27 rating through 53 games and shooting percentage of just 3.5 percent has him on pace for his worst statistical season since 2010-2011. To make things worse, Ottawa's struggles to remain relevant in their unenthusiastic market continue to become more and more apparent, with no help from owner Eugene Melnyk.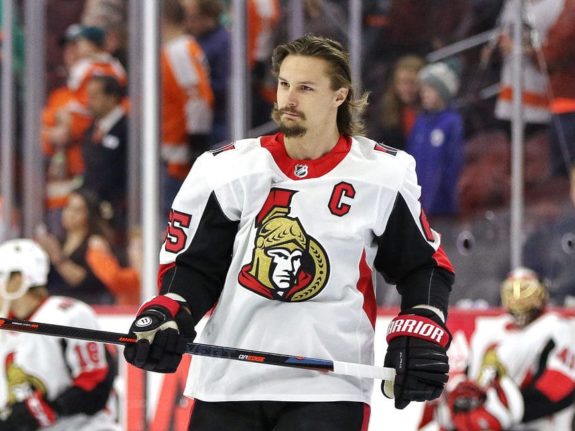 The Senators unfortunately do not technically play in Ottawa; they are relegated to a suburb outside the city called Kanata, where the lack of surrounding metropolis is resulting in a vacant building. The Senators were lucky to sell out a playoff game last year, with up to 1,500 tickets being available for purchase during Game 6 of the Eastern Conference Final. Frequently outspoken owner Eugene Melnyk recently called out Sens fans and even threatened them with relocation, saying that he could be forced to move the team to another city if attendance numbers don't pick up. This is not good news for Sens fans who hope to see '65' in Ottawa for the remainder of his career.
Karlsson is set to become the highest-paid defenseman in NHL history, so now why would he choose to sign in a city where the owner has been historically frugal with his budget and the team's future there is a self-implied question mark? In my opinion, he won't. With Karlsson's guaranteed mammoth cap hit, Ottawa would struggle to provide a supporting cast that would be worthy of a contender, and let's be honest—Karlsson seems like a loud personality that would flourish in a flashy big city hockey market such as New York, or would choose to migrate down south to the glorious beaches of Tampa, Florida and be a part of Cup-contending years with the Lightning.
If I were a betting man (and I am), I would place my chips on Karlsson getting dealt at the deadline or at this summer's draft as a one or two-year rental before he cashes in on July 1 to the city of his choosing and what will surely be a blank cheque in front of him. Furthermore, Karlsson has been asked for his no-trade list and recent rumors have heated up to the point where less than a week away from the trade deadline, Karlsson has moved up to No. 1 on TSN's Trade Bait board. A Karlsson trade would reportedly fetch up to six or seven pieces, and potentially include the contract of Bobby Ryan strapped along with Karlsson in order to please the frugal Melnyk.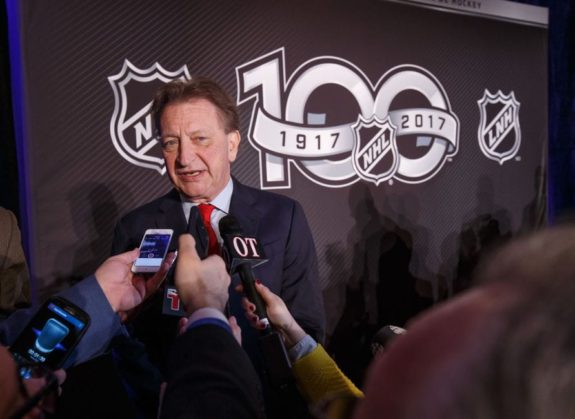 Drew Doughty: Pride of Los Angeles
In contrast, we see the likes of Drew Doughty, one year off a Norris Trophy win, who is having yet another fantastic season playing for the rejuvenated Los Angeles Kings. The Kings have springboarded from third-to-last in the Pacific Division last season to the midst of a logjam for a playoff spot in the crowded Western Conference. It was just a year ago when critics were saying LA's window was closed and calling for the Kings to rebuild, saying the team was too slow and filled with bad contracts.
Fast-forward to the present, where we are seeing Anze Kopitar, Dustin Brown and Jonathan Quick playing like they did when they won two Cups in three years from 2012-2014, and young guns Tanner Pearson, Tyler Toffoli, and Adrian Kempe continuing to provide hopes of a positive future in La La Land. Things are good in LA; heck, even the polarizing Dion Phaneuf has three goals in four games since being dealt to the Kings last week.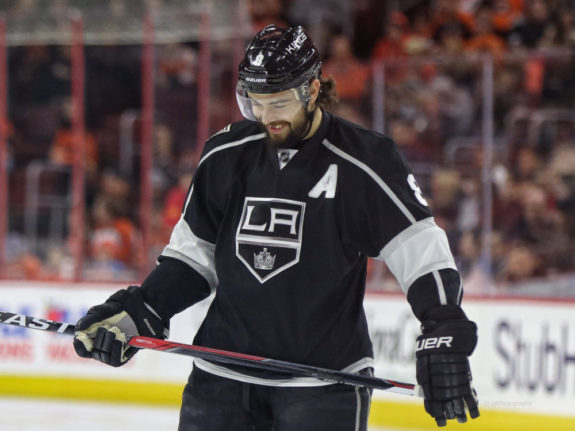 This is why I tend to believe that Doughty will likely re-sign in Los Angeles for massive dollars and contribute to the boring trend of forever locked-up superstars in today's NHL. Though there have been many that have pointed out the London, Ontario native Doughty's connection to Toronto, and the wildly talented and top-heavy Maple Leafs' need for a stud defenseman, I just don't see the move happening.
Los Angeles has become a big-time hockey market. They sell out every night and Doughty is the centerpiece, living the best years of his life in what is universally seen as one of the most incredible cities on the planet. When you add in the fact that this city has provided him two Stanley Cup championships and vaulted him into stardom, I find it unlikely that he chooses to test the market, even for an opportunity to play for the hometown Leafs or another team that may provide him with a better chance for future success.
The Anticipation of July 2019
Regardless of the outcome, the storylines surrounding the two league icons Drew Doughty and Erik Karlsson will certainly dominate the headlines over the course of the next 18 months. The two have been outspoken about their contract situations, with Doughty even claiming that he and Karlsson deserve "quite a bit more" than P.K. Subban's $9-million cap hit. It is funny how two players so alike in ability and glowing off-ice personality have had their careers influenced and manipulated by contrasting hockey markets.
Nevertheless, hockey is a wonderful sport to speculate on, so Leafs fans, you may continue to dream of a fantasy world where Number 8 in blue and white belongs to somebody other than Connor Carrick. Meanwhile, Ottawa diehards can pray that Melnyk empties his pockets and repairs what seems to be a broken relationship with Karlsson, and provides the city with a supporting cast and an agreement to move the team downtown to secure the Senators' future in the nation's capital. As one city trends towards a return to glory, and the other to the gutter of the National Hockey League, I will certainly be waiting idly by to watch the fireworks commence as we inch closer to July 1, 2019.
My name is Spencer Bacon, I am a 26 year old from Victoria, BC. I played junior hockey all around North America and attended Mercyhurst University in Erie, PA on a hockey scholarship and played for the Division 1 NCAA team. I have an Honours B.A. in National Security Intelligence Studies and am coming off a year of professional hockey, primarily for the Columbus Cottonmouths of the SPHL. I am a big time hockey nerd and hope to bring a fresh perspective to THW from being so closely removed from the game we all love.