All is not well in Canada's capital for the local team. It's not quite at the state-of-emergency level, to borrow from the region's political speak, but if the Ottawa Senators can't turn things around – and soon – there will be a price to pay.
It's a far cry from the beginning of the season, when the Senators bolted up near the top of the standings on the strength of a spat of overtime games. But since then, nothing has gone their way and it begs the question – what's wrong with the Senators?
Senators' Luck Runs Out
Let's call a spade a spade: the Senators got where they were early on in 2017-18 thanks to some incredible luck. Six of their first 11 games went beyond regulation, yet only one of those contests ended in victory: an Oct. 10 shootout against the Vancouver Canucks for their first win of the season (a true case of foreshadowing if there ever was one).
Since then, the Senators have played just two games that needed more than 60 minutes, splitting those decisions, and their point total has taken an expected dip in the process. If anyone needs more indication the Sens were one of the luckiest teams to start the season, consider the following: their six "consolation points" are an NHL-high and mask a poor win total.
Their eight wins are tied with four other teams and better than only the lowly Buffalo Sabres and Arizona Coyotes – company no team wants to keep. You could easily argue this team hasn't played all that well throughout season, and that their recent tumble down the standings to the 23rd overall position is something of a reality check.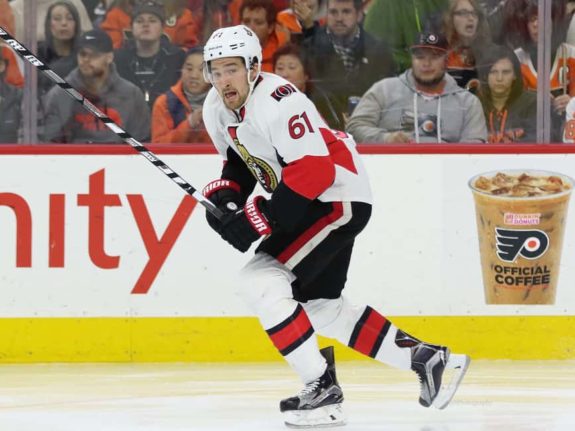 Not-So-Special Teams
Looking at their numbers – 16.3% power play efficiency, 79.3% penalty kill percentage – the Sens look like just another middle-of-the-pack club on special teams. If you've watched any of the five games in their recent losing streak, however, you'd have no trouble seeing that as a façade.
The man advantage was a sore spot for the Sens last season, and although it looked to be trending in the right direction early on, it's been a source of frustration of late. They've gone goalless in their last 17 chances with the extra man and have looked pathetic in the process, with few quality chances to their name.
Not only is Erik Karlsson, their power play quarterback, struggling on the man advantage but the unit itself is too predictable. The formula for the Sens is pretty simple: gain entry to the zone and feed Karlsson at the point who will either send the puck to the faceoff dot for a one-timer or fire a shot toward the net (or, more accurately, into an opponents' shin pad). Lather, rinse, repeat.
Fortunately, the penalty kill hasn't been in as much of a slump as their offensive counterparts (though it hasn't been great either), as the shorthanded unit has allowed two goals in its last 11 chances. That's not great, but it's effective enough to keep the team competitive (or it would be if the offence was clicking).
Duchene's Deceptively Dismal Debut
In fairness to Matt Duchene, the blame for the five-game skid his new team is suffering though does not fall solely on his shoulders (stand down, Sens fans). With that said, his tenure in Ottawa hasn't exactly started as anyone – Duchene included – was hoping for on the stat sheet.
If you pull up his numbers from his first seven games with Ottawa, which many fans and pundits alike have, the numbers aren't too flattering. He has a grand total of zero points as a Senator and, to make matters worse, has taken a minus in each of those games (he's a minus-10 overall with Ottawa).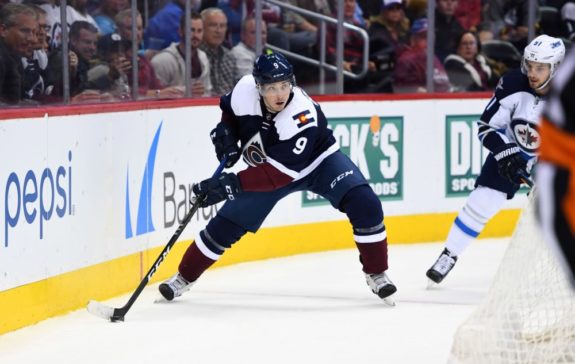 But look beyond the paltry (read: non-existent) point totals and you'll see the real truth – Duchene, much like the Senators of late – hasn't had luck on his side. Sure he's gone pointless but it hasn't been for lack of effort, as he's fired 24 shots on goal since arriving (almost 3.5 per game) including an eight-shot effort against the surprisingly successful Avalanche and two five-shot outings.
That he hasn't scored yet, or even picked up an assist from a rebound or lunch pail goal of some kind, is as much on him as it is his teammates' lack of finish and the opposing goalies' play. If fans are unhappy with Duchene's performance to this point, they have every right to be (the team gave up a lot for him and Kyle Turris is having no such issues in Nashville), but he isn't the only Senator struggling.
The Karlsson Effect
If you're looking for another reason why the Sens haven't won a game in almost two weeks, the performance of their best player is yet another factor. After starting the season with 17 points in his first 11 games coming off the injured reserve (including a seven-game point streak) Karlsson has gone pointless in the last five games.
More concerning than his minus-eight in that same stretch is Karlsson doesn't look like his usual world-beating self. Normally one to push the play and pressure opponents into making bad decisions in their own zone, Karlsson has looked much more tentative of late – especially on the power play, where he usually thrives – and that has translated into a lack of team production.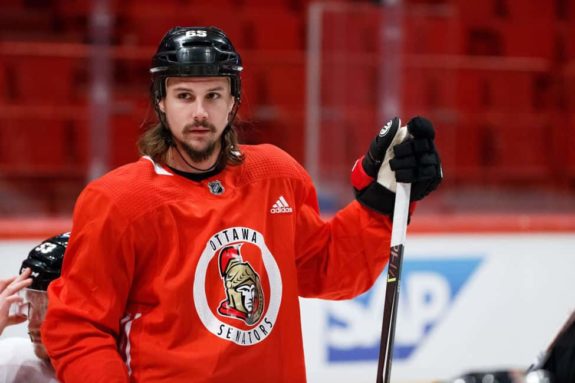 During their skid, the Senators have been outscored 19-7, including a shutout at the hands of Henrik Lundqvist and the New York Rangers. Karlsson has 14 shots in that time, which doesn't sound so bad (it's almost three per game) but is made worse when you consider 11 of those shots came in two games.
It's one of the favourite clichés of the sports world, but in this case, it really rings true – as Karlsson goes, so go the Senators.
Shaky Crease
Of course, a losing streak wouldn't be a losing streak without some shaky goaltending – and the Senators have gotten more than their fair share. Despite being one of the best teams at suppressing shots (their 29.6 average against is fourth best in the league), the Senators haven't seen that translate into much success in the crease.
Look no further than their Nov. 22 game against the Washington Capitals for evidence of just how poor things have been recently. Caps forward Jakub Vrana, streaking down the wing, managed to beat Craig Anderson with a short side shot from a terrible angled that fooled everyone in the building into thinking the puck was dead (sadly for Anderson, the overhead camera doesn't lie).
Very sneaky ¯_(ツ)_/¯ #Capsgiving pic.twitter.com/j3WteJBzFi

— Washington Capitals (@Capitals) November 23, 2017
Against the Coyotes, Mike Condon had a game he'd like to put behind him in a hurry, as he practically gifted the NHL's worst team an undeserved victory. While the first goal wasn't his fault (breakaways are just too unpredictable), he made an unnecessary lunging poke-check that left Anthony Duclair a gaping net for goal number two and allowed the hat trick when he couldn't squeeze his five-hole tight enough in overtime.
Much of the blame for this skid lay at the feet of the forwards who haven't been able to finish as they are capable of, but Anderson and Condon aren't innocent either. Their inability to make a save when their teammates need one – or even when they don't need one, for that matter – has hurt the team more times than it can afford.
The Road Ahead
Things won't get any easier any time soon for the Senators. After a loss to the Metropolitan-leading Blue Jackets, the Senators face the surging Islanders before hitting the road for seven games in 14 days, highlighted by a trip to California.
There aren't many gimmes on the trip – especially the way the team is playing right now – so they'll be in tough in trying to get back into the win column. Fortunately for them, the likes of Mark Stone and Mike Hoffman haven't slowed in their production, so there's at least a faint reason for some optimism.