Prior to Wednesday's matchup against the Ottawa Senators, the Washington Capitals knew they needed a change. They've dropped three of their last four decisions and also surrendered 17 goals in that time span. So, the coaching staff came together on Wednesday and told the players that they were shuffling lines.
According to head coach Barry Trotz, his goal when it came to shuffling lines was not only to ignite a spark but to help the team remember their goal and return to a collective mentality.
"I said I needed to get back to our identity in terms of everybody can pull their own weight," Trotz said.
He also emphasized the importance of the team working together as a group, and that changing the logistics of the lineup helped Washington's forwards come together and pull off a victory.
"The game isn't about X's and O's, it's about human beings," Trotz said. "When you get a group that has to figure out how they have to win together and what their roles are, once they get that figured out, then you become a team and something that can be productive… when it comes to the real things that matter, it's guys that want to make sure they're pulling on the rope together."
Backstrom, Ovechkin Reunite
Though the two have been a dynamic duo given their skill-sets, years of success and playing time together, Backstrom and Ovechkin started the season on separate lines; Backstrom centered the top line with T.J. Oshie, and Ovechkin worked on the second line wing alongside Evgeny Kuznetsov.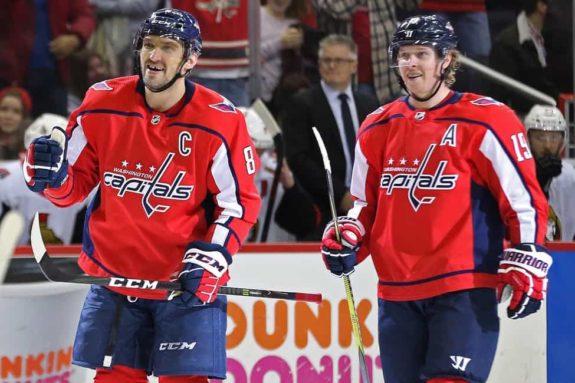 The combinations suited the Caps to start the year, but over time the chemistry began to fade, and Trotz knew it was time to shake things up, especially as Washington looked to rebound. So, he put the two back together and shook up the entire lineup before Wednesday's match-up.
"We've been thinking about it for a while," Trotz said when it comes to reuniting Ovechkin and Backstrom. "Ovi, the man is such a presence, and he's the greatest goal scorer in his generation, and you need a very intelligent player and you need to get used to playing with him… I put them back together and put Tom Wilson there and that was a really effective line."
Ovechkin, who has 14 goals on the season and scored with five seconds remaining in the first period of Wednesday's 5-2 victory, said that he and Backstrom bounce off each other well because they play with a similar mentality.
"I don't think there was any doubt," Ovechkin said. "We understand each other, how we have to play. Obviously, we play long time, so I think it worked out perfectly [Wednesday]. It was good."
Backstrom also said that he enjoyed getting the chance to skate alongside Ovechkin again and that the line shuffling was needed.
"It's great. We need that," Backstrom said. "It wasn't working the way we played, so I'm sure the coaching staff felt that way. They wanted to switch things up, so we got two points and that's all we need."
Vrana on the Rise
A healthy scratch against the Colorado Avalanche seven days ago, Jakub Vrana was determined to rebound and work his way not only back into the lineup, but into the top-six. According to Trotz, the decision to scratch Vrana was more of a message and constructive criticism than it was a punishment, and he hopes the 21-year-old took something away from watching from the press box.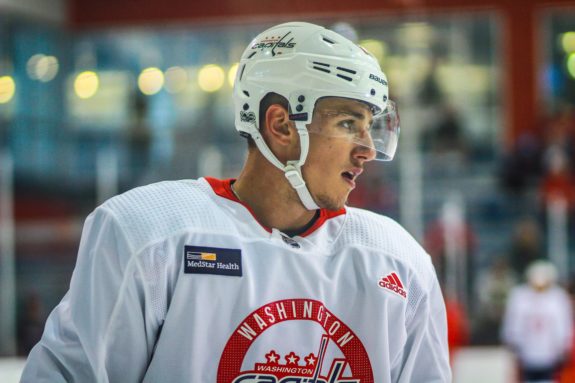 "I asked him to look for a couple of things in that game and not what would be effective for him, but what's effective in our league and for our team," Trotz said. "I think he watched the game and hopefully took something out of it."
Since then, Vrana has been skating harder and making himself prominent in the offensive zone, crashing the net and finding time and space to get his shot off. His effort and determination has paid off and earned him two goals in Wednesday's victory over the Senators.
"I think it's just hard work," Vrana said of returning to the lineup and making an impact. "Y'know, you just gotta keep working hard and doing extra things."
On a line with Kuznetsov and Oshie, Vrana also mentioned the chemistry he found with that unit, and that he is determined to keep trying to do his part in getting production out of his line.
"I mean, I just tried to help [Kuznetsov and Oshie] out as much as I can and do my best to keep my line effective, keep putting up goals and be offensively scarier," Vrana said.
"He did a great job," Oshie said of his Czech linemate. "He's a great player and sometimes when you're young, you overthink things, you wanna do the systems right, you kind of forget you have to move your feet and you gotta battle first and foremost. Tonight, he did that, created space for himself and for me and [Kuznetsov]. You can see the talent he has."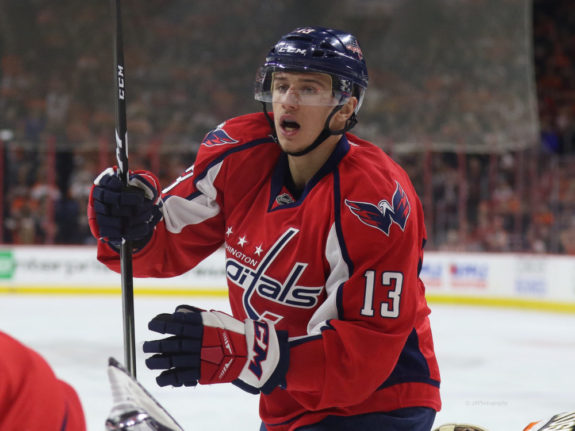 Even the star players in the locker room were impressed; Backstrom also called Vrana a "very talented player," and that he "seems to be finding his way in the league," and Ovechkin had nothing but praise for the former first-round pick.
"Everybody knows he's a very fast skater, great shooter, and obviously you can see his first goal, he was battling in front of the net, and he got rewarded," Ovechkin said.
Looking for Consistency
As Washington looks to build off the momentum while looking for their second straight win Friday against the Tampa Bay Lightning, Oshie said the formula for success isn't too tough – all it takes is finding a balance.
"I think it's all focus," Oshie said. "I think it's not getting too high and thinking we're the greatest team when we win a game, and when we lose a game, not getting too low. Seems like we're either really going or not going at all, so we gotta find a little consistency and just a little more focus and a little more energy directed toward playing fast, playing hard and playing smart."