It takes at least a few weeks to have a large enough sample size to gauge how well a team or player is performing. In Washington, 20-year-old Jakub Vrana made his NHL debut nearly one month ago.
With Washington's need for more depth scoring, Vrana could become a valuable piece to the Capitals' puzzle if he can stay in the NHL. Let's take a look at how his first month has gone.
The Good
Vrana was active in his first seven NHL games. He scored his first goal against Buffalo on Dec. 9 and added two assists against the Islanders on Dec. 13. During that stretch, he averaged 2.3 shots on goal per game. He did that while playing 11:51 per contest.
The former first-round pick certainly has the potential to score. Vrana has excelled with the Hershey Bears in the AHL, scoring 25 goals and 50 points in 54 games over the last two seasons. In 2016-17, Vrana has nine goal and 16 points in 18 games with the Bears.
His AHL numbers could have been even more impressive if not for a wrist injury last season. That knocked him out for three months. But he is now completely healthy, which is a very good thing considering one of his best attributes is his killer wrist shot.
The Bad
The 20-year-old has disappeared a bit recently. He doesn't have a point in his last five games, and he has just five shots on net. In two of his last three games, Vrana didn't record a shot.
Fortunately, he still has the support of coach Barry Trotz for now. But clearly, the honeymoon that comes with making an NHL debut is over.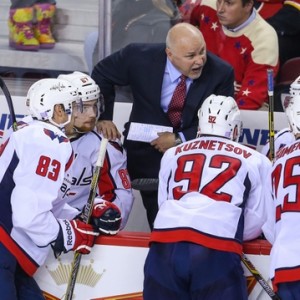 "That's part of the maturing process for every young player," Trotz said. "You get called up, you are full of adrenaline, you want to stay and you're full of excitement and then the grind starts to hit you of the NHL. You see some of the young junior players who started the season in the National Hockey League playing at the World Junior [Championships], the grind sort of gets to them at a certain point and then they fall off. That's the same thing for a lot of the young guys when they first come up, they're good for 10 or so, or 15 or 20, and then they hit a little bit of a dry patch or the the grind gets to them and they fall off a little bit.
"But Jake's been pretty consistent, so to this point, I've been pretty happy with him."
If his dry patch continues, it isn't inconceivable to see Vrana sit for a game or two in the press box before the team thinks about sending him back down to the AHL. Allowing fellow young forward Andre Burakovsky a little break as a healthy scratch two weeks ago appears to have worked wonders. Burakovsky broke his 26-game goalless streak last week. He has two goals and three points in his last three games since returning to the ice.
Driving Possession
Twelve games is still a relatively small sample size, but it's hard to discount Vrana's possession numbers. He leads the team with a 59.8 Corsi For Percentage, a 57.5 Fenwick For Percentage and a 9.3 Corsi For Relative Percentage.
Jakub Vrana flying around for #Caps early on.. Couple of good looks.. But, Carey Price.. #CapsHabs

— Rob Carlin (@RobCarlinTBD) December 18, 2016
It's important to note that 57.7 percent of his zone starts have come at the offensive end. Obviously, it's easier to post superior possession numbers when starting closer to the opponent's net. However, it's also worth noting top-line players such as Evgeny Kuznetsov, Justin Williams and Alex Ovechkin each have an offensive zone-start percentage of at least 63.0 percent and don't really come close to Vrana's possession totals. Williams would be the closest with a 54.2 Corsi For Percentage and 54.2 Fenwick For Percentage.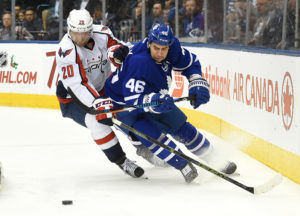 So although he isn't necessarily scoring, Vrana is driving possession. He's also gelling with his linemates, who have begun to score more often. In six games on the same line with Burakovsky and Lars Eller, the unit has combined for three goals and six points. And Vrana appears to have an endorsement from Eller.
"I think he's been able to maintain a pretty high level of standard," the 27-year-old said. "His game hasn't dropped a lot in the last week or two. He's been able to keep the high level, which that has impressed me. I think the future bodes well for him."
The next several weeks are going to be important ones for the 20-year-old. Not only must he continue to help his linemates score, but he likely has to find his name on the scoresheet too in order to stay in the NHL. But after about one month, the consensus feeling around Vrana's NHL play is all positive.
Dave Holcomb is excited to join The Hockey Writers team, covering the Pittsburgh Penguins. Holcomb began his NHL work as a fantasy columnist at The Sports Network. In 2015, Holcomb joined the fantasy NHL team at FanRag Sports, where he eventually worked into a beat writer position, covering both the New York Islanders and Pittsburgh Penguins. He continues to cover the Metropolitan division, along with the NFL and Syracuse basketball, for FanRag Sports. To find more of his work, follow Holcomb on Twitter at @dmholcomb.