The Washington Capitals played a tightly contested playoff series with the Pittsburgh Penguins last spring, but it was obvious where the Penguins had an advantage — scoring depth. No other team in the NHL had the luxury of three A-list superstars on three separate lines, and it created massive matchup problems for the Capitals and everybody else.
Washington was hoping for more scoring from its bottom-six this season, but through one-third of 2016-17, it has yet to fully happen. Fortunately, just before the Christmas break, the Capitals did appear to feature a more balanced attack. That's something the team must continue to improve upon if its to make a team run in the spring.
Andre Burakovsky Breaks Scoring Drought
The Capitals had to be extremely pleased to receive two goals from Burakovsky on opening night in Pittsburgh on Oct. 13. He ended the 2015-16 regular season scoring 15 goals and 30 points in his final 47 games, so including opening night this season, he had 17 goals over a 48-game span.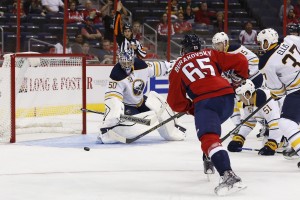 Not a bad total for a forward who was averaging under 14 minutes per game. During that 48-game stretch, which equates to over half a season, Burakovsky posted a 1.52 goals per 60 minutes average. The only other Capitals skater with a goals per 60 minutes average in the same 48-game regular season stretch was Alex Ovechkin.
Early this season, Burakovsky was receiving top-six minutes, so Washington wasn't technically counting on him for depth scoring, but he needed to produce in order for 35-year-old Justin Williams to play a reduced role on the third line. But other than opening night, Burakovsky just hasn't been able to find the twine.
He went scoreless in his next 26 games, and that's despite playing a lot of minutes with Nicklas Backstrom and Marcus Johansson. Burakovsky picked up eight assists during his 26-game goalless streak.
However, right before the Christmas break, he did snap the string with a goal and an assist against Philadelphia on Dec. 21. It was just his third multi-point game of the season and first since Nov. 23. Washington has to hope this is a sign of good things to come from the 21-year-old.
Andre Burakovsky's 26-game goal-less streak IS FINALLY OVER, YOU GUYS pic.twitter.com/OnDZYtj2Si

— Ian Oland (@ianoland) December 22, 2016
Scoring from the Third Line
With Williams moving up to the top line, Burkovsky has slid down to the third unit. In the same game that he broke his scoreless streak, his linemate, Lars Eller, scored his first goal in 19 games. Burkovsky and Eller actually picked up assists on each other's tallies, which were Washington's only two goals of the game.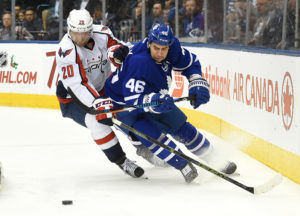 Eller is one of a few new additions to this team. He was a free-agent signing that was supposed to replace Jason Chimera on the bottom-six. Chimera scored 20 goals and 40 points, playing all 82 games last season, so Eller has been a disappointment, scoring just three times in 31 contests.
Having said that, Chimera's 20-goal season in 2015-16 was very much an aberration that the 37-year-old was not likely to repeat. With the Islanders, he has four goals in 33 games.
But make no mistake, Washington could really use more production from its third line. Prior to last Wednesday, 20-year-old rookie Jakub Vrana had the line's only score in December.
The Fourth Line
Forwards Jay Beagle and Daniel Winnik don't have a crazy amount of goals, but both are on track to eclipse last season's totals. Beagle has five goals and 11 points in 32 games. He only played 57 contests last season, but his five goals puts him just three behind his 2015-16 total. Beagle is also halfway to his career-high from 2014-15.
Winnik has four goals and seven points in 23 games, which puts him two behind last season's total. He has a chance to reach the double-digit goal mark for the first time since 2010-11.
But similar to Burkovsky, the fourth line produced early in the season. Over the last 15 games, Beagle has one goal, and Winnik has a pair. Over the last month, Winnik is one of the better bottom-six forwards with two goals and four points.
Their other linemate, Tom Wilson, hasn't produced much in the scoring department. He has two goals and three points in 32 contests.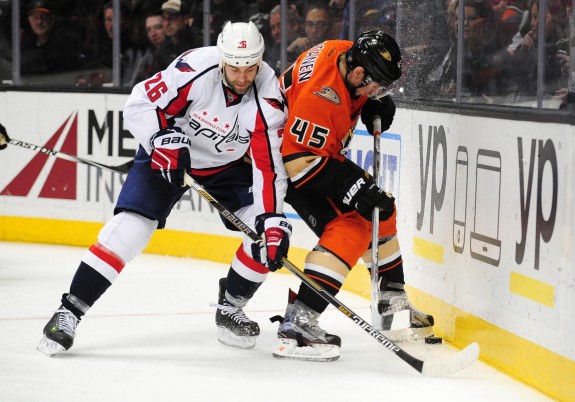 Scoring from the Blue Line
John Carlson leads all Capitals defensemen with three goals, so Washington hasn't received much scoring from there either, but it's been better as of late. Two of Carlson's three goals this season came last Friday against Tampa Bay.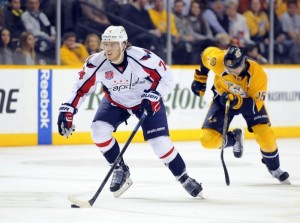 It was only a matter of time until Carlson was going to break through. He is second on the team with 81 shots, but third-to-last among Washington scorers with a 3.7 shooting percentage, and that includes Friday's game. Carlson's luck was bound to change at some point. He posted a 6.5 shooting percentage last season.
Matt Niskanen and Dmitry Orlov are the only other Capitals defensemen with goals. Niskanen scored a pair versus the Islanders on Dec. 13. Orlov scored his one goal in November, but he has six assists in the last seven games.
Compared to last season, scoring is down across the Washington lineup, so there's equal blame to go around. However, the Capitals will need more depth scoring come playoff time to be a more dangerous team.
Guys like Carlson, Burakovsky, Eller and Niskanen have shown flashes of ability in the last two weeks. It's now time for them to sustain some long-term success.
Dave Holcomb is excited to join The Hockey Writers team, covering the Pittsburgh Penguins. Holcomb began his NHL work as a fantasy columnist at The Sports Network. In 2015, Holcomb joined the fantasy NHL team at FanRag Sports, where he eventually worked into a beat writer position, covering both the New York Islanders and Pittsburgh Penguins. He continues to cover the Metropolitan division, along with the NFL and Syracuse basketball, for FanRag Sports. To find more of his work, follow Holcomb on Twitter at @dmholcomb.