Haven't the Buffalo Sabres already settled its injury debt with the hockey gods?
In a season with more injury pitfalls than any in recent memory, the Sabres suffered yet another blow as the team announced power forward Ryan O'Reilly, their heart and soul player and best faceoff man, will be out indefinitely after undergoing an emergency appendectomy over the holiday break.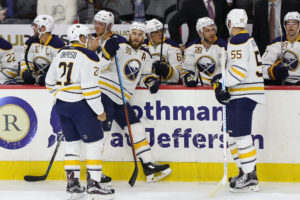 O'Reilly, who missed six games earlier this season with a lingering oblique injury, has seven goals and 11 assists for 18 points in 27 games this season. He is also 362-273 on faceoffs this season (57-percent), which ranks him ninth in the National Hockey League in that category while absorbing an average of 15:56 minutes per game, seventh on the team and the most of any forward in blue and gold. Fourth on the team in scoring with two game-winning goals, 10 of O'Reilly's 18 points have come on the power play.
Needless to say, it's a tough pill to swallow for a struggling Sabres team which is 12-13-8 and riding a four-game losing streak.
While there is no timetable for his return, Chicago Blackhawks goaltender Corey Crawford endured the same affliction back on Dec. 3 and missed about a month of action amounting to a total of 10 games. The timetable is a fluid one as Buffalo News' Mike Harrington pointed out as the Montreal Canadiens' Max Pacioretty and the Dallas Stars' Jamie Benn were out of action less than two weeks.
In any case, it's yet another stumbling block in an otherwise forgettable 2016 Buffalo Sabres calendar year.
[irp]
Next Man Up
While the team has yet to make a corresponding move to make-up for O'Reilly's hole in the lineup, expect one soon. The team was already carrying an extra forward so the transaction will most likely come after their game against the Detroit Red Wings Tuesday night. The team plays again at home against the Boston Bruins on Thursday before re-engaging the Bruins for an afternoon matinee on New Year's Eve.
With a team-leading 14 goals in 22 games for the Rochester Americans of the American Hockey League, many have made their opinions clear stating Nicholas Baptiste deserves another shot with the big club. The Sabres' third round pick (69th overall) from the 2013 NHL Draft, Baptiste's recall may be long overdue. While he has wrecked havoc on the AHL, Baptiste struggled in limited action earlier this season but did produce a pair of goals in 12 games — double what William Carrier has accumulated in 22 games  (one goal, one assist).
Local product Justin Bailey, who hails from the quiet little suburban town of Williamsville nestled just outside the city limits, has excelled with Rochester as well, with 12 goals and 21 points and could also be given another shot. Cole Schneider and O'Reilly's brother, Cal O'Reilly, who are each tied for the team lead in points with 28, could also get the call as general manager Tim Murray continues to juggle the team's salary cap.
Keep Calm and Circle the Wagons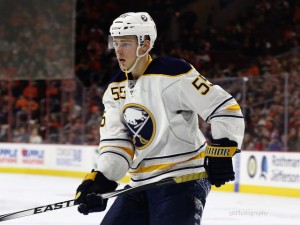 While O'Reilly's appendectomy isn't the nail in the coffin, it's yet another blow to a Buffalo Sabres team that has already endured its fair share of ailments.
Injuries sustained to forwards O' Reilly, Jack Eichel, Evander Kane, Tyler Ennis, Nicolas Deslauriers, goaltender Robin Lehner and defensemen Zach Bogosian, Dmitry Kulikov and Josh Gorges, among others, have forced Buffalo to utilize 33 different players this season after using all of 35 players the entire 2015-16 campaign. All these man-games lost has forced the Sabres to baptize their prospects by fire, forcing their future into the frying pan perhaps before they are ready for the grueling day-to-day action of the National Hockey League. While it has been difficult to watch at times, their exposure to the game at its most elite level should pay dividends down the line for the organization.
Let's just hope the team isn't rushing any of their prospects up too soon.
New Jersey Devils One Jersey Grass Roots Writer; 13 years writer/reporter for The Star-Ledger and NJ.com; 1st-year with The Hockey Writers; Previously covered the Boston Bruins, Boston Red Sox and New England Patriots for The Casco Bay Weekly; Portland Pirates (AHL) 2002-'03; Director of Media Relations The Eastern League (AA) 2000-'02; Great Skate 1997-2000; Buffalo Sabres 1994-'97; Buffalo boy, Maine grad; International hockey player and coach; #Buffalove #OneBuffalo