The Edmonton Oilers and Buffalo Sabres will square-off for the first time this season tonight at KeyBank Center. In a year where both teams have fallen short of expectations, fans are stuck looking for answers. Connor McDavid and Jack Eichel are in their third professional season since entering the league in 2015. These two players are seen as the harbingers of sustained success for their respective franchises and frustration has mounted among their fanbases.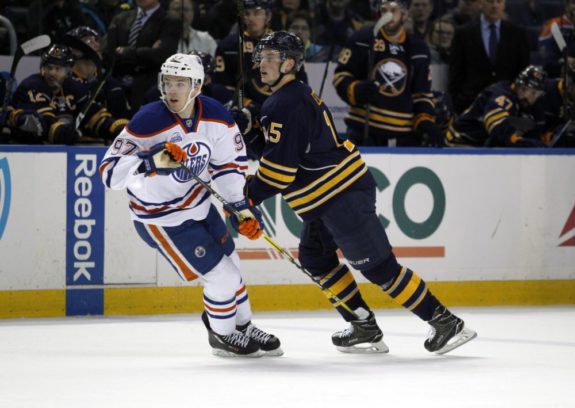 Where do the problems lie for these two organizations that were supposed to be on the upswing? I got together with fellow THW contributor, and Oilers expert, Shane Sander, to answer some questions regarding the state of the franchises that we cover.
Since the 2015 Draft, what is the biggest team need that has been ignored?
Sander: The biggest pitfall for the Oilers is that their general manager has stripped this team of depth. Peter Chiarelli had numerous opportunities to improve the roster this summer but neglected to add a bonafide top-six forward. Ryan Strome hasn't meshed well since coming in and has been playing third-line minutes. The lack of scoring depth on the wings has tied head coach Todd McLellan's hands and he's played Connor McDavid and Leon Draisaitl together because of it. Asset management has been very poor for the Oilers, especially now more than ever.
Sciandra: Defense. Throughout the Sabres organization, there is nothing in the cupboard on the back-end aside from Brendan Guhle. Over the last three years, the Sabres have drafted only one defenseman in the first three rounds and that simply is not acceptable. Jason Botterill has done his best to assemble a competitive blueline made up of fringe players while Guhle develops, but until the Sabres start drafting and developing defensive prospects, they will continue to struggle.
Even talented homegrown players like Rasmus Ristolainen have been leaned on to play 27-28 minutes per night, which has resulted in a brutal Corsi rating for him. Despite his impressive offensive production at the NHL level, the organization needed to be more patient with Ristolainen's development before forcing him to eat up big minutes.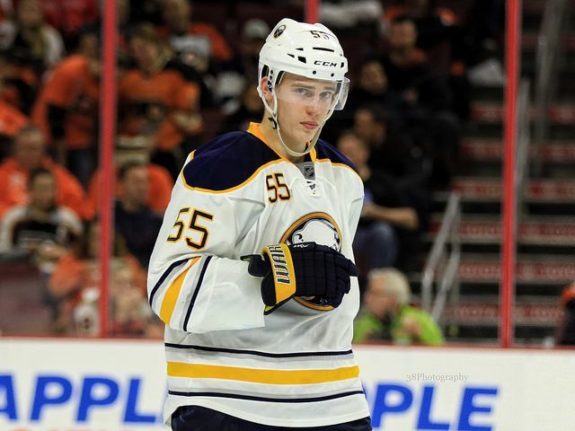 Who do you feel is most to blame for the Sabres/Oilers' early-season struggles?
Sander: The players need to be more accountable. They're professional athletes and are held to a certain standard. In last night's 8-3 loss to the St. Louis Blues, the Oilers seemingly quit. It's been a curse in Edmonton for a few years when things are going tough. The coach has tried every line combination he can muster together with no success. The special teams have cost this team numerous games, and they also can't seem to stay out of the box. This team needs to be more focused because the careless errors are piling up into losses.
Sciandra: The Sabres issues start in the locker room. The roster is devoid of vocal leadership and players like Eichel and Ryan O'Reilly haven't stepped up to the plate. Just listening to the player's post-game interviews gives fans the impression that the team has no direction. While guys like Evander Kane have done a nice job of leading by example on the ice, the team desperately needs a captain. The concept of four alternates has obviously failed. The team needs a singular voice, and Phil Housley is more of a tactician than a vocal head coach. It needs to come from the players.
Do you feel that your respective fan bases have put too much pressure on Eichel/McDavid to be "the savior"?
Sander: No – McDavid has been everything he was billed to be. He's consistently been one of Edmonton's best forwards. McDavid and Ryan Nugent-Hopkins have factored into 49 of Edmonton's 53 goals this season. While this team has continued to struggle offensively, McDavid has provided three goals and seven points in his last four games. He's also on pace for 39 goals and 101 points this season. But McDavid alone won't win you every game, and that's been the story this year. He's had some struggles recently with his defensive decisions, but he's not the only one with those problems.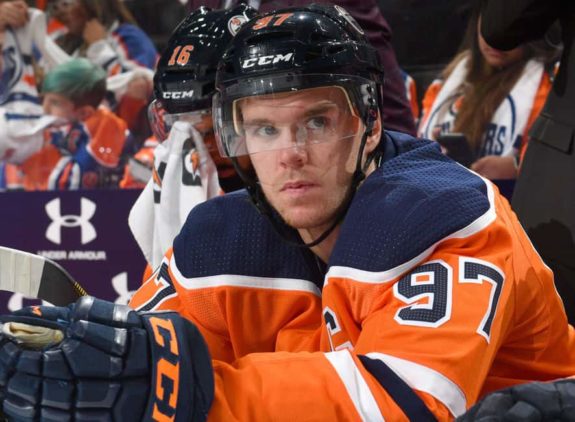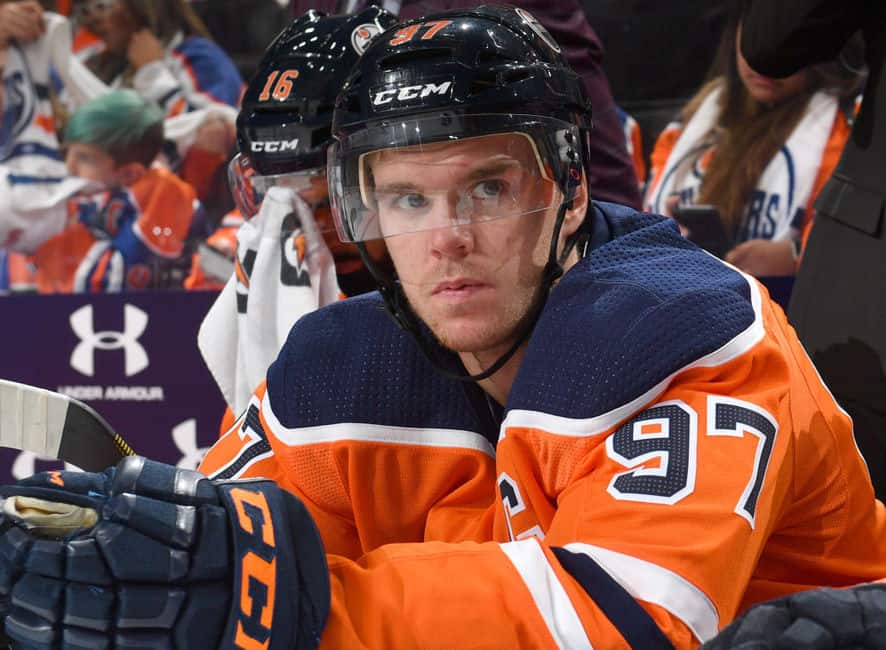 Sciandra: To a certain extent the pressure has had an effect on Eichel. There has been some concern over his attitude, however, I see him as a really competitive kid who is just sick of losing. While the goals aren't really coming, Eichel has emerged as an elite set-up player with 12 assists so far, but he cannot carry the team on his own. There are way too many holes on the roster and he bears more than his fair share of unfair criticism. If the team can find him consistent linemates, some of the issues he's had will correct themselves. People like to forget that he is 21 years old.
I think the biggest disappointment when it comes to Eichel is his inconsistency. The kid has put together a handful of awe-inspiring shifts, however, he has a tendency to disappear for stretches. He's learning fast that in the NHL you need to go and get the puck, it's not going to magically come to you.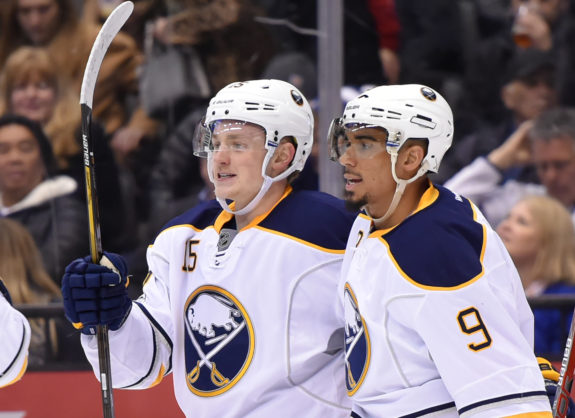 There is a lot of talent on both the Sabres' and Oilers' respective rosters. Why aren't things "clicking"?
Sander: The talent in Edmonton is sparse in reality. Everyone has taken a step back. Cam Talbot has been inconsistent in goal, and Laurent Brossoit hasn't provided any real relief when he's played. On defense, Oscar Klefbom has had his struggles, and the team dearly misses Andrej Sekera who's recovering from knee surgery. Adam Larsson has been steady. Darnell Nurse has shown improvement, but the rest of the defense has regressed or hasn't been effective. The forwards aren't buying into the system, and it seems as if playing team defense is a choice for some players.Drake Caggiula, Anton Slepyshev, Jesse Puljujarvi are the supporting cast, but they haven't provided much help. Even Milan Lucic is struggling. To be short, there are a lot of passengers on the Oilers roster, and not enough drivers. Until that changes, this team is going to continue to struggle. Adding to that, the Oilers are a lot slower than people thought.
Sciandra: Outside of the top-six, there isn't anything on the roster in terms of scoring depth. There is a bevy of issues with this team, but a lack of secondary scoring is definitely part of the problem. Four players are responsible for nearly 60% of the team's goals this season. Phil Housley has tried almost everything in terms of line combinations, but it hasn't really helped.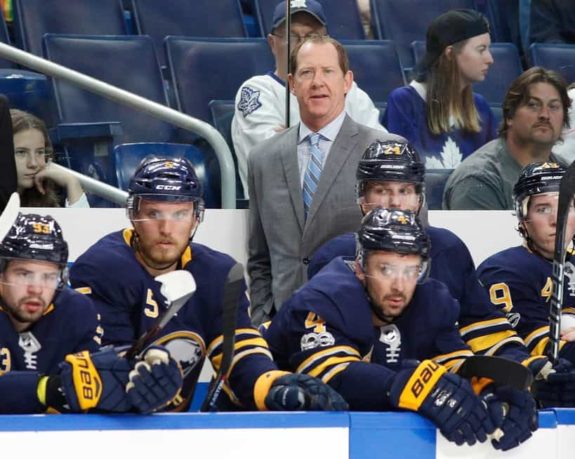 It all goes back to Tim Murray thinking he could field a competitive team with a handful of star forwards and nothing else. 22 games into the season and there has not been a single goal scored by a defenseman either. Jason Botterill's toughest task moving forward will be to purge the roster of overpaid non-contributors like Matt Moulson and replace them with inexpensive scoring depth made up of players on ELC's.
What is the difference from last season? The Sabres made a little progress, and the Oilers were quite successful in 16-17′. What changed if anything?
Sander: The Oilers overachieved to some extent in 2016-17. A lot of players had great years, and they were a little unknown. This year everyone is leery of Edmonton and the Oilers aren't sneaking up on anyone. Edmonton's offense has also seen a dramatic drop in production. They were eighth in the NHL last year with a 2.96 goals-per-game(G/GP), but this year it's dropped to 2.52 G/GP *(27th). The power play has also declined from 22.3% (5th). It's now bounced back recently after some minor changes. Make no mistake this year's version of the Oilers isn't coming at teams with waves of offense like they did in 2016-17.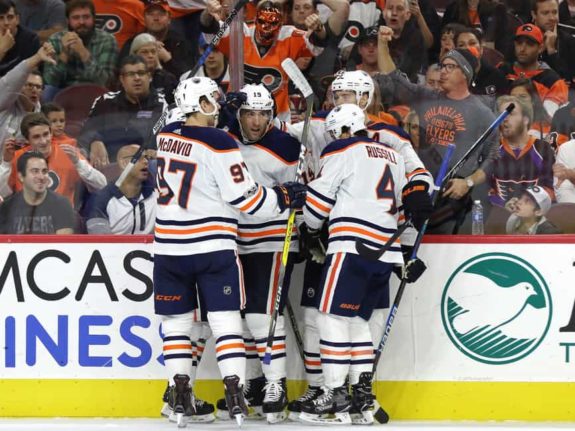 Sciandra: The implementation of a brand new system has something to do with it, but the roster went through a huge upheaval this offseason. Despite all of the new additions, team culture has become extremely toxic as players have seemingly become content with losing. It is interesting to see how few players on the current roster have experience winning games in the NHL. For the most part, core players like O'Reilly, Kyle Okposo and Evander Kane have had little to no playoff experience.
The Sabres need someone who can come into the locker room and guide these younger guys and show them what it takes to be competitive. Simply put, nothing has changed. The same exact issues plagued the team last year and the recycling of depth players wasn't the answer.
Tim Murray was fired following questionable asset management decisions during his tenure in Buffalo. Chiarelli has been criticized for this as well. Do you feel Chiarelli will be fired? How will Jason Botterill address the problems Murray left behind?
Sander: Chiarelli will have a long leash, the internal brain trust has a lot of faith in the GM. After all, he did win a Stanley Cup in 2011. That said, since then he hasn't been the strongest GM. His poor asset management and allocation of cap space cost him his job in Boston. Now he's doing similar things with Edmonton. The problem is he's made some very poor trades that didn't yield the appropriate returns. Griffin Reinhart was a bust, and the Oilers gave up the pick that eventually became Mathew Barzal. You could argue Chiarelli should've got more in return for Taylor Hall and Jordan Eberle.
This summer he grossly overestimated his roster. Chiarelli didn't snag a top-six forward, or a defenseman to bridge the gap while Andrej Sekera is out. The current club is suffering because of that. Will he be fired? Not anytime soon. Chiarelli will get plenty of time to right this ship, but if he makes another bad trade, he'll be on the hot seat.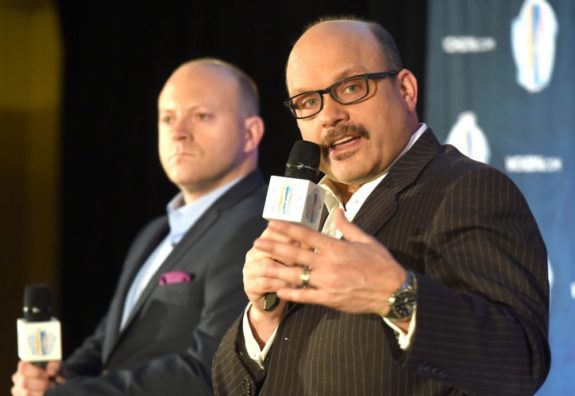 Sciandra: Patience. Murray tried to expedite the Sabres' rebuild and it has been a complete disaster. If Botterill is given time to properly implement a development system that lets players spend ample time in the AHL before making the jump to the big league, then the Sabres will finally experience sustained success. Guys like Justin Bailey, Nic Baptiste, Evan Rodrigues and Brendan Guhle are all probably more talented than half of the Sabres roster, however, Botterill has made the wise decision to keep them in the AHL. A lot of fans have criticized this strategy but it's the right move. To insert young players into a toxic, losing environment would be detrimental to their development.
The Rochester Amerks are winning games right now, something they haven't done in quite some time. Botterill wants these developmental players to experience victory before coming to the NHL. The Sabres roster is made up of players from losing organizations. Jordan Nolan is the only player on the team with a Stanley Cup ring. If the Sabres want to establish a winning culture within the new core, it starts in Rochester.
Are you hopeful that the Oilers/Sabres will get things turned this season around and contend for a playoff spot?
Sander: It's a bleak forecast for both teams when you consider the US Thanksgiving rule. Last year only three teams bounced back after US Thanksgiving (Boston Bruins, Calgary Flames, and Toronto Maple Leafs) to go from outside to into a playoff spot. The asterisk is that those three teams were within three points of a playoff spot. Edmonton is seven back of a playoff position right now. If the Oilers play at last year's .629 winning percentage (W%), they could still finish at 93 points. The problem is the margin for error is slim.
At this moment, it could take 90 points to qualify in the Western Conference. Last year the Nashville Predators got the last playoff seed with 94 points. So in short Edmonton will need to be better than last year for the remaining 61 games to make the playoffs. As per Buffalo, they'll need to pick up 81 of 122 points (.664 W%) to equal what the Toronto Maple Leafs (95 points) needed to qualify for the playoffs last year.
Sciandra: Not at all. This team is on pace to finish the season with 55 points. The "tank" team finished with 52, and that was a roster specifically designed to lose games. For the Sabres to contend for a playoff spot this year, they would likely need to finish the season winning 40 of their remaining 60 games which would get their point total to 94. That type of 180 from what we've seen thus far would be an unprecedented turnaround. Better luck next year.