In this edition of the Vancouver Canucks News & Rumors, the organization signed 2019 Draft pick Aidan McDonough. Also, the club will be involved in the NCAA talent pool to sign a few young players to the roster. Additionally, Brock Boeser talks about his struggles over the last year in his personal and professional life. Lastly, J.T. Miller comments on the state of the team's locker room. 
Canucks Sign Aidan McDonough
Canucks general manager Patrik Allvin announced the club signed forward McDonough to a two-year, entry-level contract on Monday. 
The 2019 seventh-round pick finished his final season with the Northeastern University Huskies of the NCAA. He served as the captain in his final season, leading the team with 20 goals and 38 points in 34 games. He will be the fourth player from the Canucks 2019 Draft class to play an NHL game. Vasily Podkolzin, Nils Hoglander and Arturs Silovs are the other three players from the draft class.
"Aidan has continued to improve his game each year since being drafted and we are very pleased to have agreed to terms with him today," Allvin said. "He has steadily grown into a leadership role with Northeastern throughout his time there and our development team is looking forward to working with him as he starts his pro hockey career."
McDonough will join the Canucks, burning one of the two years in his entry-level contract. He will likely make his debut at some point during the upcoming road trip. As for his play, his strength lies in his shot, while his weakness is in his skating ability. Head coach Rick Tocchet said he'd try and get McDonough into a game. The coach added giving the forward an opportunity would give him a taste of what it takes to play in the NHL and translate it into offseason training.
Canucks Involved in NCAA Talent Pool
The Athletic's Thomas Drance and Rick Dhaliwal said the Canucks will target a few NCAA free agents (from 'Aidan McDonough and Canucks' NCAA free agent targets: What we're hearing,' The Athletic, March 11, 2023). They add the Canucks are in on some of the bigger-name free agents as well as some of the off-the-radar players. Adding free agents through the NCAA talent pool is a good way for teams to acquire depth contributors instead of top-end talent. 
"College free agency isn't how teams find star-level players," they said. "It's a useful method, however, for teams seeking to land some potential cost-controlled depth contributors who are much closer to being NHL ready (albeit with lower upside) than the players who will be selected beyond the third round of the NHL Entry Draft."
Related: Time for JT Miller to Prove Himself with the Canucks
---
Latest News & Highlights
---
The first player mentioned is Western Michigan centre, Max Sasson. At 22 years old, he was an above-a-point-per-game player in his second season in the NCAA. Two-thirds of the NHL has shown interest in the forward. Meanwhile, the Canucks are also interested in a few NCAA defencemen starting with Cornell's Sam Malinski. The organization is also interested in Jake Livingston and his d-partner Akito Hirose out of Minnesota State, Mankato.
Boeser Talks Season So Far
Boeser discussed the personal and professional struggles he has dealt with over the past year (from 'Canucks Q&A: Brock Boeser's revealing journey of pain, healing, hope,' The Province, March 13, 2023). The forward lost his dad Duke after a long cancer and dementia battle last May. Professionally, he has been involved with trade rumors while struggling to find his game. Boeser said the trade deadline stress was at its worst when most NHL teams were making their moves late in February. As for his play, he said he's working on improving his mindset as a player and getting back to getting better every day. The forward also discussed his low shooting percentage, which is at 9.8.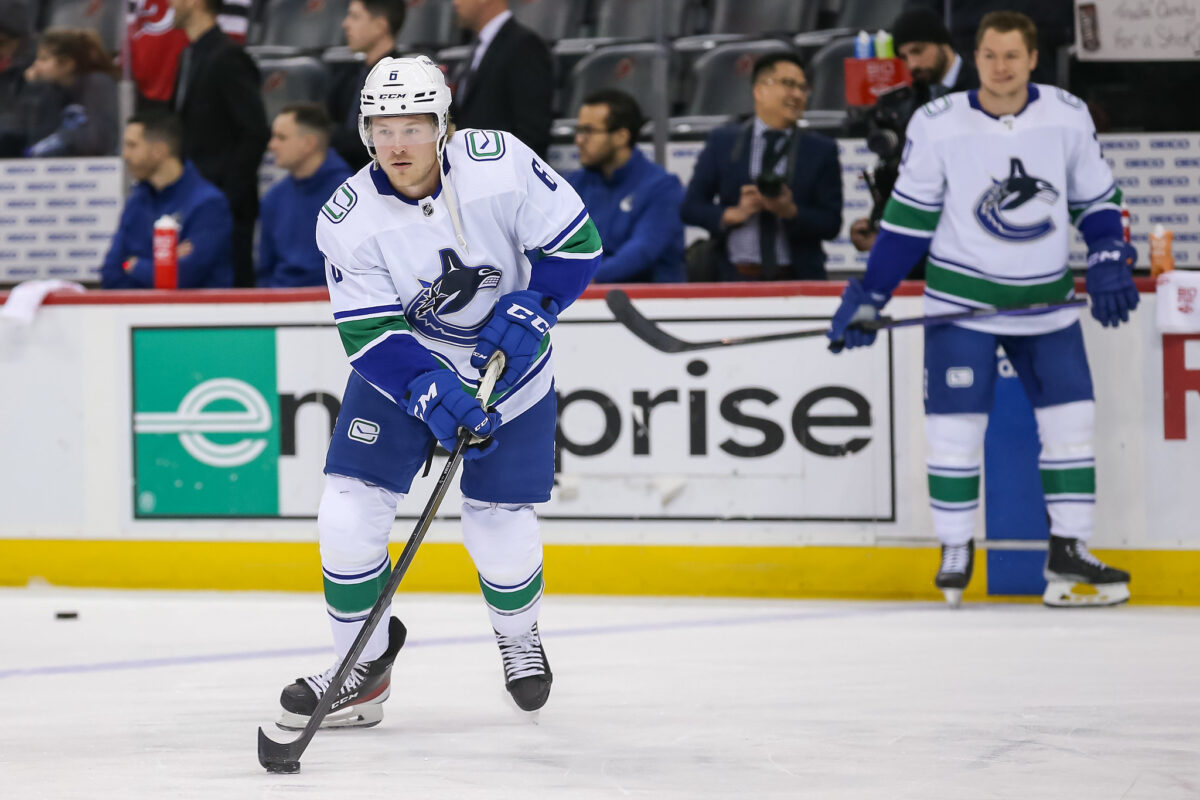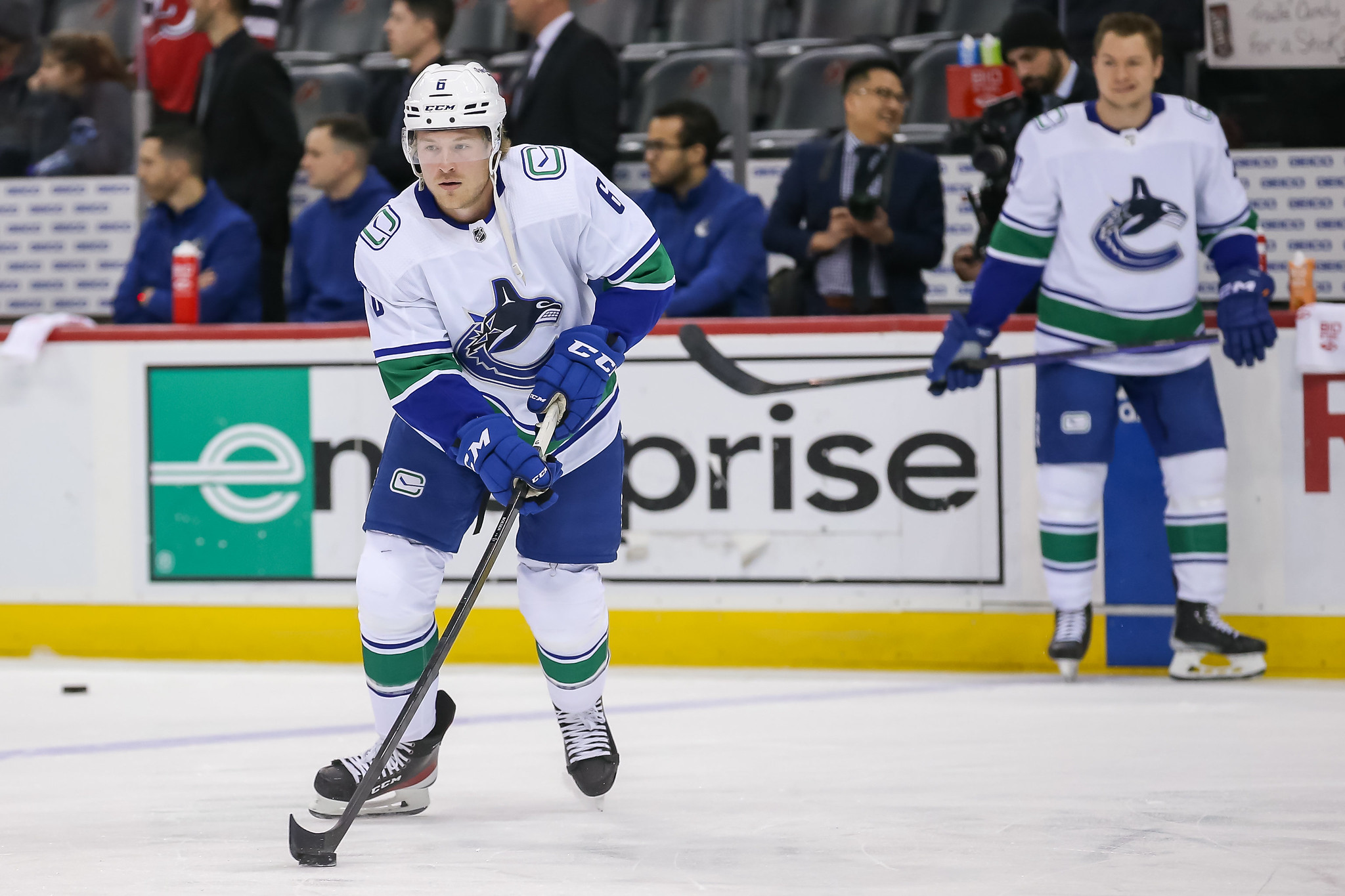 "I just feel like I've got away from it so much. I've been making good plays," Boeser said. "But I've got to get back in the habit of when I get the puck, with time and creating that space, that I've got to find that shot. That was my mindset the first couple of years to just shoot.
"It's got to the point where I want to have a strong finish and score, but I still expect more. That will really fall heavily on me this summer and that will really motivate me."
Boeser still believes he can be a 30-goal scorer, a milestone he has neared throughout his career but hasn't reached. Injuries continue to play a major role in his shortcomings. He dealt with a hand injury to start the season and rushed back for the first game of the season instead of patiently waiting for it to heal. He also discussed playing under Tocchet, noting the head coach challenges his players and brings more detail, structure and accountability to the team. Tocchet also gave his thoughts on the forward.
"He's an interesting guy because I think there's more — there's another level — and it's my job to get it out of him," said Canucks coach Rick Tocchet. "He's a little inconsistent and there are parts of his game that need to get going.
"I'd really like to get involved in his training. If we can get him to another level, it's going to be huge for the Canucks."
Miller Discusses Change in Locker Room
Miller discussed the state of the Canucks' dressing room with the media. He said the team's locker room is now a fun place, as that wasn't the case over the first half of the season because there were a lot of distractions. The Canucks were surrounded with uncertainty for a majority of the 2022-23 season due to trade rumors involving key players such as Bo Horvat, Brock Boeser and a few others. Additionally, their former head coach Bruce Boudreau was on his way out after starting the season with an 18-25-3 record. 
"I think that we've kind of moved on as a team, we understand who we're going to be for the most part moving forward. It's fun to come to the rink again. It's very fresh around here."
Since the addition of Tocchet, the team has an 11-7-2 record, winning five straight games. The team's future success is important to Miller as the forward signed a seven-year, $56 million deal which starts next season.
"The main part, we're playing well as a group," said Miller. "It's not really about wins or losses at the end of the day right now, it's about enjoying the process of getting better as a group, having good habits and being accountable. We're starting to do that and I think the results are showing as well."