In today's NHL rumors rundown, reports are that Auston Matthews has been playing through games with a hand injury. Is he 100% now? Speaking of injuries, what's the word on Zach Hyman? He was pulled by the Edmonton Oilers as a late decision before the puck drop on Tuesday vs. the Ottawa Senators. How will the Vancouver Canucks clear cap space this offseason and what is the latest news coming out of the NHL GM meetings?
Matthews Confirms He Was Dealing With a Hand Injury
Kyle Dubas noted after the trade deadline that Auston Matthews had been dealing with a bit of a hand injury early in the season. It's an injury the player himself has finally acknowledged to The Athletic's Jonas Siegel. Matthews didn't give a ton of information about it but did also note that things are starting to get back to normal.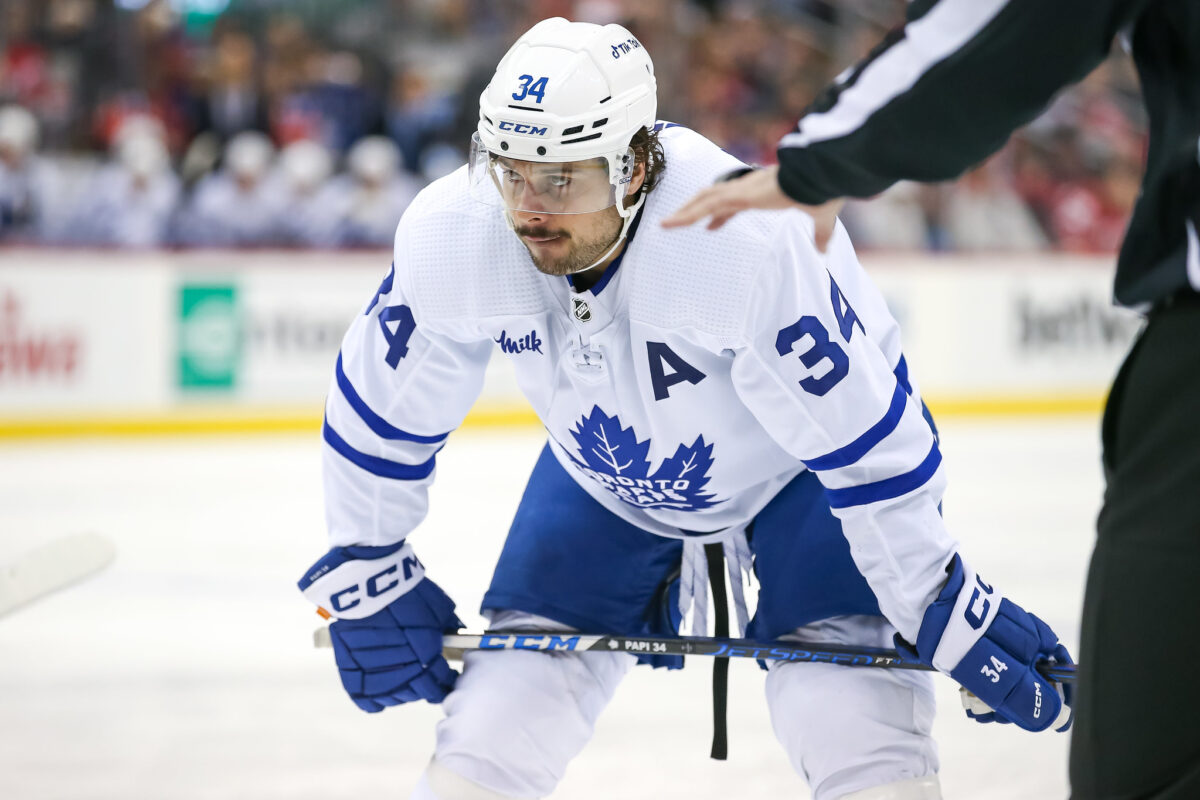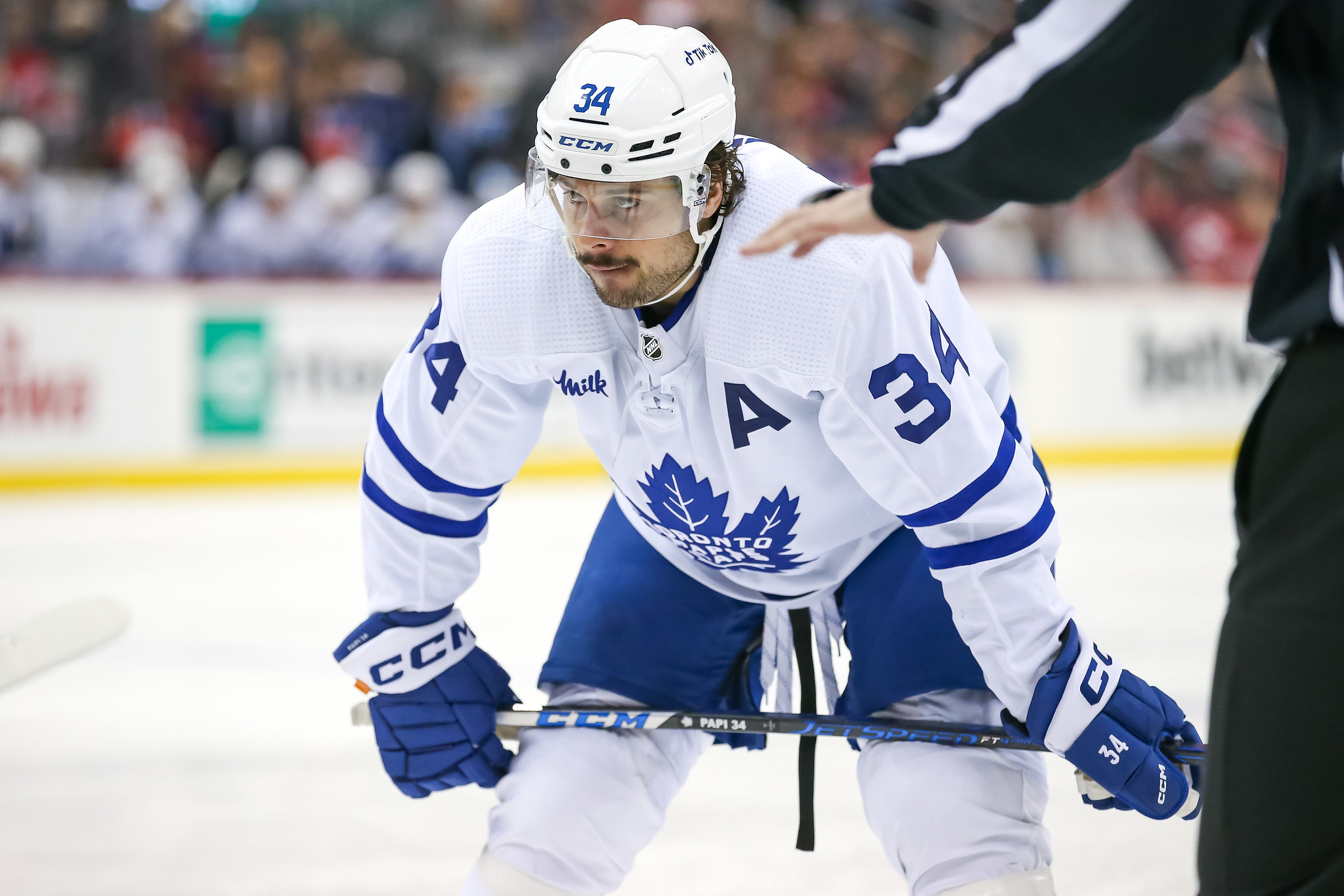 Siegel writes:
It's unclear when exactly the hand injury first emerged — we know Matthews had surgery on his left wrist before last season — or how long it was bugging him. It's possible it's been an on-and-off sort of thing all year. Matthews missed three weeks with a knee injury in late January/early February, time off that was presumably beneficial for the hand injury.

source – 'Auston Matthews opens up about the hand injury that's hampered him' – Jonas Siegel – The Athletic – 03/15/2023
Matthews says "Now it's feeling a lot better." and believes the injury may finally be behind him.
Zach Hyman "Dinged Up" For Oilers
It was announced just minutes prior to the game between the Edmonton Oilers and Ottawa Senators that forward Zach Hyman would not be playing. It wasn't clear why, only that he was out of the lineup for "undisclosed reasons". Daniel Nugent-Bowman of The Athletic tweeted, "[Jay] Woodcroft said Zach Hyman was held out because he was "dinged up.""
---
---
If it's nothing serious for the Oilers, that's good news as this would be a terrible time to lose Hyman who is setting career highs in goals (29), assists (43), and points (72) playing in 66 games so far this year.
Canucks Moves to Watch For This Offseason
Thomas Drance of The Athletic noted in a recent mailbag segment that when the Canucks try to clear cap space, one of the ways they'll likely look to do so is through buyouts. He suggested Oliver Ekman-Larsson, Brock Boeser, and Conor Garland could be worth watching and candidates if trades are not made early in the offseason. The buyout window opens on June 15th.
---
Latest News & Highlights
---
He also notes that the Canucks might explore a J.T. Miller trade again before his no-trade clause kicks in on July 1. He explains:
Miller's contract is large and there are teams that will be very wary of adding a liability of that size to their books. There are other teams, meanwhile, that will smell a potential bargain and might sniff around hoping to get paid a sweetener in order to take a useful offensive engine like Miller off of Vancouver's hands.

source – 'Canucks mailbag, part 2: Will J.T. Miller be moved before his no-trade clause kicks in?' – Thomas Drance – The Athletic – 03/14/2023
The Canucks are hoping to catch a team disappointed by an early playoff exit to make a move they might not otherwise make. An emotional team might see Miller as a quick fix.
News to Come Out of GM Meetings
There are a few news items coming out of the GM meetings on Wednesday. Gary Bettman indicates that there is no change coming to the NHL playoff format and he said, "this is working well". He also said the league isn't "in expansion mode" when it comes to rumors about Atlanta and/or Houston possibly being on the radar to get a new team.
As for the salary cap, Eric Engels reports, "As we've heard all year, the cap doesn't appear likely to go up by more than a million for next season. Brad Treliving, Flames GM, says he and the other GMs aren't planning to have more space." Elliotte Friedman added, "With GMs indicating they are expecting cap to only go up $1M, Commissioner Gary Bettman leaves open a window for conversation with NHLPA to possibly raise it higher." He adds that the escrow is likely the stumbling block to upping the cap this year.
The NHL announced playoffs will start on Monday, April 17th, the NHL Draft Lottery will be Monday, May 8th, the NHL Awards, on Monday, June 26th in Nashville, and the NHL Entry Draft round one on Wednesday, June 28th. NHL Free Agency will officially open on Saturday, July 1st.