The Montreal Canadiens' deep prospect pool has been making waves in the second half of the season. From some dominant performances in the Canadian Hockey League (CHL) to making an impact in European professional leagues, Habs prospects have been getting noticed.
Related: Canadiens Need to Rebuild Goaltending Depth 
Perhaps the most noticeable has been the NCAA prospects, especially those who are challenging for the Hobey Baker Award as the top player in the NCAA. There are also a few other notable NCAA prospects, some of whom may be signing their entry-level contracts soon.
Lane Hutson – Defense (Boston University) 
Lane Hutson has had an amazing freshman season in the NCAA. Not only was he the first defenseman to win the Hockey East scoring title, but he was also the first freshman to do so since Jack Eichel, all while being named to the All-Rookie team.
The 18-year-old was also the top-scoring defenseman in the NCAA while finishing in the top 10 in scoring among all skaters across the NCAA with 12 goals and 32 assists for 44 points. This type of offensive output puts him ahead of players like Luke Hughes and Cale Makar as freshmen, making his performances this season even more impressive.  
---
Latest News & Highlights
---
This type of impact, leading Boston University (BU) in points and on the blue line, helping BU to become one of the top-ranked programs in the NCAA this season has made him a Hobey Baker nominee and a legitimate threat to becoming one of the Top 10 finalists. Even if he doesn't earn that, his season averaging 1.29 points as a freshman is one of the highest averages of any freshman defenseman in the last 30 years. Not bad for a second-round pick selected 62nd overall, proving that the only thing that caused him to slide was his size. 
Jakub Dobes – Goaltender (Ohio State University) 
With the Canadiens in search of their goaltender of the future, Jakub Dobes has had an impressive campaign, leading his team to the Big 10 Conference semifinals. He was one of nine semifinalists for the Mike Richter Award this season with a 2.33 goals-against average and .918 save percentage. He earned a 20-15-3 record, becoming one of the top goaltenders to ever play for Ohio State. He was also one of 35 nominees for the Hobey Baker Award.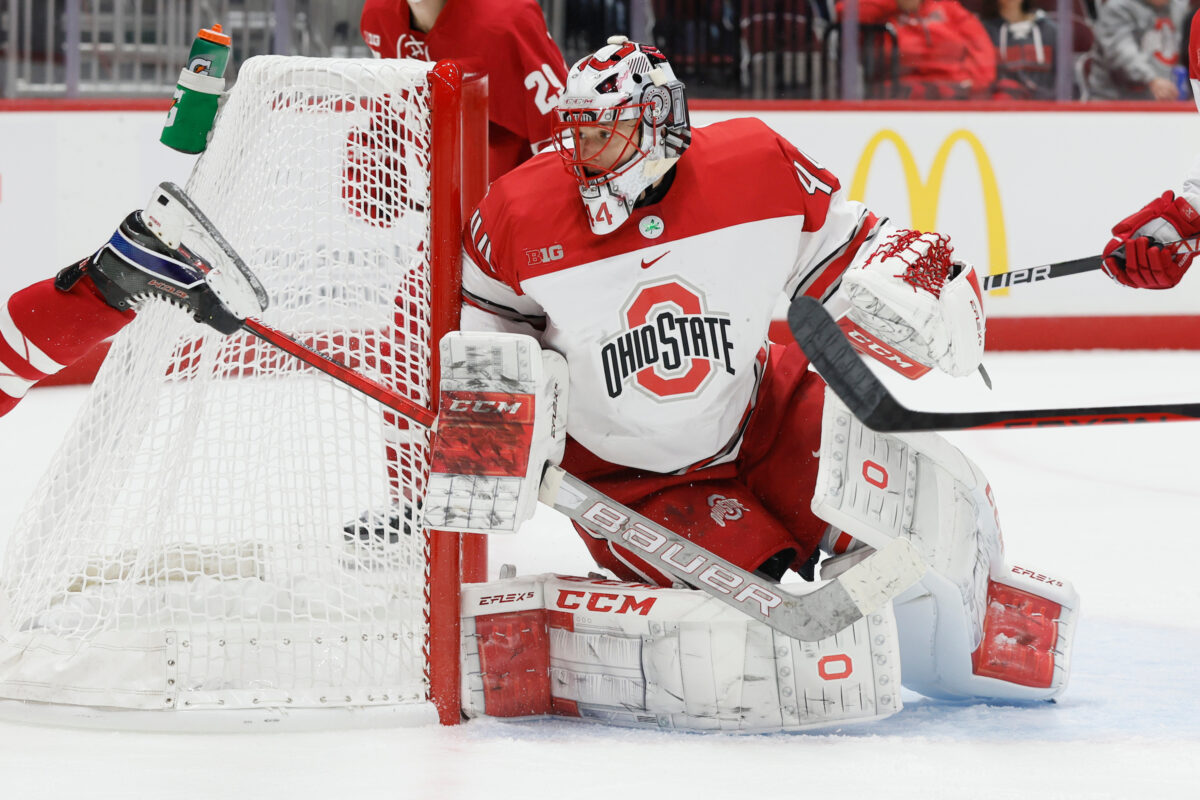 With his season finished, the 21-year-old does have the option of signing his entry-level contract (ELC) and joining the American Hockey League (AHL) Laval Rocket, however, patience may be the better part of valor on this front, allowing him more time to develop before making the leap to the professional ranks. Rushing goaltenders has never served the Canadiens well.
Sean Farrell – Forward (Harvard University) 
Sean Farrell is another Canadiens prospect, like Hutson, who is piling on the points in the NCAA. With 20 goals and 51 points in only 31 games, good for third overall in scoring across the entire NCAA, he is helping to carry Harvard into the semifinals of the ECAC conference, to be played on the weekend of March 17. This type of performance in his junior season has gotten him noticed by the Hobey Baker voters as well, being another nominee, joining his fellow Canadiens prospects Hutson and Dobes. This type of production and being the Ivy League Player of the Year should help his chances of becoming a Top 10 Hobey Baker finalist. 
The 21-year-old leads Harvard in scoring and points and has very little left to prove at this level. There is an expectation that he will be offered his ELC once Harvard's season is completed. There wouldn't be any surprise if he were to sign and join the Canadiens to close out the NHL season as his friend Cole Caufield did in 2021. 
Jayden Struble – Defense (Northeastern University) 
The season for the Northeastern University Huskies and Jayden Struble has come to an end with a disappointing overtime loss to the Providence Friars in the Hockey East quarterfinals. The silver lining was the exciting shootout victory over Harvard University in the coveted Beanpot Championship. That accomplishment highlights the final year of NCAA eligibility for the 21-year-old defenseman who must now choose between signing his ELC with the Canadiens or waiting until Aug. 15 and signing elsewhere as an unrestricted free agent (UFA). 
The Habs' 2019 second-round selection had a difficult four years due to some injuries that slowed his offensive progression, however, he played a physical style with excellent mobility and confidence in moving the puck into transition. The 6-foot, 205-pound defender may not have had the impressive offensive numbers Hutson has produced, scoring only one goal and 12 points, but he did provide his club with leadership and a steadying hand on the blue line, playing heavy minutes in all situations along with his aggressive style.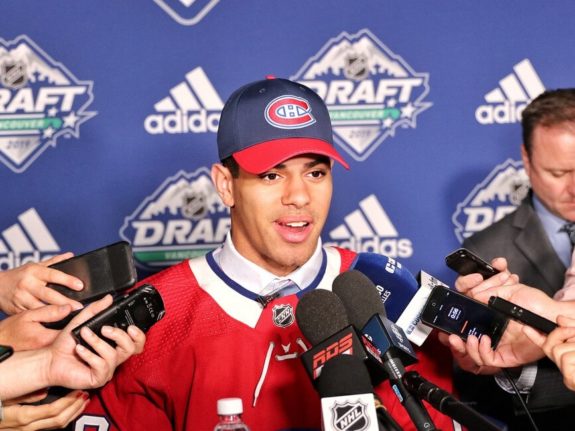 There was some concern that Struble would choose to wait and become a UFA, however, his relationship with general manager (GM) Kent Hughes (who coached him at the lower levels and is the father of one of his teammates) won out. Struble signed a professional contract to finish the season with the Laval Rocket in the AHL and an NHL ELC that begins in the 2023-24 season. 
Blake Biondi – Forward (University of Minnesota-Deluth) 
Blake Biondi has one more year of NCAA eligibility remaining, and after a disappointing 2022-23 season where the 20-year-old scored only three goals and six points in 17 games played, capped off with a season-ending shoulder injury, the junior will need to rehab and return next season with a vengeance if the Habs' 2020 fourth-round pick wants to earn an ELC before becoming a UFA in the summer of 2024. 
Jack Gorniak – Forward (University of Wisconsin) 
Jack Gorniak is in his final NCAA season and will become a UFA in August 2023 if he isn't signed to an ELC by the Canadiens. The Canadiens' 2018 fourth-round selection has had an underwhelming offensive season scoring only five goals and 12 points in 31 games and has never scored more than 15 points in his time at Wisconsin. While he played effectively on a third line, his defensive game is likely not enough to convince the Canadiens to use one of their 50 NHL contracts on him.
That does it for this week's edition of the Canadiens Prospects Report. Stay tuned, as each week we will provide updates on some of the young prospects making their way up the Habs' depth chart.